The competition in computer technology among manufacturers increasingly matches with the need of customers. The purpose of computer invention is far different from the last decade. It doesn't simply stop at office works. Nowadays, custom desktop computers are manufactured to meet different needs such as gamers, graphic designers, photo editors, video editors,…As for a photo editor, processor speed, storage, and color gamut are among the must-have functionalities. So, which parts of the computer are responsible for these functionalities? Let's discover the decisive functions and the best PC for photo editing in 2020.
Must-Have Key Features Of Best PC For Photo Editing
Storage Drives (SSDs and HDDs)
Hard Disk Drives (HDDs) and Solid Storage Drives (SSDs) take accounts of storage. Their specification is one of the criteria to identify computer speed to access data. As being invented later, solid storage drivers (SSDs) improve computer speed up to 4 times faster than HDDs which with rotating platters need time to warm-up before accessing the data. SSDs can promptly access the data.
With their operating principles, SSDs access to software like operating systems, software, lightroom catalog, and cache drives. A 500GB SSD is enough to run OS, Photoshop, Lightroom, and any kinds of software smoothly. HDDs save your permanent data. With the workload of a photo editor, you could choose a PC with an extra Hard Drive of 2 – 4 TB. It handles to store all your photos, data, and documents. One more external hard drive would be good to backup your Photos and Lightroom Catalog(s).
Photoshop uses random access memory (RAM) to process images. If the computer has insufficient memory, Photoshop uses hard-disk space known as a scratch disk, to process information. Photoshop runs fastest when it can process all or most image information in RAM.
Two heaviest software like Adobe Photoshop and Lightroom running at the same time take nearly full of computer memory. To optimize the performance of Photoshop, Adobe advises users to use a PC with at least 8 GB RAM. The reason is that 70% of the memory is already allocated to Adobe Photoshop. If the computer is also installed with Lightroom, you would need an extra of 8 GB RAM to run it smoothly. So far, a RAM of at least 16 GB would guarantee stable operation.
In an accurate easy to understand, CPU is the brain of a computer. While it is easy for you to install one more ram kit, CPU can't be added or changed later. CPU is definitely the thing you have to consider in most of the buying cases. How good your photo editing works in adjusting sliders or applying filters entirely depends on how good your processor is. We recommend either the AMD "Ryzen" or Intel "Core" CPU Range due to its impressive performance running with Adobe or Lightroom.
In general, Photoshop runs faster with more cores. However, you also get a diminished return if multiple cores are installed. A CPU with 16 cores doesn't improve speed more than 4 times if you work on a 4 cores CPU. Therefore, a four or six-core processor is advised. If you afford to pay for an eight-core, your computer is much more powerful!
In the computer system, the dedicated GPU (graphics processing unit) is responsible for speeding up image processing in games, videos, and photos. Before the development of dedicated graphics, computers used an onboard integrated GPU in the CPU. As being integrated in CPU, the onboard graphics card generally reduces the speed of computer system. The advantage of dedicated GPU is providing a seamlessly smooth Photoshop experience and increasing performance level.
In the Photoshop version 2020, some features can't work if missing the graphics card. Some of them are Perspective Warp, 3D, Oil Paint, Render (Flame, Picture Frame, and Tree), Scrubby Zoom, Birds Eye View, Flick Panning, and Smooth Brush Resizing. Others still work well with the support of a onboard GPU for acceleration. They are Lens Blur, Artboards, Camera Raw, Image Size – Preserve Details, Select Focus, Blur Gallery – (Field Blur, Iris Blur, Tilt-Shift, Path Blur, and Spin Blur (OpenCL accelerated)), Smart Sharpen (Noise Reduction – OpenCL accelerated), and Select and Mask (OpenCL accelerated).
As for a computer specialized in photo editing, Adobe recommends a minimum graphics processor with the following specifications:
On Windows, a GPU with DirectX 12 support and 2 GB of GPU memory
On macOS, a GPU with Metal Support and 2 GB of GPU memory
For editing, we recommend a dedicated graphics card with at least 2 GB VRAM. If you're using large, fancy pants, high-resolution 2K (QHD) or 4K (UHD) monitors, you should get one of NVIDIA's new RTX series graphics cards or the equivalent AMD Radeon graphics cards to keep up with the high demand a monitor like that requires.
As an editor or photographer, you would agree with us that color accuracy is the most important factor. sRGB and Adobe RGB are the two most important color spaces. Adobe RGB gets perfect colors achievable in CMYK printers. Photoshop displays Adobe RGB color space perfectly. However, the use of Adobe RGB in Windows might prove counterproductive, since they show colors incorrectly. Therefore, monitors with sRGB are acceptable. You will save a lot of money thanks to its more affordable price.
Additional aspects like back light LED with IPS technology are important in determining the color accuracy. It supports you to view angles and image quality during photo editing. Associated technologies like PLS and AHVA are equally important.
Other factors you should consider are monitor size and its resolution. Normally, at Beat Color, we use both QHD and UHD resolution typically range from 2560 x 1440 to 3840 x 2160 in 24 inches screen. It supports us a lot in viewing crisp and sharp details.
Best PC For Photo Editing In 2020
#1. Lenovo ThinkCentre M900
Specification:
Storage: 500GB SSD
RAM 16 GB DDR4 (Could be upgradeable to 32 GB)
Processor: Intel Quad-Core i5-6500 2.50 GHz (Quad cores)
Graphics: Intel HD Graphics 530
Product Dimensions: 7 x 7.2 x 1.6 inches
Weight: 2.9 lbs.
Operating System: Windows 7, free upgrade to Windows 10 Pro
As the brand name of Lenovo suggests, we already believe that Lenovo ThinkCentre M900 brings reliability and technical exclusives. It offers you all the must-have functionalities of the powerful PC for photo editing. From the technical specifications, it surely can't make you unhappy thanks to its smooth performance even working with multiple tasks or opening many layers at the same time. The combination of quad-core processor and Intel HD Graphics 530 card boosts the performance of the PC to a great extent.
Lenovo ThinkCentre M900 would be the finest option for anyone who can't afford to pay Mac, Microsoft but still requires ultra-high features: storage, big Ram, color gamut,… Its fantastic appearance and sturdy build quality are also two factors, which can't make you hesitate more.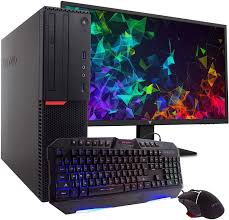 #2. Dell XPS 27 AIO
Specifications:
CPU: 3.4GHz Intel Core i7-6700 processor (quad-core, 8MB cache, up to 4.0GHz)
Graphics: AMD Radeon R9 M470X (4GB GDDR5 VRAM)
RAM: 16GB DDR4 (2,133MHz)
Screen: 27-inch, UHD (3,840 x 2,160) display with touch and articulating stand
Storage: 512GB PCIe SSD
Ports: 5 x USB 3.0; 2 x Thunderbolt 3; 1 x Display Port; 1 x HDMI out; 1 x SD card slot
Connectivity: Dell Wireless 3165 802.11ac Wi-Fi; Bluetooth 4.0
Camera: 720p infrared camera
Weight: 38.2 pounds (17.3kg)Size: 17.1 x 24.6 x 3.16 inches (43.4 x 62.5 x 8.03cm; H x W x D)
Dell XPS 27 AIO housing a 16GB RAM, an Intel Core i7-6700 processor, and a 27-inch Ultra HD display offer enough value for photo editing. Its notable feature making it stand out in the market is its color resolution. It covers 100 percent of Adobe RGB for photo editing. In addition, it covers most of the DCI-P3 for better color rendition when playing movies. Its Dell Premier Color software also allows you to control all of the important parameters. Furthermore, it offers presets for all the essentials including separate profiles for Adobe RGB and P3. It has all the key features of the best PC for photo editing 2020. If your budget allows, why not get it!
#3. Lenovo Yoga A940
Lenovo Yoga A940 is a remarkable PC, which is the very best alternative for iMac and Microsoft Surface Studio. If you love the stylish design and all-in-one computer of iMac or the innovative design along with the incredible power of Microsoft Surface Studio but can't afford to pay for them, Lenovo Yoga A940 is your wise pick!
Specifications:
CPU: 3.2GHz Intel Core i7-8700 (hex-core; 12MB cache; up to 4.6GHz Turbo Boost)
Graphics: AMD Radeon RX 560X (4GB GDDR5); Intel UHD Graphics 630
RAM: 16GB DDR4
Screen: 27-inch IPS touchscreen, 4K UHD (3,840 x 2,160), 100% Adobe RGB with Dolby Vision
Storage: 1TB SSD (PCIe)
Ports: Intel Thunderbolt USB-C, USB 3.1, 3-in-1 card reader, Audio jack, LAN, HDMI, 4 x USB 3.0
Connectivity: 802.11ac Wi-Fi, Bluetooth 4.0
Camera: 1080p
Weight: 32 pounds (9.56kg)
Size: 25 x 18.3 x 9.6 inches (635.7 x 467 x 244 mm; W x D x H)
It comes with a six-core CPU, 4K UHD touchscreen with 100% Adobe RGB & Dolby Vision. Undoubtedly, they are genuinely useful features every professional photographer& editor is looking for. Furthermore, 16GB RAM and 1TB SSD are strong enough to handle photo editing tasks well.
The most considerable aspect of Lenovo Yoga A940, which could make you a bit disappointing is the GPU with the AMD Radeon RX 560X with 4GB of GDDR5. This mid-range graphics card is more of a consumer GPU rather than a professional one. Your frequent heavy workloads could make it sometimes work slower than your expectation. As for video editors and 3D modelers, it is challenging with this kind of CPU.
We highly recommend it for the overall performance of photo editing and stylish design. We believe Lenovo Yoga A940 is one of very best PC for photo editing in 2020!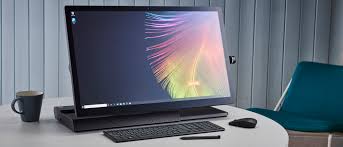 #4. Microsoft Surface Studio 2
Specifications:
CPU: 2.7GHz Intel Core i7-6820HQ (quad-core, 8MB cache, up to 3.6GHz)
Graphics: Nvidia GeForce GTX 980M (4GB GDDR5 VRAM)
RAM: 32GB DDR4
Screen: 28.125-inch, (4,500 x 3,000) PixelSense Display
Storage: 2TB, 5,400 rpm Rapid Hybrid Drive Storage (128GB SSD)
Ports: 4 x USB 3.0, SD card reader, mini DisplayPort, headset jack
Connectivity: 802.11ac Wi-Fi, Bluetooth 4.0
Operating system: Windows 10 64-bit
Camera: 5MP Windows Hello camera
Weight: 21.07 pounds (9.56kg)
Size (display): 25.09x 17.27 x 0.44 inches (63.7 x 43.9 x 1.14cm W x D x H)
Size (base): 9.84 x 8.66 x 1.26 inches (25 x 22 x 3.22cm W x D x H)
We put this model at the bottom of the recommended list due to its outstanding design and exceptional functionality. Its work performance is perfect thanks to the computer speed, storage, and accurate color display. Its perfect grasp of contrast and color gamut carry over the latest PixelSense displaying on the Surface Studio.
Its screen is easily converted into a digital drawing board. This is one of the reasons to make it over-priced in comparison with other models. From our point of view, its super performance maybe access your sole need for photo editing.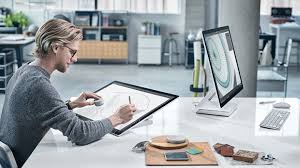 Final Thoughts
We hope after reading our in-depth analysis you gain useful information to decide which model you should stick with. In any choice, we think it is unnecessary to go with the latest model. With just an affordable price and enough key features, it would be your own best PC for photo editing in 2020!