Spring is considered the hot time of the year to buy or sell a home. Many people choose spring because it fits nicely with the school calendar. However, this year, things have been changed dramatically due to the COVID – 19 outbreak.
The COVID-19 pandemic has had a significant impact on the real estate market in particular and the economy worldwide in general. Most people are under shelter-in-place order, which makes both home sellers and buyers wonder whether they should list their houses or whether they should purchase a new house at this intensive time.
In fact, it was reported that the number of existing homes sold decreased by 8.5% and a 15.4% decrease in the number of new homes sold compared to February. Furthermore, in a survey conducted by NAR in April, 90% real estate agents agreed that home buyer interest had been declined due to the fears of Coronavirus and 80% of them said there were fewer houses on the market during this time as well.
Megan Aitken – a real estate agent in Middletown, Del has stated that due to Covid-19, many home buyers temporarily stopped home search as their financial status was changed. Many of them are standing in the fear of jobless. In the meanwhile, many home buyers also delay to list their house to avoid any risks from Coronavirus.
Advice for Buyers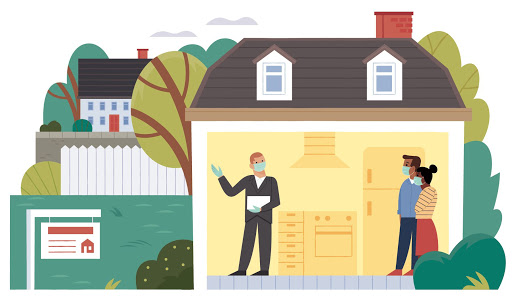 Although the real estate market has been down, there are still demands of home buyers looking for a new house  and sellers trying to sell houses. However, according to Alicia Stoughton – a real estate agent and designer in Cincinnati, the inventory is low, and many homeowners are holding off, then buying a house at this time can be quite competitive. Stoughton advised home buyers should work with real estate agents who are willing to work hard to find a home for them.
Aitken also suggests home buyers to have a human connection with real estate agents through  video consultations to make sure they understand their needs and can support them better.
Besides, Cara Ameer, a real estate agent in Ponte Vedra Beach, Fla also advises home buyers to get familiar with virtual home tours and live-streamed open houses, instead of in-person showing. Or if home buyers still prefer in-person tours, make sure to wear protective gear, such as a face mask and gloves.
Kevin Schatz, a loan officer at Santa Ana, Calif.–based Caliber Home Loans recommends home buyers to select a 60-day closing period instead of the more typical 30-day or 45-day close because the lenders can take more time to approve their loans.
Advice for Sellers
When people are practising social distancing measures, in-person contact can be limited and sellers should change their marketing strategies from offline to online. Using virtual tours, real estate videos or virtual staging is a must to present the property to the home buyers. Make sure to use professional photos or add high-tech features to your listing, such as drone footage or 3-D tour of your home. By doing that, home sellers can be outstanding from other competitors.
Ameer shares that if home buyers insist on in-person tour, sellers should turn all the lights on and open all the doors to avoid any touches. Aitken shares the same idea as Ameer but also adds a basket of shoe covers, latex gloves and sanitizing wipes by the front door for prospective home buyers to use.
Coronavirus pandemic can last for a long time, therefore, both home owners and sellers should protect themselves first. When deciding to buy house or sell house, reading some tips on the internet to get some advice. Hope that this article is useful somehow. Thank you for reading.