Post-processing is an important step in creating appealing and attractive photos. So what software do photographers mostly use? Adobe Photoshop or Light room? or other paid software? In this article, Beat Color will introduce to you the most impressive software but totally free.
The GIMP
GIMP is an acronym for GNU Image Manipulation Program. It is a freely distributed program for such tasks as photo retouching, image composition and image authoring.
It has many capabilities. It can be used as a simple paint program, an expert quality photo retouching program, an online batch processing system, a mass production image renderer, an image format converter, etc.
GIMP is expandable and extensible. It is designed to be augmented with plug-ins and extensions to do just about anything. The advanced scripting interface allows everything from the simplest task to the most complex image manipulation procedures to be easily scripted.
GIMP is written and developed under X11 on UNIX platforms. But basically the same code also runs on MS Windows and Mac OS X.
Features and Capabilities
– Painting
+ Full suite of painting tools including Brush, Pencil, Airbrush, Clone, etc.
+ Sub-pixel sampling for all paint tools for high quality anti-aliasing
+ Extremely powerful gradient editor and blend tool
+ Supports custom brushes and patterns
– System
+ Tile based memory management so image size is limited only by available disk space
+ Virtually unlimited number of images open at one time
– Advanced Manipulation
+ Full alpha channel support
+ Layers and channels
+ Multiple Undo/Redo (limited only by diskspace)
+ Editable text layers
+ Transformation tools including rotate, scale, shear and flip
+ Selection tools including rectangle, ellipse, free, fuzzy and intelligent
+ Advanced path tool doing bezier and polygonal selections.
+ Transformable paths, transformable selections.
+ Quickmask to paint a selection.
– Extensible
+ A Procedural Database for calling internal GIMP functions from external programs as in Script-fu
+ Advanced scripting capabilities (Scheme, Python, Perl)
+ Plug-ins which allow for the easy addition of new file formats and new effect filters
+ Over 100 plug-ins already available
– Animation
+ Load and save animations in a convenient frame-as-layer format
+ MNG support
+ Frame Navigator (in GAP, the GIMP Animation Package)
+ Onion Skin (in GAP, the GIMP Animation Package)
+ Bluebox (in GAP, the GIMP Animation Package)
 – File Handling
+ File formats supported include bmp, gif, jpeg, mng, pcx, pdf, png, ps, psd, svg, tiff, tga, xpm, and many others
+ Load, display, convert, save to many file formats
+ SVG path import/export
Much, much more!
Pixia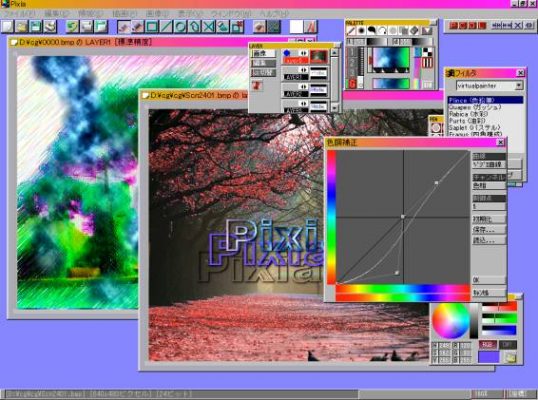 The English version of a famous Japanese free painting and retouch software for full color graphic, with mask, layer functions. You can use your own customized brush tips and even use an image file as a brush tip to create unique effects. Its user-friendly interface is recommended for CG beginners as well as experts.
Help files do not come with this program. You need to download a separate file from the Pixia website.
Pixia is a cross between Microsoft Paint and a primitive Photoshop. You can add layers, insert text, and apply a bunch of filters to your pictures. Most of the tools are pretty easy to understand once you've played around with the program for a few minutes.
Basic Specifications:
– Pixia is a painting tool made exclusively for full color graphics.
– Maximum graphic size: 10240 x 10240 dots (this depends on RAM capacity).
– Number of layers: as many as memory lasts.
– Peripheral devices applicable: TWAIN32 devices, Printers made to use for Microsoft Windows.
Paint.NET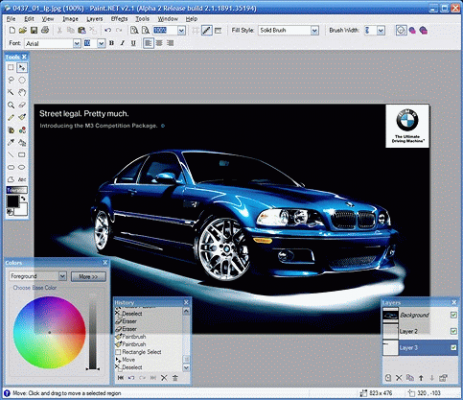 Paint.NET is image and photo manipulation software designed to be used on computers that run Windows 2000, XP, Vista, or Server 2003. It supports layers, unlimited undo, special effects, and a wide variety of useful and powerful tools.
It started development at Washington State University as an undergraduate senior design project mentored by Microsoft, and is currently being maintained by some of the alumni that originally worked on it. Originally intended as a free replacement for the MS Paint software that comes with Windows, it has grown into a powerful yet simple tool for photo and image editing. The programming language used to create Paint.NET is C#, with a small amount of C++ for setup and shell-integration related functionality.
Features
Simple, intuitive user interface
Every feature and user interface element was designed to be immediately intuitive and quickly learnable without assistance. It is also designed to be immediately familiar to users of the original 'MS Paint' software that comes with Windows.
Layers
Usually only found on expensive or complicated professional software, layers form the basis for a rich image composition experience. You may think of them as a stack of transparency slides that, when viewed together at the same time, form one image.
Powerful Tools
Paint.NET includes simple tools for drawing shapes, including an easy-to-user curve tool for drawing simple splines or Bezier curves. The facilities for creating and working with selections is powerful, yet still simple enough to be picked up quickly. Other powerful tools include the Magic Wand for selecting regions of similar color, and the Clone Stamp for copying or erasing portions of an image. There is also a simple text editor, a tool for zooming, and a Recolor tool.
Unlimited History
Everybody makes mistakes, and everybody changes their mind. To accommodate this, every action you perform on an image is recorded in the History window and may be undone. Once you've undone an action, you can also redo it. The length of the history is only limited by available disk space.
Special Effects
Many special effects are including for perfecting your images. Everything from blurring, sharpening, red-eye removal, and embossing are included. Also included is our unique 3D Rotate/Zoom effect that makes it very easy to add perspective and tilting.
Adjustments are also included which help you tweak an image's brightness, contrast, hue, saturation, and levels.
Language Packs
Chinese Simplified, Chinese Traditional, Czech, Dutch, Finnish, French, Frisian, Hungarian, Italian, Japanese, Polish, Russian, Spanish.
Open Source and Free
Download (English and German)
Source: Free Photoshop Alternatives