REAL ESTATE TWILIGHT PHOTO EDITING: What do you know?
By Amy Nguyen
28/04/2018
Real Estate Twilight Photo can be very advantageous for marketing your real estate business simply because of the high visual impact. A nice real estate twilight photo can achieve on the viewers perception of the subject property and the professional image of the real estate agent. There is a reason why the feature shot of most higher-end and luxury homes, in print and online advertising, is most often a twilight shot. Just browse through the Luxury Home Magazine and you'll see what I mean.
REAL ESTATE TWILIGHT PHOTOGRAPHY – WHAT DOES EXACTLY THIS MEAN?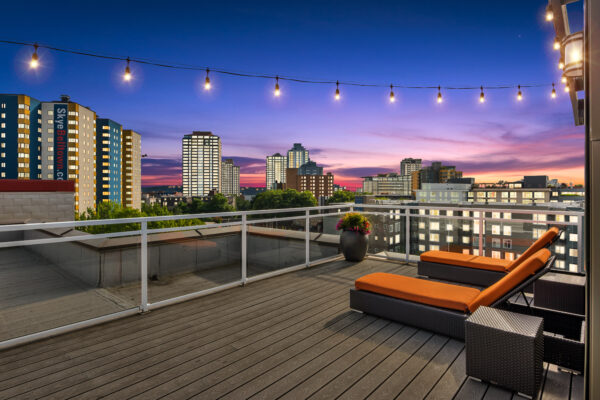 A twilight photo is usually taken of the exterior of the property, at dusk or dawn, during twilight conditions. It is used to showcase landscape/property lighting, pool lighting and features like fire pits, and also to showcase a beautiful sunset. Agents like twilight photos because they "look cool", and they are different from the regular exterior shot. They are more likely to grab the attention of the buyer when a home search is performed and thumbnails of properties are returned.
WHAT IS REAL ESTATE TWILIGHT PHOTO EDITING?
Real estate twilight photo editing means converting daytime real estate images to twilight ones. By making use of advanced photo editing software like Pixlr and Adobe Photoshop to add special effects to the daytime image, editors will edit images and change the photos into magnificent pieces.

HOW IS REAL ESTATE TWILIGHT PHOTO CONVERTED FROM DAY LIGHT ONE?
Making use of a suitable filter together with the correct combinations of color, brightness, texture, and contrast, expert twilight photo editors can convert daytime images to dusk images in minutes. Here are some techniques used in the process of converting day night photos into night light photos
– Adjusting brightest and contrast, highlighting features and lightening shadows.
– Replacing outdoor dusk sky by transforming colours to ensure warm colour temperature for images.
– Turning on interior/exterior lighting and pool/garden lights.
– Straightening vertical and horizontal.
– Removing minor clutters.
– Adding fire to fireplace, moons and stars.
– Alteration of weather conditions; addition of rain, snow, clouds and fogs etc.
WHY SHOULD USE REAL ESTATE TWILIGHT PHOTO EDITING?
Let's look at real estate twilight photos benefits:
– Twilight photos look beautiful and motivate buyers to imagine returning to a warm and welcoming home each night due to the light effect.
– A twilight image of a home can really make potential clients curious and excited about the house interior.
– In the saturated real estate market, most properties are photographed during broad daylight. Therefore a twilight photo is absolutely an outstanding idea to make your property prominent.
– Twilight photographs will help potential customers have a broader view about your property and somehow make the clients believe in your selling effort.
These benefits are the reason why many home sellers want to have a real estate twilight photo to make their listing photos various and outstanding. However, photographers have some trouble in making it such as:
– They can't shoot at dusk time because of their busy schedule or other accidental factors.
– The weather is suck at night time.
– Home owners left the home without turning on the lights.
How to cope with these cases? They might have to refuse to shoot or have to reschedule for the next day. These solutions are really time-and-money- consuming. Luckily, there is another solution – which is much easier –  is using real estate photo editing service. Photographers will have to pay a bit fee for it but then will get the perfect real estate twilight photos with top-world quality within 24 hours turnaround time. All photographers need to do is just going to the property and shoot the photos at any time you can, and the rest will be handled by the real estate twilight photo editing service providers.

WHY SHOULD CHOOSE BEATCOLOR FOR REAL ESTATE TWILIGHT PHOTO EDITING?
By co-operating with Beatcolor, you will get listed benefits:
– You can save your time with the short turnaround time thank to the benefit of time zone (24 hours).
– The price for real estate photo retouching service is super cheap from 5$ – an affordable price for all photographers with the quality still remains the highest.
– Our customer service is available to support you until you satisfy with our outputs (24/7).
– We offer 3 photos edited for trial without any fee.
– Your private information or data will kept in secret.
– We use the latest image editing software such as Adobe Illustrator, Adobe Photoshop CS6, CoreIDraw to give you the most attractive photos.
– We can work with all type of format such as: JPEG, TIFF, CAD, DXG, PSD,… and deliver to you your expected outputs.
For more information, feel free to contact:
Email: cs@beatcolor.com