Staging A Bathroom – Initial Ideas For Renovation
By Ly Bui
04/01/2021
The bathroom is getting more care from home-owners. Beyond the functional nature, more and more people like staging a bathroom into expansive, spa-like ensuites. It would be a relaxing place to awaken your senses, evoke emotions to melt away stress. To stage a bathroom fulfilling aesthetics and functionality, the first thing you have to do is keeping it clean, well-organized, and bright. Then, unleash your creativity in blowing the spirit into the bathroom. In this post, we will share with you tips for staging a bathroom & some creative ideas to make it like a spa!
How To Stage A Bathroom?
Step 1: Finding Inappropriate Points Of The Current Bathroom
Remodel bathroom starts with finding unreasonable points from the current design. Let's discover these inappropriate points in a different way. Take a bathroom photo and review it with your fresher eyes.
– What is your first impression once seeing that image? Is it appealing and comfortable or terrible?
– Inappropriate points flashing into your mind comes from the design or texture, color, or decorations?
– Your bathroom faucet is old-fashioned ?
– Is there any water-leak from the ceiling, faucet, and floor?
– Your towel is already discolored or it is damp?
– The bathroom vanity countertop is quite messy.
– Hang-out towels are not in a nice way.
– Noise comes from exhaust fans
– Many personal hygiene products are accumulating on the counters, shelves, bathtubs,…
– The wall color and mold stains from walls.
– Odor smell
Knowing not-well-organized points is easier for you to start with renovation.
Step 2: Declutter-ing The Bathroom
Cleaning the bathroom in the way you often do daily is still insufficient to give it a fresh new look. It does need an impeccable cleaning look. You should start with a good wipe down. Always make sure that everything is sparklingly clean, including taps, cabinets, and mirrors…
Let's jump-start with clearing out any personal daily care and hygiene products on the countertops and tubs, shelves. Pack less used items into linen boxes and place them into cabinets. At the same time, put in-use daily products into small baskets or in tasteful boxes. Once taking a shower, you just need to carry the basket containing shampoo, soap,…you need. Once finishing, you will get it back from the cabinet. Doing so, the bathroom countertop, bathtubs usually look empty.
Toothbrushes, toothpaste, makeup, personal towels, shampoo, the soap also should be out of sight. If you are taking listing photos, displaying a few new products is enough. The reason you shouldn't put any personal or used products on the display is that it may let home viewers raise some curious questions in their minds.
Next, turn your attention to the crud, stains, and streaks on the room's surfaces. You may need a strong cleaning solution to remove such heavy stains. Don't forget to clean the trash can, window and wipe the dust from light bulbs. Tuck away a garbage can, toilet scrubber, and plunger. They should be invisible from the door.
The shower curtain, the rug, towels should be washed. If the budget allows, let's replace them with new ones. With a small space like a bathroom, a neutral color is always advisable thanks to its achieving a spa-like feel. Using patterned or themed curtains/ rugs already overwhelm such a small space.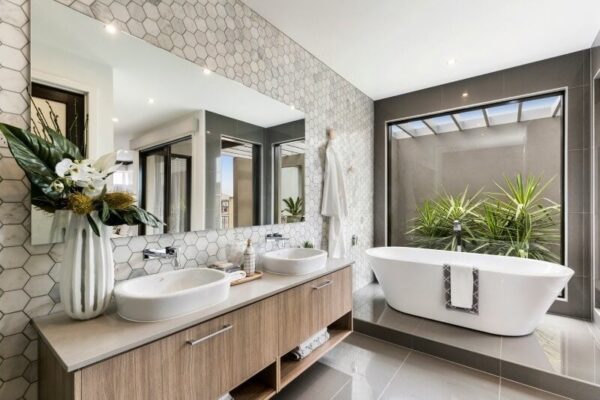 Step 3: Choose a new wall color for the bathroom
A simple yet true idea flashed into our mind once renovation or staging bathroom is changing the wall color. The combination of wall color with the design of cabinets, mirrors,…completely creates a fresh, inviting space. Depending on your desire in creating a bathroom for waking you up in the rush morning or a bathroom feel-like a spa or a place accommodating busy mornings but still serving relax-able moments with relaxing baths…you can creatively use and combine wall color with other decorations. We have a few color recommendations for you as below:
-Soft Taupe offers a warm and cozy feeling. It still gives a luxurious touch.
-White wall color combines with navy blue cabinets creating stylish contrast.
– Ash gray creates a contemporary twist on classic gray.
-Creamy bathroom paint color boasts a lush depth that warms too-cool spaces.
-Light blue wall combined with white tiles and trims creates a very-spa-like bathroom and tranquility.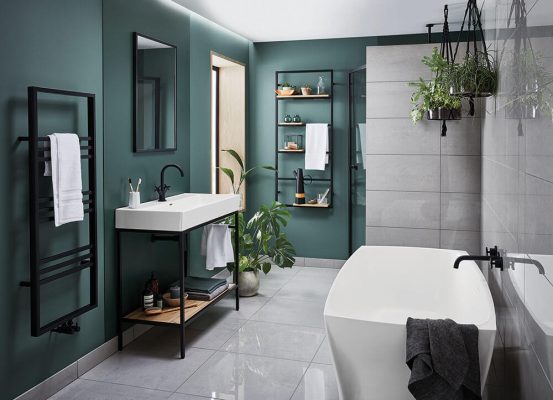 Step 4: Adding decorations
-Hang neutral wall art above the toilet or above the hand towel rod. Don't use any personal pictures.
-Hang mirrors opposite a window with a great view or a sparkling lighting fixture.
-Add a tree in the corner.
-A colorful rug to warm-up the bathroom.
-Add a dash of metallic to make the bathroom a fancier feel.
-Hang pendant lights.
-Hang a towel folded into thirds and drape it over the edge of the bathtub. Layer a folded washrag on the towel, then place a beautifully wrapped bar of luxury soap on top.
-Adding white or natural shower curtains or a geometric pattern for a contemporary feeling.
-Add a clear glass door to virtually increase the bathroom size if needed.
-Fill attractive containers or jars with Q-tips, cotton balls, beach glass, bath salts, and tiny soaps. Be sure to use odd number groupings and vary the heights of accessories when creating arrangements.
-Create enticing vignettes in the bathroom using objects from nature like seashells, starfish, sea sponges, lovely soaps in jars, and bottles.
Final Thoughts
In summary, cleanness, brightness, and good combinations of color, texture, materials are the successful keys in staging a bathroom. Furthermore, the bathroom design should also be consistent with other designs of your house. Depending on the budget, you would have a wide choice of staging a bathroom.
To get a realistic transformation from the plan and the final result, you could get a consultation from architects or drawing ideas through 3D Virtual Staging. Virtual Staging is a major choice thanks to its affordable prices, which is much more economical than hiring an architectural designer. To get a staged photo, you just need to take a bathroom photo and share your renovation ideas with a virtual staging company like Beat Color. We will then transform your ideas into 3D furniture. The final result is easier for you to imagine how change is going on. We believe Virtual Staging would be a wise point before going ahead with actual renovation.