Being a real estate photographer, you may have many concerns before shooting days. One of those concerns is the weather – which you can not control. To avoid the drawbacks of weather to shooting schedules, many photographers decide to follow mainstream weather reports or the standard weather channel apps. If you are also looking for a reliable weather app, in this article, we will recommend you top 4 best weather apps which you can confidently rely on to arrange your shooting days.
Top 4 Best Weather Apps for Real Estate Photographers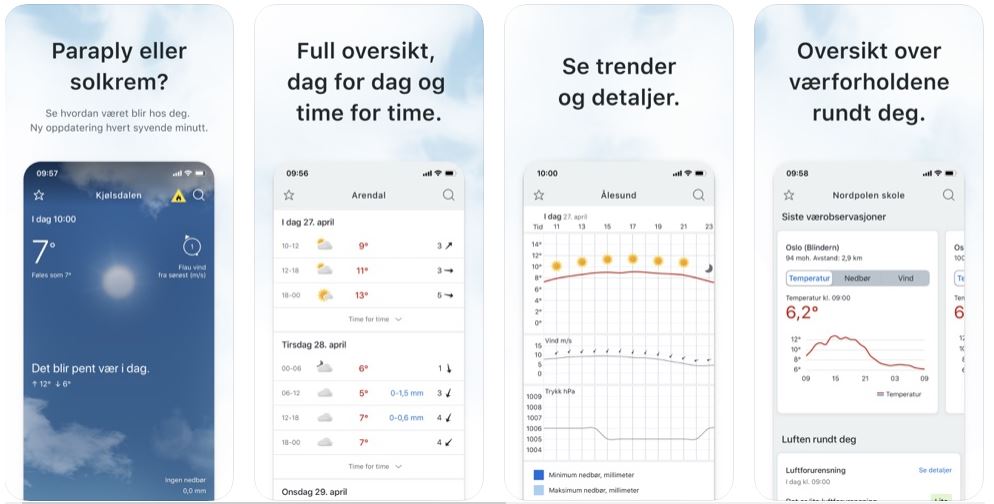 YR is a great-looking weather app from Norway and presented by NRK. Offering an animated display with all the need-to-know details, YR allows users a fun experience which they have not seen before.
Pros:
– Accurately forecast weather conditions with visualized symbols in 48 hours and in table – hour by hour for the first three days.
– Offering weather summary text
– Allow users from 10 million places around the world to check the weather with the option to save your favorite places.
– Totally free
Cons:
– Better use for Norwegian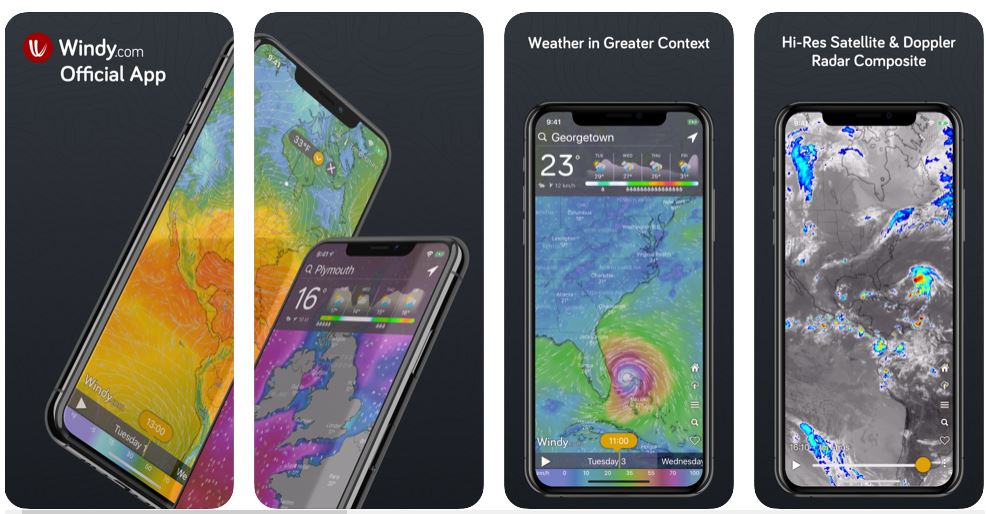 Windy app is an extraordinary tool for weather forecast available for both iOS and Android. Initially, it was considered as a weather app for wind and water sports.  Nowadays, it is used widely not only by skydivers, kiters, surfers, boaters,… but also for professional pilots, even governments, army staff and rescue teams.
Pros: 
– Available in 40 world languages
– Beautiful interface allows users to see detailed wind, snow and weather data for virtually any place on Earth.
– Active group chats running for thousands of locations globally, allowing users to ask the real weather conditions.
– Easy to customize
– Free to use
Cons: 
– A bit more complicated with more parameters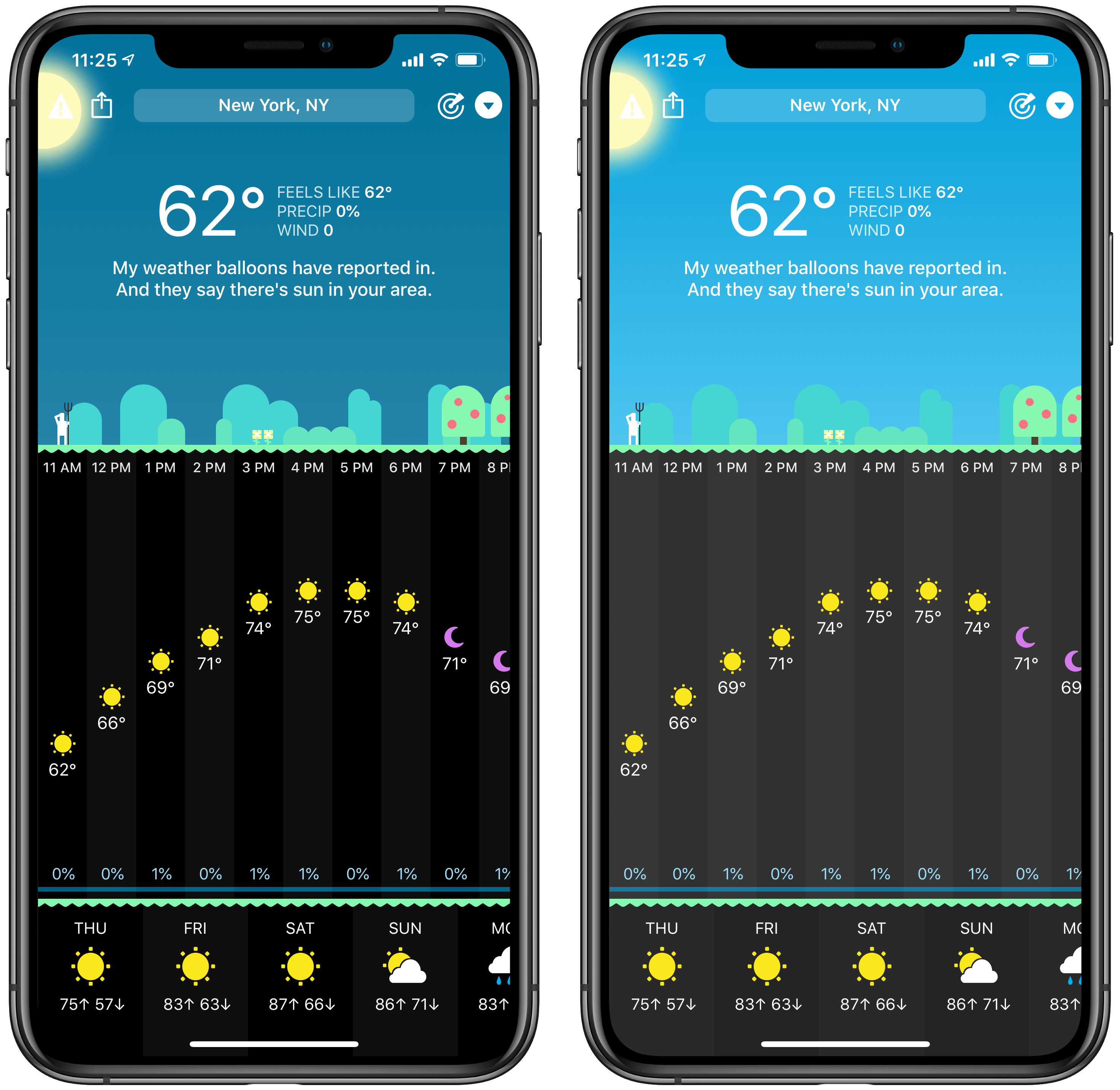 Carrot Weather is an excellent weather app for Apple's fans with great interface and detailed forecasts. The outstanding feature of this app is its robot-like personality which gives a joke or even an insult on you. Of course, all is related to the weather and just for fun.
Pros: 
– Easy to customize
– Great UI allowing users to find information by scrolling right or one tap onto a future day
– Weather data will be saved on the list once you check in a location
– Usable on Apple Watch to show the weather information
Cons:
– It costs $4.99/year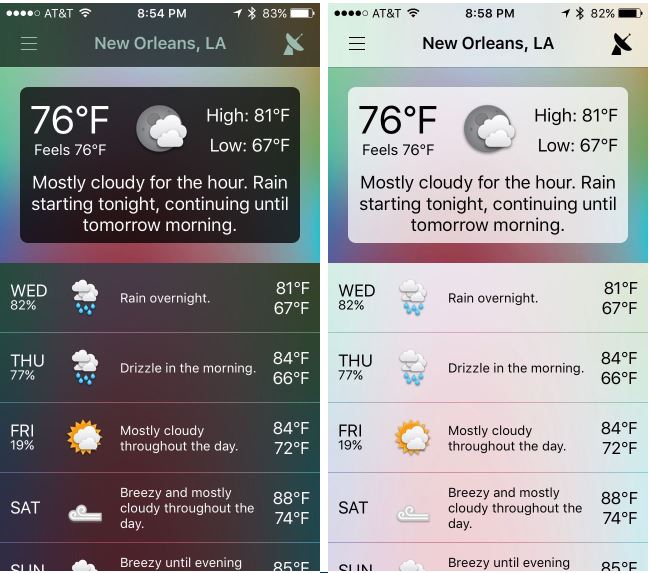 Forecast Bar is another great weather app for Iphone. It offers hyper-accurate, hyper-local live weather and forecasts right in your menu bar. The weather forecast will be noted in a rectangle box in the middle of the screen and below it is the information on upcoming days.
Pros:
– Simple and clean interface with a a panel full of relevant weather information
– Easy to customize over the specific information in every type of complications on the Apple watch face.
– Gorgeous radar map in the top left of the main panel.
Cons: 
– Only available for Mac, iPhone, iPad, Apple TV, and Apple Watch.
– It costs from $0.99 to $11.99
Sum Up
These are 4 best weather applications which offer accurate weather forecasts. They all can be used on mobile devices which real estate photographers can easily use to check the weather at their fingertips. If you have not got one in your phone, why not get one !
In case you unfortunately got the shooting day with cloudy sky or rain, no worries, our real estate photo editing services can help you get rid of bad weather on your photos.
Contact us for more information:
Email: cs@beatcolor.com