TYPICAL INTERIOR DESIGNS FOR VIRTUAL HOME STAGING
By Amy Nguyen
27/07/2018
Home staging is an important preparation before selling home, especially when it comes to selling empty houses. In the past, home staging is something very expensive and time-consuming. However, in today technology, home staging becomes much easier than before with virtual home staging.
Like traditional staging, a theme of furniture style is very important. However, unless you are professional interior designer, it is very hard to visualize which styles match nicely with your property. So today, Beat Color would like to introduce to you some of typical furniture styles for virtual home staging.
Classical Style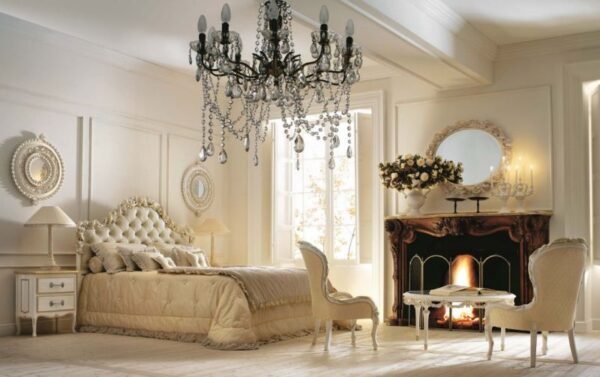 Taking inspiring from the art of ancient Greece and Rome, Classicism was originated in France in the 17th century and quickly spread over the Europe, then became the dominant style for more than two centuries.
With long history, but classical design never goes out of fashion. It is mostly chosen by wealthy people, with settled taste preferences, as well as those who prefer the age-old cultural values ​​and traditions instead of fleeting fashion.
Key features of classic design include:
– Color: Classic furniture style will contain dark and neutral colors such as magohany, beige, cherry, hazelnut, gold or even black in the furniture materials, furniture and texture.
– Interior light: The typical features of light in classical style are crystal chandeliers, lamps made of transparent stones or expensive glass. Normally, a chandelier placed in the center of the ceiling so that the light can be distributed evenly, which gives the interior a finished look.
– Classic furniture: Classic furniture is mainly made from precious woods, expensive upholstery fabrics and natural leather. Often wooden furniture is varnished that makes the interior airy and very furniture graceful. It is appropriate to use gold carving as decor.
To order home design in classic style means to create a unique artistic composition, where every detail is in harmony with others and carefully selected.
Morden/contemparory style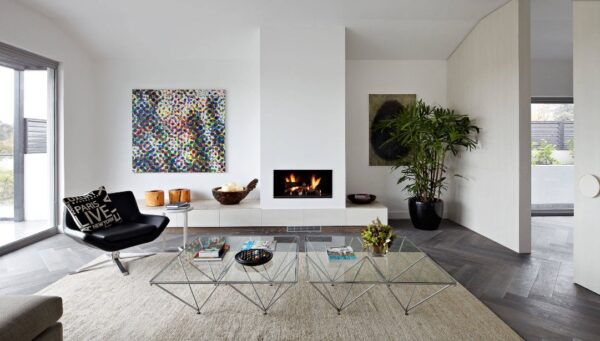 Forgeting about complexible and ornate furniture, modern and contemparory style brings to users something simple and uncluttered with the motto "less is more". It is very suitable with the hustle of modern life.
Key features of modern/contemparory style:
– Clean lines and smooth surfaces without intricate details characterize contemporary design.
– Furniture tends to show exposed legs to create a feeling of space.
– Metals and glass are popular contemporary materials and intricate details are kept to a minimum.
– Furniture pieces, appliances for your kitchen, bathrooms are made from metals such as stainless steel, nickel and chrome so that they can they provide a sleek finish and clean look.
Scandinavian Style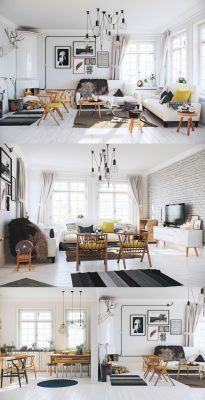 Being a very popular interior style choice in today trend, Scandinavian is inspired by the snow and mountains of the Nordic countries. Scandinavian interior design is known for its minimalist color palettes, cozy accents, and striking modern furniture. Designs often play with natural light—which is a hot commodity in Nordic countries
Key features of Scandinavian:
– High contrasts are the hallmark of Scandinavian interior design
– Scandinavian homes are known to have fireplaces in the corner of a room—not centered on a wall.
– Warm wood tones and sepia hues are popular in Scandinavian interior design
– When color is used in Scnadinavian interiors, it's often neutral colors, including white, blue and yellow
Casual Style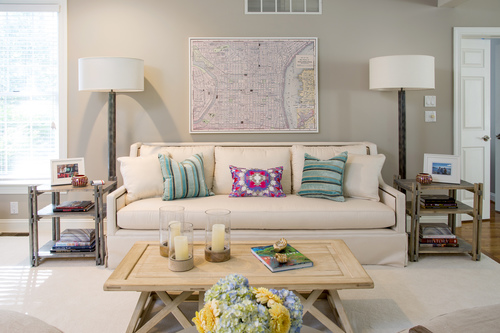 Casual style in the interior implies space, comfort and casual elegance, discreet beauty of the premises, decorated with taste and preserving the individuality. Many home owners prefer it because it is virtually appealing, fuctional, comfortable and easy to maintain.
Key features of casual style:
– Furniture in a casual style tends to be comfortable, functional and soft
– The most common material for furniture is light wood such as oak and pine
– Fabrics and textiles are soft and textured rather than shiny
– Casual style is created toward to the comfort and individual taste, therefore, matching pieces are not necessary in this style.
Casual home style is almost universal. Anyone, who appreciates comfort and a cozy home-like atmosphere, as well as the simplicity and elegance, can order home design in this style.
Listed here are some common interior furniture styles which Beat Color often offers for clients. When using our Virtual Home Staging service, clients will be asked about their expected styles for rooms. If they have no idea, Beat Color will look at their photos and give them the best advice about the style or they can take a look at our library to find the one they like best.
If you are interested in our Virtual Home Staging Service, please contact
Email: cs@beatcolor.com