Home staging—a service where professionals help home sellers to show off full potential of the property by arranging furniture and artwork in rooms. By applying home staging, houses are sold faster and more profitable. The below pornographic will show the numbers to prove it.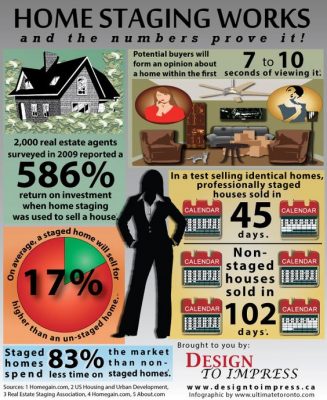 Basing on this statistic, it is undeniable the significant benefits of home staging in selling house. However, using physical home staging is quite expensive and it requires much effort and time. Therefore, another more affordable version of home staging was created thanks to the developing of technology. That is Virtual Staging.
Virtual Home Staging means
According Stilio.com, "Virtual home staging means using computer technology to furnish and stage a photo of a vacant/semi-vacant room. It is a tricky process where images of the interior and/or exterior of a property are enhanced with "virtual" furniture and furnishings through the use of 3D modeling software and other editing programs. Vacant rooms are ideal to use but, virtually staging can be used even if a room has furniture in it. Virtual staging allows you to perfectly design each room in a home for sale without the high price tag of renting furniture on a monthly basis."
The benefits of virtual staging are:
Visualization: It is estimated that only 10% buyers can visualize a home's potential while 90% can't do it. Therefore like traditional staging, one of the major advantages of utilizing virtual home staging is that it allows potential buyers to fully visualize what each room of a home looks like with furniture and décor. And virtual staging not only allows furnishing each room that will attract more buyers but it allows these home seekers to see just how the space can be used if they lived there.
Affordable price:  100% using computer-generated furniture to add into photos of vacant rooms, Virtual Staging doesn't require  rental fee, storage unit fee or extra fee. Just need to pay one-time fee then you can use those photos to marketing for your property.  A photo with virtual staging can be about $65 to $75 – far less than traditional staging, which will run home owners around $2,000 to $2,400.
Time & labor saving: virtual home staging can be done by one or two designers. And they can stage the property virtually within 24 hours depends on the numbers of photos you want.
Which rooms should be staged?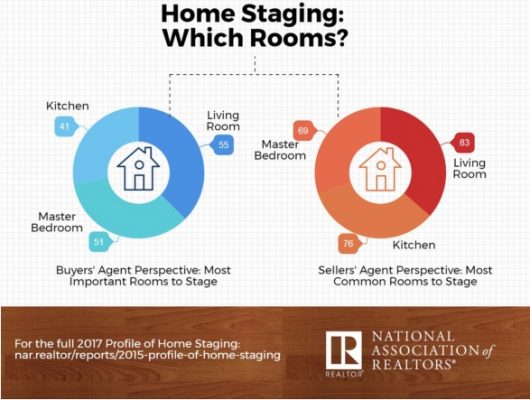 The statistic shows
– Staging the living room for buyers was found to be most important (55%)
+ 51% for staging the master bedroom
+ 41% for staging the kitchen
– The most common rooms that are staged include:
+ the living room (83%)
+ kitchen (76%)
+ master bedroom (69%)
+ dining room (66%)