Virtual Staging For Real Estate : All You Need To Know
By Amy Nguyen
04/07/2020
Home staging is proven to boost sales when it comes to selling houses, especially empty houses. Unfortunately, to do physical home staging, it is very expensive and time consuming. And Virtual Staging was born as a formidable technological advancement in home staging techniques. It allows real estate agents to easily, inexpensively, and quickly turn an empty home into something extremely attractive to potential buyers.
What Is Virtual Staging?

Virtual Staging is the process of adding virtual furniture into the photos of a home without any actual changes in the home. All the process is done digitally, which helps to reduce the cost of labour and the risk of damage to the home. After having those photos virtually staged, real estate agents can use those photos to advertise their listings online.
Why Should Use Virtual Home Staging?
It is undeniable the benefits of home staging in selling houses, especially physical home staging which offers a concrete picture of the home's potential. However, when comparing physical and virtual home staging, there are few reasons why sellers should choose digital home staging over traditional home staging techniques.
Virtual staging is more affordable than traditional home staging
Traditional home staging requires sellers to rent furniture to stage in the home, and not every seller can afford expensive furniture. Especially, when the house is on the market for a longer period of time. As a result, the investment on traditional staging can be high and it is not suitable for mid-range or smaller home sellers with low budgets.
In the meanwhile, with only a few hundred dollars, sellers can have a full house virtually staged. All the rooms can be digitally staged to showcase their best potential. Sellers only need to pay a one-time fee and no need to worry about expensive furniture rental or the extra fee of maintaining furniture or storage when the house is on the market.
Home Sellers no need to move out when using virtual staging
As mentioned before, virtual staging is all done virtually, the design element of the house is still remained. No actual changes are made in your house. Therefore, you still can stay at your house and no need to move out or remove any things.
When you have photos for virtual staging purposes, virtual furniture will be placed in the photos of your house, making it look as a beautifully furnished room. The virtual stagers also can renovate your rooms by photoshopping out all the existing furniture and add a new one with new design to your house.
Virtual Staging is more flexible than physical staging
With physical staging, once you get your furniture placed, it will be quite complicated to change the design if you want to show your house in a different design style. You will have to pay for furniture rental fee, pay for labor workforce and professional home stager again. And the expenses can be very huge.
However, with virtual home staging, it is much easier. Professional virtual stagers will have a library of furniture sets in different design styles and they can apply them to your house with just a little fee. You don't need to do anything, just let the virtual home stager understand how you want your rooms to be, and they will take care of the rest and send it back to you within one or two business days. Everything is very simple and quick.
How To Virtually Stage A House?
To have a virtual staging photo of your room, you can have two options. One is outsourcing a virtual staging service to do the work for you and the second is you can do – it – yourself with the help of virtual staging software. No matter which way you choose, the important thing is the final result you are expecting.
Outsourcing a virtual home staging service provider
If you are new to virtual home staging and concerned with the effectiveness of virtual staging, you should consider outsourcing a virtual home staging agency which has a team of professional virtual stagers. They are knowledgeable to give you consultancy about how your rooms should be digitally staged.
Normally, the price for one photo virtually staged is $25 – $50 depending on each company's policy and turn around time is less than 48 hours. They will do everything for you and you only need to describe how you want your rooms to turn out.
To choose which company you can work with, remember to check their portfolio first to make sure they offer the products as you are looking for. Then asking their price and turn around time, as well as asking for trial if possible. After having a list of virtual staging companies, you can start comparing those criteria and choose the best one to connect.
Here is the list of popular companies which are specializing in virtual staging
Hiring a virtual staging company is the best way to make sure your house turn out great. And it is best suitable for those who are under time constraints. For those, who have knowledge about adding virtual furniture, they can try to do -it – themselves with the help of available software.
Do – It – Yourself
If you choose to do it yourself, you can save money on hiring a virtual stager and you also can flexibly customize your room as you want. There are many virtual staging software available which you can download on the internet. Most software offers free versions with limited functions, therefore, if possible you should purchase one to be able to use all the advanced features. Here is some software which you can take a look.
ARCHLine XP Virtual Stager – a software designed for realtors. With a usable interface, this virtual staging offers a variety of options. To create a virtual staged photo, you need to import the photos to a folder, then you will be able to adjust the size and location of windows, change walls color, create an original design and add furniture to the room. Finally, you render the photos and share it with others.
Real Tour Vision Software – This is well-known software in the virtual tour industry. Besides offering virtual tour software, this company also develops virtual staging software. This virtual staging software offers large sets of furniture and decor items, allowing users to digitally stage larger spaces.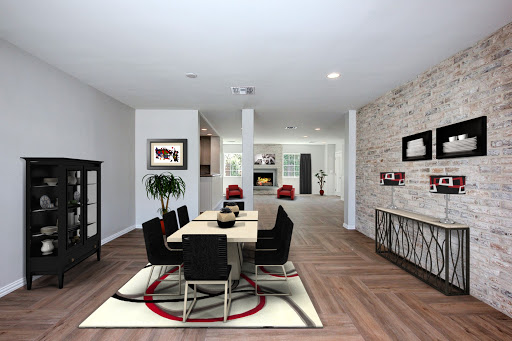 VisualStager.com – a popular virtual staging software in the market. It offers more than 2500 furniture and decoration items allowing users a variety of furniture choice. Besides that, this software is browser-based which allows you to use from anywhere and at any time without downloads.
3DS Max rendering and Modelling Software – This software is one of the best software in making 3D models, animations, and images. The quality of final products created by this software is superb. However, unlike other virtual staging software, this software requires knowledge and experience in 3D and that is why most virtual staging companies use it.. If you don't have skill about 3D, then it is quite difficult to use this software.
What You Should Be Aware When Using Virtual Staging?
Virtual staging brings a lot of benefits to home sellers, however, when using it, real estate agents should be aware of a few things
Virtual Staging is fake
Literally, virtual staging is obviously fake. Luckily, with the help of skillful virtual stagers, sellers can have their virtual staging photos look lifelike and natural.However, if it is not done right, it can drive your buyers away. For example, you send the low quality photos to a virtual stager and if they add virtual furniture to the photos, it can make the photos look unnatural.
Or a virtual staging room with low-quality graphics also makes the room look fake.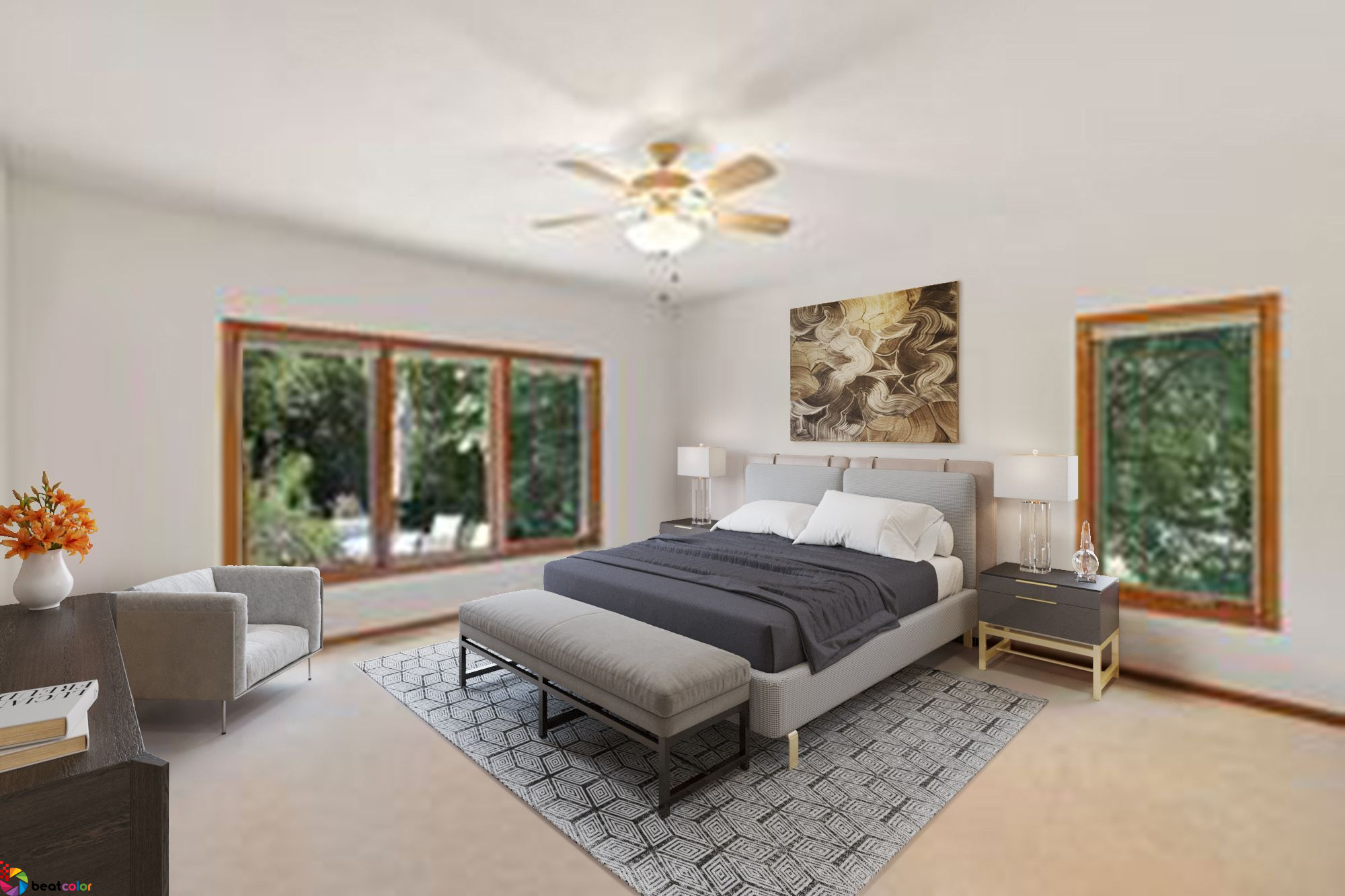 It can be said that doing virtual staging poorly can bring harmful benefits to your house.
Virtual staging  can misrepresent the home's condition
Virtual staging can renovate your home into a total new one by adding new paint color, doors, light fixtures, or changing architecture design. By doing this, your house can appear far better than its current condition. Although it makes your house more appealing to clients, it brings side-effects. Home buyers can be misled between the virtual staging photo and the real house when they have an in-person tour. They can feel being cheated and even sue you because of that. Therefore, be careful when using virtual staging and do not misrepresent it.
Don't use only virtual staging photos in the online listing
Using only virtual staging photos in the online listing can mislead the home buyers. Therefore, to avoid this, home sellers should use both virtual staged and empty photos on the listing. By doing that, prospective buyers can both visualize the empty space and understand the real condition of the room.
Using virtual staging in selling empty houses is a wise investment. Understanding the potentials virtual home staging can bring and utilize it in the right way, real estate agents or home sellers will be a head of the game, especially in the period of COVID-19 pandemic.