Stitching photos isn't as difficult as we ever thought. Panorama makers make everything easier and simpler. It can stitch single exposures and HDR. Sharpness and seamless edges even exceed our expectations. This post gives you the top 5 most popular panorama makers. They are not only user-friendly interfaces but also produce stunning images.
Panoramic Photography
As the name suggests, panoramic photography is wide horizontal images. Panoramic photography is also known as using stitching techniques in Photoshop or panorama makers. They stitch multiple images from the same camera together or 2-3 different lenses to form a single wide photograph. Except for expensive 360-degree cameras, normal cameras and lenses can't capture such a sweeping landscape.
The main application of panorama makers is in natural landscape photography. Now, it is used in real estate photography, cityscape photography, and architecture photography.
Without panorama makers, you can still have panoramic photos. Built-in panorama mode in the digital camera allows doing that. To get perfect 360-degree photos, you need more than a DSLR camera and a wide lens. The pano head, a tripod, and specific camera settings are other things. With the built-in panorama mode in the camera or smartphone, you just need to pan the camera right or left, up or down. The digital camera will automatically shoot some exposures. Then, it stitches them together into a panorama photo.
Professional panoramic photography really needs specific camera settings and a panorama maker. You can refer to camera settings via Photography Pro & Photography Life.
Below, we would like introduce to you the Top 5 Panorama Makers!

Top 5 Panorama Makers Online
Until now, PTGui is one of the most popular panorama makers with photographers. It is very friendly-user and fast. Additionally, it supports many types of lens and creates a fantastic final result.
The PTGui Pro version supports HDR blending and Exposure-Fusion. It produces perfect sharpness through the frame and blending across seams.
Pros:
Automatically recognize the camera & lens. Then, it calibrates the setting for you.
Offer a wide range of projections. Essential rectilinear, the obscure Vedutismo, spherical, "little planet," and cube face projections
Quickly and dynamically adjust the projection, rotation, and center.
Mask out unwanted features.
Stitch a 1 Gigapixel panorama in about 25 seconds thanks to GPU acceleration.
Manually tweak control point.
Cons:
Setting defaults is a bit unusual.
Panorama Stitcher Mini quickly becomes a favorite App on Mac Apple Store. The free version allows users to experiment with how to create a stitched panorama photo by an app. It can stitch up to 5 images by the art algorithm and a simple user interface. Until now, it is compatible with macOS 10.12.
The mini version offers all superior features compared with other commercial panorama makers. Its art algorithm automatically aligns and crops images. It also handles lens shading correction, accurate color.
Pros:
Inconsistent between images in the intersections are minimized.
Fully automated panorama maker apps.
Create high-resolution images for large prints.
Cons:
Run of memory faster than other software.
Speed is also slower.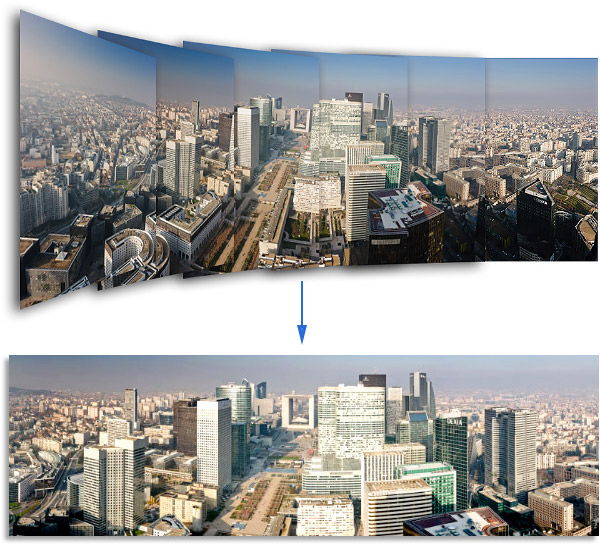 As the name suggests, Autostitch is a fully automatic panorama maker. Working on it is so easy. Just by clicking on File Menu then tap on Open to import photos. Autostitch starts stitching photos together immediately. In around 2 minutes, you already have a good panoramic photo. It offers virtually no controls and no cost. So, its creation may let you stand in front of two choices: take it or leave it.
Matching and blending of edges are generally much better than manually doing. Sharpness is well preserved and reasonable around stitching boundaries.
Pros:
Very simple to use.
A fairly good baseline for stitching software in terms of quality.
Hugin is an open-source panorama photo creation tool. This should be in every digital photographer's virtual toolkit. This free software allows users to manually fix control points. Different exposures taken from two types of lens and more including fisheye lens are stitched smoothly.
Pros:
Exceptionally powerful for free software.
Easy to install and work with.
Produces excellent panoramic images.
Cons:
A little bit difficult for beginners
Still, be reported for errors in running. Most of the time, it works automatically but sometimes it doesn't. You have to go to layout/ projection/crop menus.
Microsoft Image Composite Editor is a fantastic tool for beginners to take the first steps in creating panoramic images. It still has a couple of configuration options like the Stitching Method and Cropping Area, which users can manually do by themselves. Furthermore, it has several options of projections to choose from. However, the functionality of viewing separating images is still missing. As for professional photographers, it misses quite a lot of manual manipulation.
The remarkable feature of Image Composite Editor is that it doesn't limit image size. It means users can stitch gigapixel panorama support for input images with 8 or 16 bits per component. It is possible to read raw images using WIC code photoshop layer and large document support.
Pros:
Easy to use.
Auto-fill in the missing areas of photographs.
Several stitching methods.
Good variety of exporting formats.
Cons:
You can't view images separately.
The stability of the program can be improved.
Bottom Line
After our thorough reviews about the Top 5 Panorama Makers, you can choose panorama makers meeting your need. If your workload in editing panorama photos is not too much, Image Composite Editor and Panorama Stitcher Mini or Hugin are good to go. PTGui is the best choice for professional photo editors.
Beat Color also offers Panorama Image Stitching Service at an affordable price. We use the latest PTGui Version to stitch your various input files into a single panoramic picture. Turnaround time for this project is within 24 hours. Here are the techniques included in our service:
Stitching and adjusting vertical or horizontal photographs.
Aligning, positioning, and blending correctly elements in the pictures.
Removing spots, camera flashes, shadows, and other unwanted objects.
Stitching HDR and Fish-eye panorama, 360-degree virtual tour view.
Rotating, resizing, and cropping images with color modifications.
Enhancing the brightness and contrast.
Inner and outer cylinder/ sphere panorama.
Adjusting brightness and contrast.
Correcting color and enhancing the depth and definition of images.
If you need helps or further information, don't hesitate to contact us via email: cs@beatcolor.com
Thank you for reading!