Real estate agent's photoshoot is the very first thing noticed by any photographers or clients when they approach you. However, in the new world of real estate and digital marketing, how do you show up yourself to be seen? Reading these following realtor photoshoot ideas will help you create professional headshots.
What are realtor photoshoot ideas:
Specific your target audience
Hire a professional photographer
Location ideas
Outfits
Hair and makeup
Posing ideas
Smile
Using realtor headshots
Outsource editing
Specific your target audience
One thing which visionary people have in common is goal determination.They know what they are looking for and what should be done. So does a successful realtor. The key is defining your target market and knowing who you are selling to. You need to analyze your specific audiences, their layers in society, their ages or interests. These are important aspects to select the appropriate outfits, hair and makeup style and locations, etc. To define your clients, think about the area you are going to specialize in. Then, realize your realtor photoshoot ideas by starting planning a photo shoot around speaking to your target market, making it more likely that you'll resonate with the people who are interested in.
Hire a professional photographer
When it comes to real estate photoshoots, it is recommended to hire a professional photographer if you want truly amazing results. It's suggested to find the right photographer by asking your friends or family for recommendations or simply search for a local "realtor headshot photographer" on google. Do not forget to check their portfolio and testimonials to make sure that you'll be getting qualified images and a great experience or match your style.
On average, a headshot session might cost from US $100 to US $250 per hour. To be fair, we cannot deny that they are a deserving investment that should have a return.
Location ideas
Now that you have gotten clarity on your message and found your photographer, ask your professional photographer if there is any location recommended. The background used will help connect to your audience. Our headshot location recommendation list is available for your reference:
A listing or model home
Home studio list
Local coffee shops and restaurants
In your office space
In your home
City's popular place
When choosing the location for your shoots, consider your business branding and the message you want to convey to future buyers. If you want various options to select from, you can consider investing additional fee and pay for multiple locations in your photoshoot.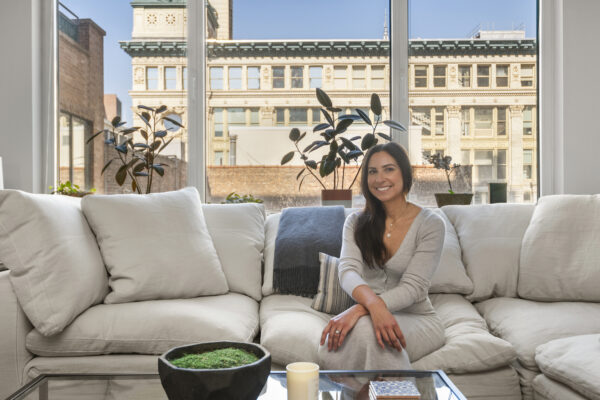 Outfits
Next, it is very important to make sure your clothing is tailored for the photoshoot. You should wear something that looks professional, conveys confidence, and relates to your target audience. It's obvious that headshots are meant to be more professional than standard portrait photography. If your clienteles tend to wear casual clothes, business casual is one of good realtor photoshoot ideas. On the other hand, if they are luxury and typically in suits, you should choose a gorgeous dress or a suit for the headshots. Keep in mind not to be over- or underdressed.
Furthermore, for jewelry, consider to wear something simple or avoid them completely. Too many accessories will distract viewers from your face. The main purpose of your photos is for people to look at and remember you as a leading expert, not to remember your luxury jewelry.
Hair and makeup
Professional real estate agent headshots start with nice hair! Make sure you get your hair styled properly before a photo session.
Even if you prefer putting makeup by yourself, it is unlikely that you have the same skills as a professional makeup artist. When mentioning creating attractive real estae photoshoots, every single detail counts.
A professional is skillful enough to highlight your best features and make you look as stunning as possible. It is recommended to consult with the photographer whether they know a good makeup artist.
Posing ideas
One of the easiest ways to have a good pose for your headshots is to learn from your favorite realtors/ photographers or take a look at their pictures on Pinterst to mimic them. If you still are struggling and have no idea how to pose nicely in front of the camera, here are some tricks for you to refer to.
The walk: This is one of the classic poses chosen by many people for a formal setting. The reason is it makes people look relaxed and helps if they are not familiar with being in front of the camera and have no idea how to move.
Stand from a distance and start walking towards the camera. You can look straight into the camera or to the other side. As a result, you will have a lot of dynamic pictures to choose from.
Rest the arms on hips, or cross them on your chest to boost self-confidence.
Seated pose. You can sit on something with your knees higher than hips and loosely laying your hands on legs. Stairs are the perfect location for this pose; the only aspect to control is the posture. One should always keep it straight.
Lean towards the door, tree or wall will make you look friendly and laid-back for the viewer. It is a nice pose to incorporate your interaction with the environment.
Jacket over the shoulder is one of the poses male use the most because it defuses the tension and makes the model look more relaxed.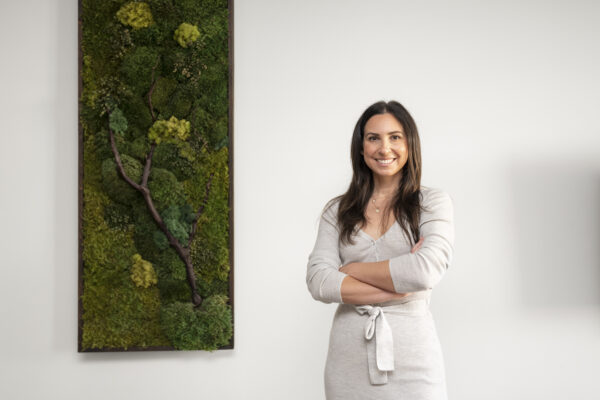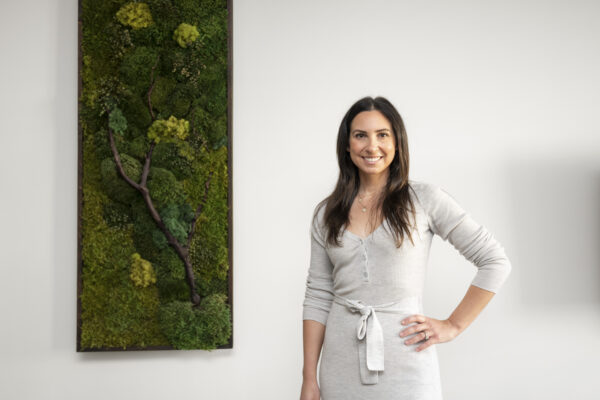 Smile
More than any creative poses, keep in mind that smile sometimes is all you need. Some realtors, especially men, think that a stone-faced blank expression works best to give off a professional impression. Though many influential people look serious in their photos, such an expression is not always the most appropriate choice.
A number of recent researches have revealed that a warm smile increases somebody's truth about you and they think of you as an honest person. As a result they will be more likely to meet and work with you than others without a smile.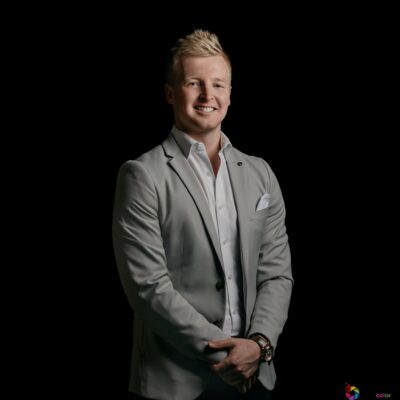 How to use your real estate photoshoots for marketing?
It is said that "A picture is worth a thousand words", but in the case of your online presence where the first impression is worth thousands of dollars for your real estate business.
Once nice headshot photos are ready, it is about time to apply them in marketing strategy of your business, including both online real estate listings and social media profiles.
Branded marketing material
Online real estate listings
Social media profiles
In a world where all are doing everything to be heard, if you want your brand to be the first name people think about when they need to buy something, headshots and portraits can help to keep you stay in their minds.
Outsource editing tasks to professionals
Should you want to save money and take photos by yourself, I suggest contacting BeatColor photo retouching service to get a great result. Our experts will know how to handle nicely and will promptly deliver high-quality photos for your real estate campaigns. As a result, you will achieve natural-looking and polished images as expected.
FINAL THOUGHTS ON REALTOR PHOTOSHOOT IDEAS
In such a competitive market as real estate, what would set you apart from your competitors? A professional process applied to save clients money or time, your negotiation skill, or an impressive branding strategy? All of them are the points. In which, a professional realtor photoshoot will make the very first impression and build connection to your business from the start.
FAQs
​​How often will I take my real estate photoshoot?
Since the trends in clothes or hairstyles are likely to have updated time by time, you can only use real estate agent photos for several years. Not to mention your appearance can also change dramatically. If it has been a year or two since your last headshot, you need an update. If you are going to do cosmetic surgery, consider updating your photography as well.
How much do real estate headshots cost?
A real estate photoshoot's price ranges from USD 150 to USD 350. Nevertheless, this cost mostly depends on your headshot photographer and other factors such as locations or makeup fee.
Can I take a real estate headshot myself or have a friend do them for free?
In case your budget is tight, asking your friend, colleague or family member to take them for you might be an option. However, it is clear that their photos are not likely to be up to "headshot" standards unless they are a professional photographer or model. You really need to give careful thought to these options before committing to them.