A Complete Guide About Best Drones For Real Estate
By Ly Bui
04/11/2020
"A picture is worth a thousand words " is a quote in Real Estate. This statement is more accurate in the era of high technology. Stunning aerial photos and real estate drone videos are very appealing to home potential buyers. Its powerful effect makes drone as the latest marketing weapon in real estate. It showcases encompassing aerial views of the entire property. Do you know that the usage of aerial images and drone real estate videos makes properties 68% more be sold? And this number continues increasing!!! With the high demand for using drones in real estate, many evolution of drone technology have come up with. In this article, we will go through the outstanding features of best drones for real estate and our recommended drones.
Feature of Best Drones Used In Real Estate 
Camera Quality
The leading producers in camera drones are DJI, Autel and Yunee. Among these three big names, the dominating name is DJI. It is thought that a 4K drone is the ideal one. Drone footage recorded at 1080p in 60 fpts is the preferred choice. It is good enough and uses just 25% of the memory that 4K video does.
Drone Type & Size
Typical size of a drone is a quadcopter. It has four fixed wings and requires short runways. Quadcopters are best to film natural landscape. The next edition of drone is VTOL acronym of "Vertical Take-Off and Landing". It can take off, fly, hover and land horizontally. Superior features of VTOL in comparison with quadcopters is higher maneuverability.
Radar Position and Return Home
The fact that, almost all potential home buyers would love to examine how good infrastructure of their new city is or what the community surroundings look like, a radar-assisted drone was innovated. It quickly becomes a preferred choice of almost video makers. It operates as a valid GPS-independent method for drone tracking. Furthermore, the latest drones now even can record the home point for 'Return To Home' safety feature.
Obstacle Detection And Collision Avoidance Technology
In the market, popularly almost drone models have forward-facing obstacle avoidance. The latest high-end drones have obstacle sensors on all 6 sides. Some of them are DJI Mavic 2 Pro & Mavic 2 Zoom. The operation of obstacle sensors is scanning the surroundings and producing images in 3D map. This operation allows drones to identify obstacles and detect collision. This latest technology shows its best capacity in filming properties surrounded by many high buildings. However, in real estate, it's not necessary to use the most advanced technology. In fact, four obstacle sensors already works well in shooting home.
Gimbals
A gimbal mounted on a drone is designed to give the camera operator the independence of photographing or filming without camera vibration or shake. The latest drones have three brushless motors (3-axis). The gimbal has the ability to keep the camera level on all axes (pan, roll, tilt) as the operator moves the camera. An inertial measurement unit responds to movement and utilizes its three separate motors to stabilize the camera.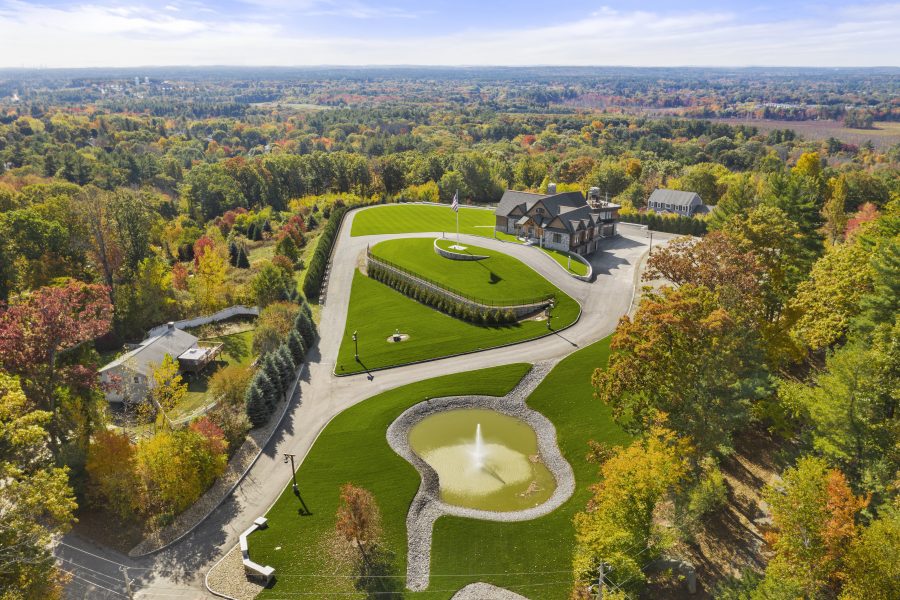 Best Drones For Real Estate
In this part of article, we shall go through the top recommended drones for Real Estate based on its specifications & latest technology. 
DJI Mavic 2 Pro has superior features that every professional video maker is looking for. It takes the high-end performance and camera capabilities of the bigger Phantom 4 Pro. The Mavic 2 Pro uses a large 1-inch CMOS sensor and Hasselblad L1D-20c camera. Its camera allows photographers to capture 20 megapixel aerial shots in stunning color detail. On top of that, the built in Dlog-M profile of the Mavic 2 Pro makes shots look extra fantastic. With 4K 10-bit HDR support, the Mavic 2 Pro can be plugged into a 4K TV with HLG and will immediately play back footage with the right color tones.
The latest innovation was applied into DJI Mavic 2 Pro, too. It has six camera sensors on all sides, pre-programmed flight patterns. Its additional APAS system can figure out a path through obstacles instead of stopping in the middle way. Finally, the flying time of Mavic 2 Pro is fairly good at 25 mins.
Our advice: If you are looking for a fold-able drone equipped with high-tech, DJI Mavic 2 Pro is your wonderful choice. It perfectly combines powerful features all in one compact and promises to bring beautiful drone footages for real estate. The Mavic Pro proved that UAV technology had reached its stage in advancement wherein the tech was getting smaller and smaller, and more accessible to the masses.
Featuring a 1-inch CMOS sensor that can shoot 4K/60fps videos and 20MP photos, the Phantom 4 Pro V2.0 grants filmmakers creative freedom. The advanced feature exceeding it predecessors is OcuSync 2.0 HD transmission system. This system ensures stable connectivity and reliability. A mechanical shutter eliminates rolling shutter distortion appearing once capturing fast-moving subjects or flying at high speed.
A wide array of intelligent flight modes makes flying much easier. In addition, one new flight mode is Draw. The drone flies in the direction, which you draw on the screen and sticks to its altitude.
Return to Home functionality was upgraded in the Phantom 4 Pro V2.0. It can automatically choose the best route home based on the environmental conditions. Moreover, it can land in exactly the same place where it is originally set off from.
Our advice: The Phantom 4 Pro V2.0 is a complete aerial imaging solution and one of the best drones for real estate. It was definitely designed for the professional creator.
Its high-quality camera records ultra-stable 4K ultra high definition video at 30 fpts and vivid 12-megapixel still images. CG03+ camera mounted on the Yuneec Typhoon H rotating 360 degree can produce truly spectacular cinematic shots.
For live view and remote operation, the camera features an integrated 5.8 GHz video down link that enables operation and viewing from the 7″ touchscreen on the ST16 Personal Ground Station. Typhoon H's flight ceiling is at 400′ above ground level at the take off point.
Multiple intelligent flight modes included such as Orbit, POI, Journey, Curve Cable Cam, Follow Me, Return Home. Typhoon H's landing gear retracts out of the way to give you a full, 360° view of the world without anything obstructing your view. 
Our advice: The Typhoon H has a slight advantage with the 360-degree camera rotation. It is still, however reported that a small amount of noise in the shadows and low lights can be found. With a lot of features at a competitive price, we believe that it is still a great high-end camera drone for your real estate aerial videos.
The launch of Autel EVO II in 2018 was promising to be a solid drone. It was considered as a better alternative to DJI. Its most outstanding feature is a modular camera system. Its camera matches different needs from consumers to professionals. Equipped with 1/2'' 48MP Quad Bayer, it is the first customer drone to offer 8K video. On top of that, it features both an optical and thermal camera in a single unit, it can produce up to 6K video.
About obstacle avoidance, the EVO II features a total of 12 vision sensors for omnidirectional obstacle avoidance. Two ultrasonic sensors in the bottom of drone makes it fly correctly.
Flying time is currently up to 40 minutes at the longest. Other feature which is comparable with DJI is huge batter at 7,100 mAH & 8 GB onboard storage.
Our advice: With an affordable price, the EVO II is the pioneer in drone market. Increased flight time, high resolution visual and IR sensors make it outstanding. If you are currently looking to pick up drones for real estate with recreational or commercial purposes. we highly recommend this one.
Final Thought
As the expertise in Real Estate Video Editing, we highly evaluate the quality of the above drone models. All updated features compacted into these models ensure that you receive smooth cinematic footages and in-depth color photos. Their quality is completely convincing of potential buyers. They are showing their worth for money!!!