In recent years, den room ideas are capturing a high interest. In a house, the den room is known as the man cave where they can find calmness and relaxation again.
Such a peaceful place helps people recharge their energy after the hectic pace of life on the outside. This specific post gives you the clearest differentiation between den, sitting and study room. In particular, we share with you inspiring den room ideas.
Find Den Room Ideas Through Its Definition & Difference With Other Similar Rooms
Although den room is not a new definition, it still causes some confusion with other similar rooms like study or sitting rooms. The reason is that these rooms have same multi-functional purposes.
Keep reading and letting us explain the most accurate understanding about den room. Its definition provides you with correct den decor ideas to make it differentiate with other ones. Let's get started!
A Definition For Den Room
According to the New Oxford American Dictionary, a den is "a small, comfortable room in a house where a person can pursue private entertainment". It is commonly known as a personal space for adults. People use such a cozy place to retreat into themselves. It makes people feel calmer and more revitalized after spending their own time reading, creativity work or personal entertainment.
This definition makes a den room pretty much the same as a study room or a sitting room. The reason is that both study and sitting rooms could serve conventional purposes as private intimate places of study or conversation without the outside distractions.
Now, don't make you await so long. We will walk you through the main difference between den room and others. Based on that you will get distinct den furniture ideas.
What Makes A Den Different From Other Rooms
The biggest difference between a den room with others comes from its location. Den room or "a man cave" identifies its location, which is often out of the mainstream traffic throughout the house. It is at the back of the house or deep into the house.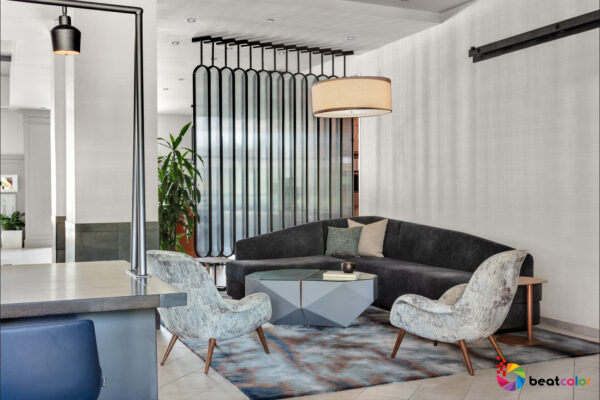 Den Room Against Sitting Room
In terms of room placement and functionality, the sitting room is set-up for private conversion. In the past, the sitting room was placed in front of the house. It was the first room in which family members or guests stepped into the house after their long journey. They used that place to have a rest before setting into their room.
Nowadays, a sitting room is usually situated outside bedroom where you can greet your close friends or have intimate conversations with other family members. The location of sitting room could possibly turn it into a privacy space for personal entertainments like reading, watching TV, listening to music, surfing, eating, playing table games and talking. Due to that fact, these two room types can be interchangeable, particularly in small and medium houses.
In the larger house, many house owners prefer separating spaces for sitting room, family room and den room.
Well, how can we set-up these two rooms differently?
In terms of layout, the typical set-up of the sitting room is two or four armchairs instead of a mix of love seats, sofa and chairs.
In contrast, the den is mainly designed for comfort and equipped with:
Bookcases used as the family's library.
Upholstered chairs with ottomans.
A couch is long enough for a Saturday afternoon nap.
A desk lamp for working or a floor lamp by a side chair for reading.
Den Room Against A Family Room
In the 1970's, a family room was commonly considered as a den. However, dens were traditionally small rooms devoted to non-work activities, not formal occasions and different purposes. For example, it can be used as a guest space, a reading corner or even an office.
Unlike dens, family rooms are designed to become a nice, and cozy place where the hosts can entertain guests or where family members can be together. Sometimes, it has some spaces for kids to play with.
As the name suggests, family room is a gathering place to chill-out and entertain together. Its distinct feature is a big TV screen or projector to watch movies at the weekend Depending on the room size, it also comes with a ping pong table or a pool table. Additionally, the family is usually placed near the kitchen to get drinks or snack easily.
In terms of lighting, while it is an decisive element for an inviting living room and family room, it is not so important with a den. Some people even prefer a den with a small window and as less natural light as possible.
According to aforementioned design and room function, we believe it is easier for you to differentiate between den and family room.
Den Room Ideas For Decorations
If you still feel stuck in decorating den room ideas or its definition, no worries, help is on the way. Below are a bunch of beautiful dens and amazing tips that can provoke your thoughts.
Pack on the Plushness
Fixing up your den's cozy factor by increasing the plushness is not a fresh but valuable idea. With a shag striped rug, faux fur blanket, and knit throw pillows, a den that makes you want to kick back, relax, and hang out for a while.
Opt for a Dark Hue
Setting a dark hue as the mainstream color for your den's wall and furniture is a little bizarre but unique concept. It is easy to have a thought that painting a room in a darker color will make the space become narrow and sorrowful, yet truthfully, the results are a total contrary. With a light rug, white shades on the sconces, and some greenery, this den is dramatic and anything but drab.
Transform It Into a Home Office
One of the best things about a den is its flexibility. While a lot of realtors would rather build their dens a screen-free zone to refresh, you can also transform yours into a home office. With a desk, a basic chair, some plants and a convenient closet, the den room is ready to be another working space for homeowners.
Conclusion
We hope that the article gives you insight into den room ideas and how to create distinct features for this specific room. Nevertheless, the house is the perfect reflection about lifestyle, taste and experiences, and your den area is no exception. To many people, a den is a perfect realm to flaunt their modest personal touch. It is a clever way to fill up empty space with items that not only tell your stories but also can act as a conversation starter.