4 Handy Tips For Home Office Staging
By Keila Ngo
12/10/2021
Social distancing measurements and a long time lockdown of Covid-19 create remote work trends. Undoubtedly, the future of the home workplace continues developing even post Covid-19. More than ever, staging home office is becoming increasingly vital to make us fully ready to work and productive enough to achieve the desired results.
If you are going to put your home in the real estate market, it is also important to stage the home office as a multi-functional space fitting the property style. The staging makes your likely-home buyers easy to envision the place to set up a laptop, make a phone call, store paperwork, and even host e-meetings.
In this post, we will share with you 4 brilliant tips for staging home office to make you comfortable and unleash your creativity. Let's get started.
4 Handy Tips For Staging Home Office
#1. Furniture organizing
When staging any space, the rule "less is more" is particularly important. Applying that rule into staging home office is very essential to evoke an inviting and open feeling.
Having an open mind levels-up mentality. So, let's keep your home office looking captivating with some furniture essentials. You only need a few pieces of furniture to show the room as a home office. They could be a nice table and stylish chair, and defined decors. If it is a bigger space, you could set up a small reading nook or the seating and a table beyond the desk and work area.
Furthermore, make sure to sort and file any important paperwork. Additionally, organizing office supplies, limiting tech devices visible, and clustering electrical cords are good points.
Do not forget to leave out any personal or identifying information such as family photos, private notes, or certification. This may lead to some potential hazards to yourself and your family's safety.
#2. Office space lighting
Important as furniture essentials, home office lighting plays an important role in boosting your productivity, comfort, and protecting your eyes. Long working hours in front of a computer screen and inadequate home office lighting result in eyestrain. That is why office space lightning stays on the top of the list to do once staging a home office.
Like other rooms, we take advantage of using general lighting sources from overhead light and windows, filling the whole room. Besides, the adequate color temperature of overhead lighting is efficient to increase your enthusiasm during the day.
Task lighting or a standing lamp by the reading chair gives a distinct look for the home office. Placing a lamp with a sufficient lightning level on the desk helps lighten the work staging without causing blinding.
Besides these two functional lighting types, we also suggest adding decorative and accent lighting that creates better visual interest in your home office. Accent lighting like mantel draws attention to artifacts or elements in the room, whereas decorative lights—such as wall sconces—provide direct visual appeal.
#3. Color for work-place
Colouring makes a well-lit room look more inviting. Like lightning, color also keeps your energy at its peak. It is not only a tone color to spice up the furniture but also an efficient factor for you to release stress and unleash your creativity.
Once selecting a color for a home workplace, it highly depends on the work atmosphere you are desiring for. Additionally, the type of your work or a private or shared workplace is another consideration to get the right color.
We have rounded up some of the best designer-approved paint colors for your home office. Keep reading and finding the best color to suit your home office.
White makes a small workplace look brighter and larger.
Gray: A color of energy and renewal. It is also a nice tone color to easily coordinate with office furniture.
A slight gray: Make your space feel a bit more zen.
Warm tones like dark green or brown, taupe or sand generally increase concentration. It reduces fatigue in the eyes.
Tranquil color like lighter blue evokes the feeling of renewal and nature.
Dark blue provides a moody, calm tone for your home office.
#4. Decoration And Accessories
Decoration and accessories usually come to our minds once searching for home office staging ideas. As it is the simple and quickest way to renew your working station. A few pieces of décor make a space feel warmer and more inviting. Small touches like adding artwork, a plant, some curtains, pillows are great to leave your own personal footprint into the home office.
Let's discover the interesting part of how to stage a home office through some initial ideas about decorations:
Art – Display a unique piece on your wall, like a map or city. Photographs, mirrors, canvas artwork, or tapestries on your wall are impressive choices to display the owner's personality.
Rug – Place a large area rug beneath the desk and chair area to warm up and make the space more eye-catching. Make sure that it is large enough so the chair does not come off the rug when you pull it out.
Books – When displaying books, do not be too covetous. There is no need to show how many books you have, just some of them are enough. You should prioritize hardcover books, or any books providing a cleaner appearance on your shelf.
Green Plant – A green invigorates the work environment. It creates a comfortable atmosphere, thereby wakes up your creativity.
Conclusion
At the bottom of this concise post, we share some inspiring home office staging photos created by the talented virtual stager. Through the best virtual staging software, our visual stager is successful in millions of virtually staged photos per year.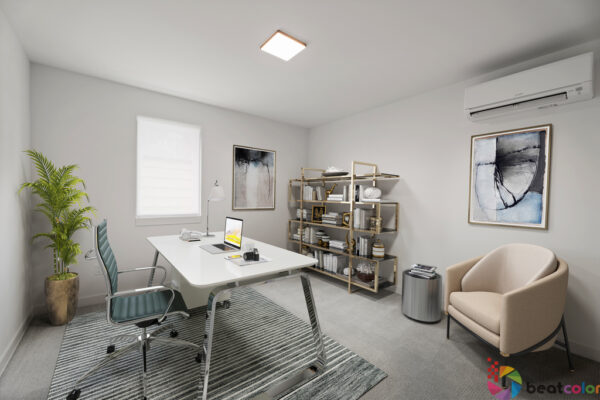 Read More:
Virtual Renovation – How It Helps To Sell Your House