You want to show the layout or the flow of the property for your potential home buyers. But all you can do is creating a hand-drawn floor plan. No worry! Outsourcing floor plan sketch conversion service from Beat Color, you will get exactly what you want!
What is Floor Plan Sketch Conversion?
Floor Plan Sketch Conversion is a process which we convert your hand-drawn property sketches into finished floor plan files. All you need to do is sketching and measuring the layout of the property, then send the image of that sketch to us. Once receiving your sketch, we will convert sketches of property layouts into digital floor plans by using AutoCAD or Metropix.
What kinds of Floor Plan sketch conversion do Beat Color provide?
Outsourcing floor plan sketch conversion from Beat Color, you will be offered the following options: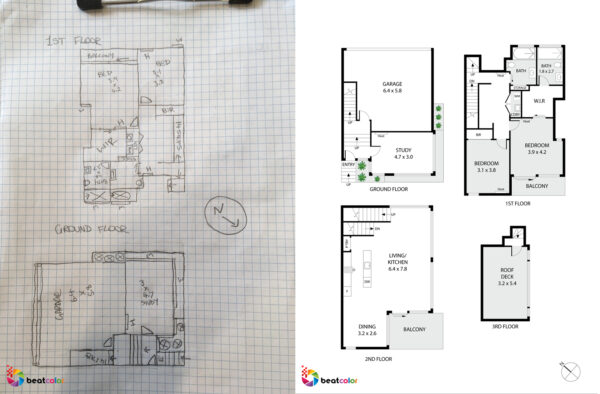 2D floor plan black and white: A traditional and formal version. Your hand-drawn floor plans will be created with black walls and black text on a white background.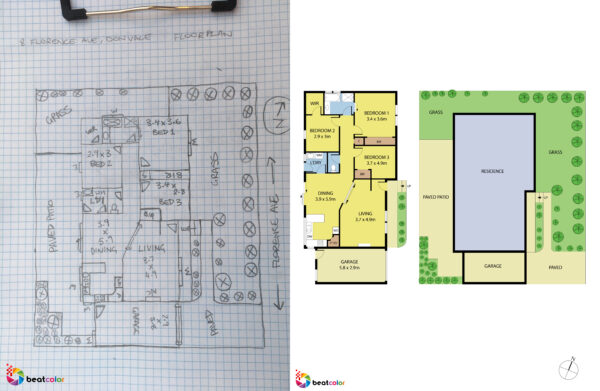 2D colored floor plan: We will turn your floor plan sketches into gorgeous and professional floor plan by adding color – any colors you like- to rooms, walls, and text.
Why should outsource Floor Plan Sketch Conversion Service to BEAT COLOR?
You should outsource floor plan conversion service to Beat Color because:
– Your Floor Plan will be converted with the latest CAD software and cutting edge computer hardware to ensure accuracy and high-speed in each project
– We can provide you floor plans in a wide ranges of file formats such as JPG, PDF, or DWG, etc…
– With only 24-hours turnaround time, you can save a lot of your time and focus on other important tasks.
– Our price is highly affordable with the top-world quality
To know more about floor plan sketch conversion service, please contact:
Email: cs@beatcolor.com