Top 8 Most Favorite Interior Designs In Real Estate Virtual Staging (Part 1)
By Keila Ngo
24/06/2022
Real estate virtual staging is popular for being an incredible breakthrough as well as an inexpensive and easy method which has proven to when it comes to selling houses, especially empty ones. However, sometimes, it might waste time and money if clients do not know exactly what they expect and have no specific furniture styles. Below are some ideas to avoid such unpleasant situations.
Modern Style In Real Estate Virtual Staging
If your taste are simplicity, straight lines, neutral colors but there is something still warm, the Modern interior design style will be an optimal choice. Appearing in the late 19th century, the Modern style soon exerted a great impact. Modernism movement quickly developed into a breakthrough and trendy lifestyle. As a strong break with classical architecture, simple modern buildings' cubic layout, open floor plan and asymmetrical.
Clean lines
Modern homes are constructed with clean, straight lines and minimal ornamentation.
Neutral colors
Modern Style favors neutral colors such as white, black, gray, and beige to enhance the elegance and grandeur. Instead, when doing real estate virtual staging, you can show off the property by mixing some contrasting colors to create accents for any special corner of the space.
Minimal home decor
Modern spaces are free from clutter and unnecessary flourishes. Modern decor prioritizes functionality over fashion.
Open floor plan
Modern homes favor furniture rather than walls so as to separate different spaces of an open plan home. For instance, a sectional or a kitchen island can simply bring definition to an open dining-kitchen-living combination.
Low and long furniture: Long furniture pieces situated low to the ground can give your home a modern look if they're also made from natural materials like unpainted wood or metal. Leather and fabric upholstery, wood veneers (such as those used to create the classically mid-century modern Eames chair), glass, chrome, steel, and concrete are also popular finishes for modern furniture.
Inspirations: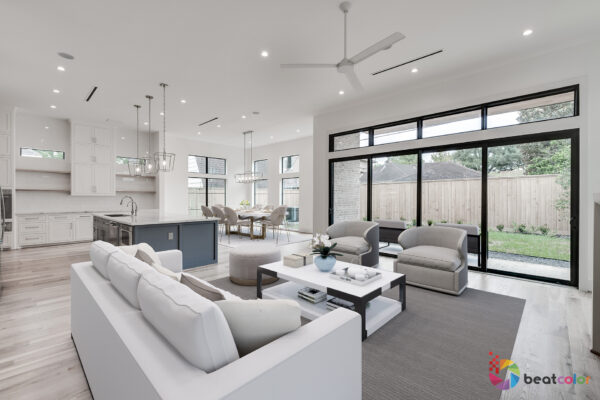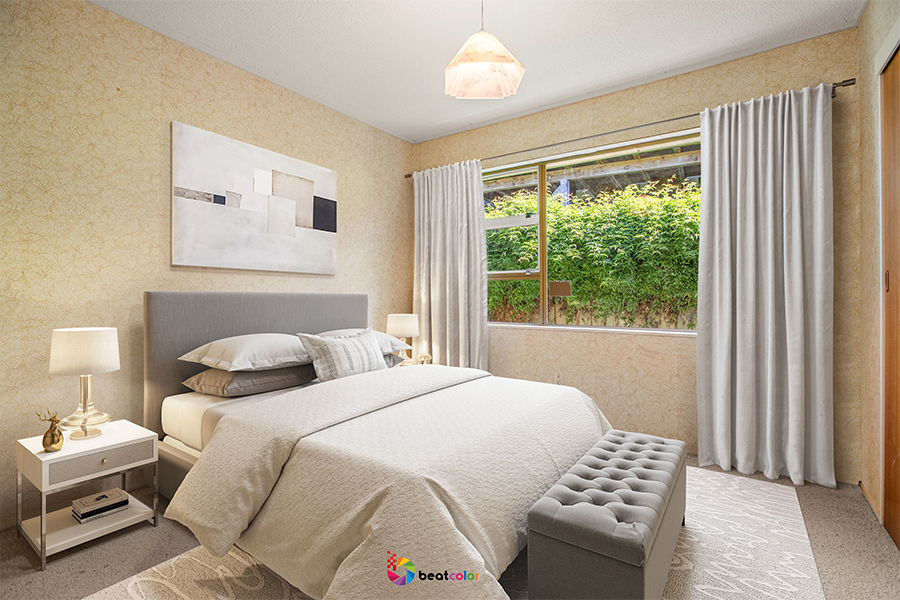 Contemporary Style In Real Estate Virtual Staging
The contemporary style comes from the contemporary art movement of the mid-20th century. Contemporary interior design inherits modern design lines and can incorporate different styles' features. Unlike the modern style, contemporary style always changes associated with the times. Alternatively, it is an ever-evolving style that reflects what is happening.
Through the characteristics of colors, lighting, furniture, materials, etc. below, we can easily identify this design style.
Color
The colors used in contemporary style are usually neutrals, white, black and gray. At the same time, we can still take advantage of other colors as bold accents in the design.
Materials
Popular materials in contemporary interior styles include metals such as chrome, nickel or stainless steel. In addition, we can easily encounter rough walls, cement concrete, etc. in contemporary apartments.
Interior Furniture
Contemporary design prefers furniture with simple shapes. However, instead of just using square lines like modern style, curves are more popular in this style.
Light is also an important factor in contemporary style. This style has a very clever combination of natural light and artificial light to create a unique building.
The differences between modern and contemporary styles
People quite often feel confused when differentiating the Modern and Contemporary design styles because both are simple, uncluttered with clean lines. However, actually, they are totally different.
Modern: formed at the end of the 20th century. This is a revolution in architectural design which has coped with the weakness of the classic design. Modern interior design focuses on function and comfort, omitting all cumbersome and unnecessary details. Light colors bring a sense of simplicity and sophistication to the space.
Contemporary: flourished from the beginning of the 21st century. "Contempt" means continuity of time and constantly updating the latest trends at a certain time. It's disruptive, bold, flexible, and reflects society.
Inspirations: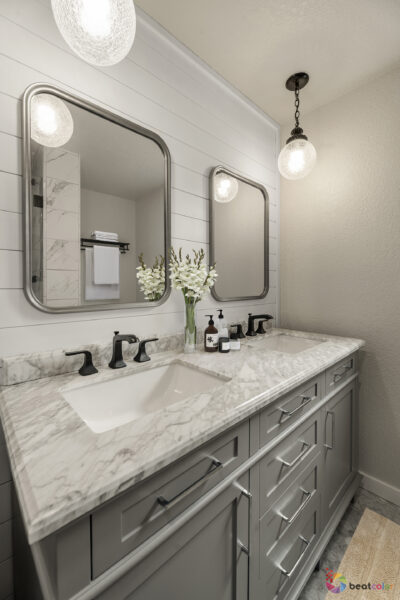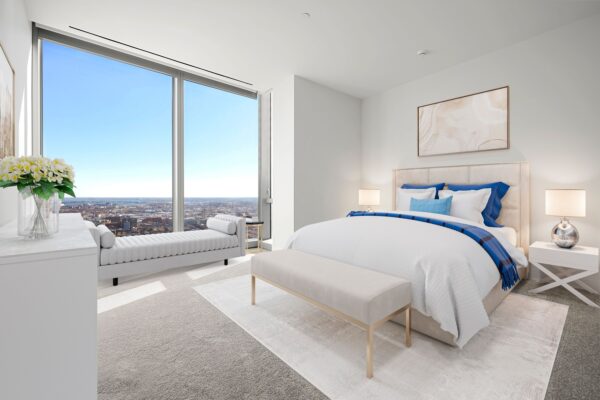 Traditional Style In Real Estate Virtual Staging
Traditional interior design style was inspired by European countries around the 18th and 19th centuries.
Primary Features:
Conservative color
Fabric colors and patterns are often muted and understated. Neutral tones including tan, taupe, cream or beige. Considering to combine them with pale blue, spring green or deep brown is a good idea . Regards to the light spaces, mix with subtle pops of yellow and light blue decors will make a traditional room feel less stuffy.
Symmetry
The traditional look is all about balance, from architecture to furniture placement. Furnishings tend to be grouped in formal arrangements that invite conversation. Besides, there are no sharp angles here — traditional rooms emphasize curves and comfort with plump cushions and plentiful pillows.
Pretty Patterns & Textures
Furnishings have elaborate and ornate details and fabrics, like velvet, linens, cottons, silk and brocade, which may include a variety of patterns and textures. It is common to see fabrics with patterns such as floral, paisley, plaids, stripes, toile or damask.
Artful accessories
Figurines, plants, books, globes, vases, candle stands, plates and platters, mirrors – are all typical in traditional design.
For artwork, portraiture and landscapes are big in traditional homes. A group of similar art pieces often have identical frames and are arranged in a tidy grid.
Inspirations: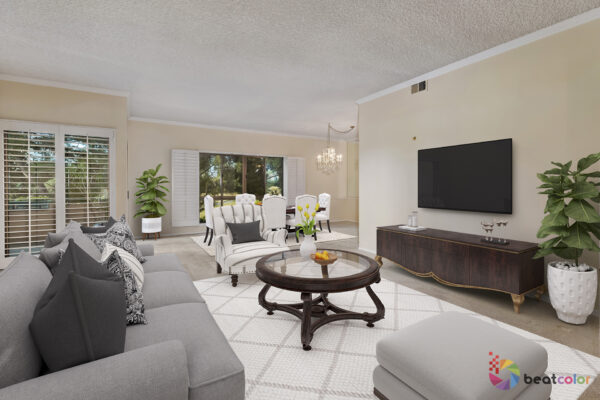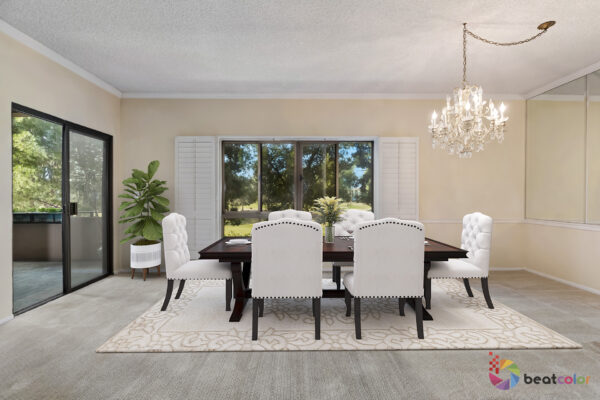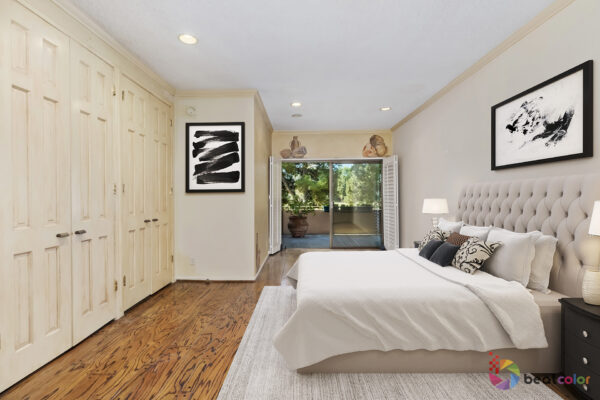 Transitional Style In Real Estate Virtual Staging
It's no accident that transitional interiors consistently trend at the very top of Americans' design style preferences. Marrying traditional and contemporary furniture, finishes, materials and fabrics, transitional style adds up to classic, timeless (and straight-ahead) design.
Neutral Palette
Transitional spaces evoke a serene and clean atmosphere by relying on soothing, neutral hues: taupe, tans and vanillas paired with dark brown for depth. It's the ideal aesthetic for relaxing rooms; consider how gently the sandy tones in this bedroom's textured carpet and patterned feature wall seem to envelop the bed. Crisp white cotton and textural linen bedding in a darker organic tone add dimension to the room's palette, while denim blue accent pillows and aqueous sea green hardware on the windows and French doors contribute a whisper of organic contrast.
Transitional style furniture
Since transitional interior design is all about unexpected yet carefully coordinated mixes, go for simple silhouettes counterbalanced by nuanced, abstract, and rounded elements to keep the eye moving around the room.
For a smart transitional living room, we admire how the inspiration above keeps everything in a strict almost two-tone color palette for the ultimate in balance, while there's a quiet play on rounded and rigid silhouettes competing with each other that's so quiet you almost don't notice.
And it's important for any well-realized transitional style home to ensure every element stand on its own while together create a rich assortment of goods that work together fluently.
Transitional style textiles
When it comes to transitional interior design textiles, think of a transitional style home boasting textural, plush, and varied textiles yet keep each room look grounded with subtle coordination as the key here is to never let a single piece look random – everything should have a rhyme and a reason.
Take a cue from the transitional living room featured above and keep textiles limited to a range of four to five complimentary shades in different patterns for the ultimate sense of visual play.
Minimal Accessories
In terms of accessories, like almost any interior design style, transitional allows you to champion era's and moments in small doses with stunning accessories to create a rich and layered mix.
When decorating a transitional living room, bring it to life with a limitless collection brimming with indulgent pieces culled from a variety of sources high and low to create an environment chock-full of playful conversation starters. In general, any transitional style home should boast a selection of extra's that are full of personality and visual appeal while bringing you joy with the thrill of the hunt.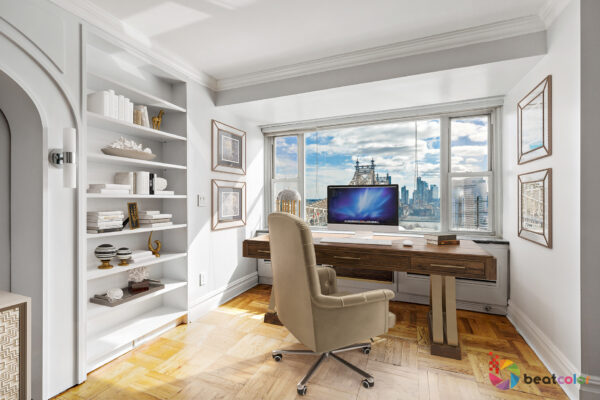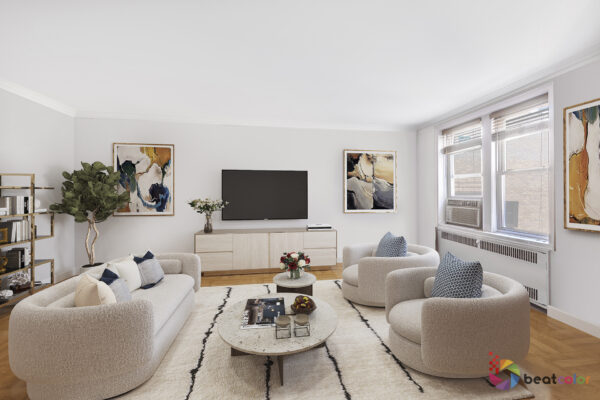 So, in the first part of top 8 most popular design styles used in real estate virtual staging, we went through four outstanding styles which are: Modern, Contemporary, Transitional and Traditional styles. I do hope that these information is useful and you keep looking forward to reading part 2 with the rest designs.