Before showing the list of the best free drawing software, we just want to clarify that good drawing software is the application often coming with built-in tools to help users to create artwork from scratch. Then, with other simple tools including a mouse and keyboard, you can virtually draw anything in the area of available features. Besides, you can easily edit and delete drawings, also save them in different formats like JPEG, GIF, or PDF.
Drawing tools with features can help artists, designers, or illustrators to obtain satisfying outcomes. It doesn't matter it is sketches, illustrations, flowcharts, or network diagram, good results do not depend on only your artistic skills, but also the kind of drawing tool you choose.
To make your first draft perfect, you need to have a suitable drawing tool to make quite a lot of adjustments. It is usually to add and delete some elements with a click of a button. In addition, people working in different areas including architecture, design, and engineering can have an effective sharing method. Drawing tools are often faster and more accurate.
Best Free Drawing Software
Operating system: Windows, macOS, Linux
Well-designed brushes and tools, accessible interface, handy drawing aids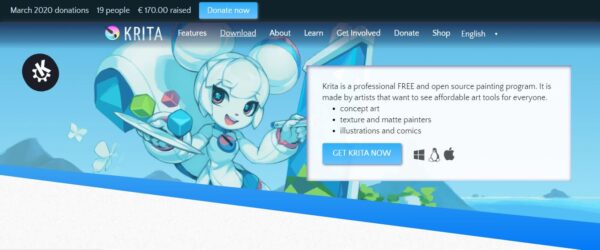 This drawing tool is the creation of a group of professional artists with the purpose of creating a high-quality creative tool for everyone. It is particularly appropriate for comics and manga. Also, panel templates and halftone filters are added into usual brushes, fills, and pens. As each brush is customizable, it allows you to save bespoke brushes for other usages.
A highly-adjusted feature that is a selection of wheel anywhere on the canvas by right-clicking helps to reduce time switching to a new tool and other colors, just in seconds. Comparing to trawling through menus and settings, this free drawing software is much easier and faster.
You can easily realize Krita comes with a lot of thoughtful little touches that help to create great drawings. They are handy drawing aids for straight lines, vanishing points, and smooth shapes. As it is an invention of artists, there are various great facilities including layers, masks, transform tools, and HDR support.
Krita is on the top list because of all the above incredible features, besides, it is totally free for download.
Operating system: Windows, realistic media, support layers, and a child-friendly interface

By applying ultra-realistic brush effects in input, Artweaver Free allows you to create beautifully realistic digital drawings from your mouse or a stylus.
Besides familiar brushes like Conte brushes and airbrushes, a lot of additional patterns and pens can be found in this free drawing software, accommodating very complicated images with just a little effort.
For masterpieces in layers, you can definitely rely on this layer-based tool without worrying about losing the ability to change anything.
Artweaver is particularly designed for children as they can be free to push their creation with all different brushes. They can also avoid cleaning up messes later on.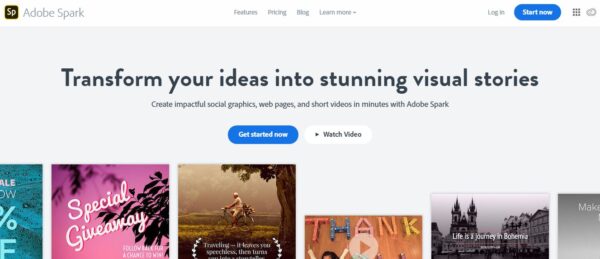 It includes a range of design tools supporting making posters, web pages, and videos based on both computers and iOS mobile devices. With Adobe Spark, content creation becomes so easy that everyone can do without wasting a lot of time and effort to master. You can choose a photo, add text, then apply design filters or animations. For example, regarding the flyer-making feature, your flyers will have a professional look in a quick and easy process.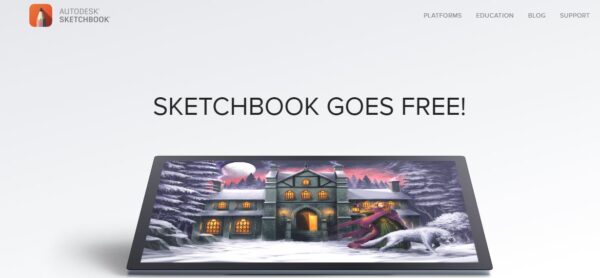 This mobile drawing software can quickly turn conceptual sketches to fully finished artwork. It includes products of designers, architects, and industrial designers in order to easily deliver users' ideas. In addition, the interface of SketchBook is very user-friendly, giving the maximum drawing space of every space.
With its convenience, this free drawing software is a great solution for actualizing ideas as soon as the inspiration strikes. You can turn your sketches into illustrated art and transfer paper to digital in a few clicks. One more thing, the device's camera can become a scanner.
Operation system: Windows, converts drawings to 3D models, a wide choice of paint effects, basic 3D effects.

An interesting thing about Paint 3D is that as you click the 3D Objects button, there is a model for you to choose to import people or animals. Also, you can draw your own shape and turn it into a 3D model, and then rotate and view from different angles.
There are a variety of finish options for your favorite shapes, including gloss, dull metal, matte, and polished metal. Then, it is easy for you to paint its surface and apply lighting effects. That feature makes Paint 3D as a wonderful software for kids of all ages.
Operating systems: Windows, realistic blending effects, easy for kids to enjoy, good for touchscreens.

This is another free drawing software that can be suitable for all different ages. While professional artists can use it as their real-life drawing tool, children can freely make a real mess.
If you want to have a feeling of putting pen or brushes to paper, this Microsoft app should be on your list. Its interface with skeuomorphism is really impressive while its plastic palette of colors shows the shade you're using and helps to make a pleasing splat. More interestingly, you can wash bristles before switching to another color or use one right after another to blend them together on the brush.
All kinds of materials are available like watercolors and gouache. As long as your work is not yet dry, you can interact, smear and mix colors together on the canvas.
Operating system: Windows, macOS, Linux
Highly customizable, designed for graphics tablets, the steep learning curve

MyPaint is an invention of artist Martin Renold as he was tired of the limitations of Wacom software. This free drawing software is now available as an excellent tool for serious artists. This Linux background app makes it very different from most Windows ones. However, your effort is completely worth it if you are a hobbyist illustrator.
It is best to have a graphics tablet to fit MyPaint, but other input devices like a touchscreen are acceptable.
For reference: if you are working in real estate, floor plan which is created to show the layout of your furniture for home buyers might be your interest. Then, check out the list of the best floor plan software that can help you out. And another list of free virtual staging software is also mentioned earlier.