Kitchen is considered one of the most important rooms when showcasing your house for sale. Therefore, when selling your house, you should not forget to do some touch-ups on this room. And if your kitchen has outdated features or appliances, it is time to make some upgrades. In this article, you will learn 6 tips to upgrade your kitchen to impress your potential buyers at the first time.
#1. Cabinets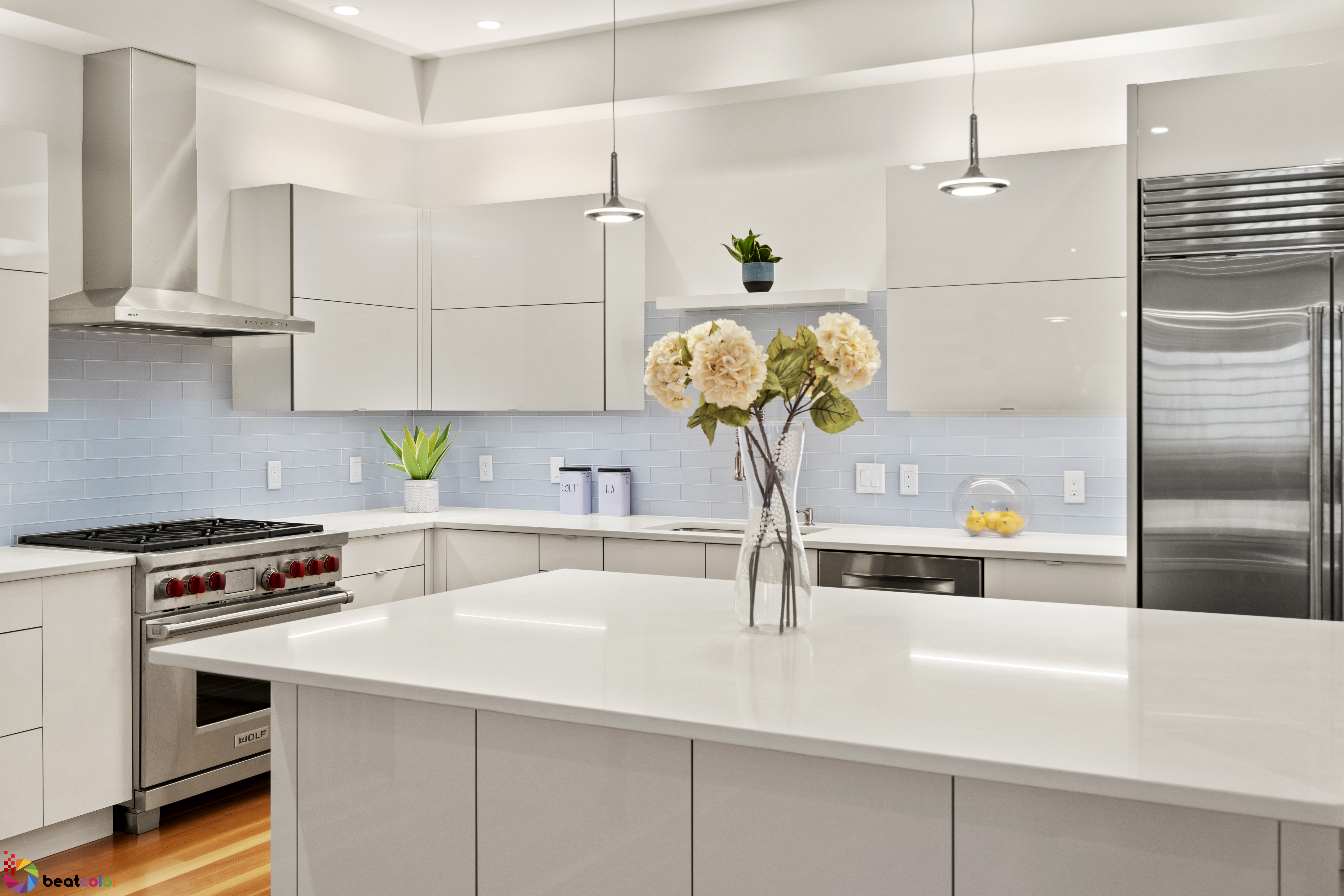 The first thing which catches buyers' attention when it comes to the kitchen is the cabinets. They play the role to set the tone for the entire kitchen. Therefore, if your cabinets are outdated, worn out or old-fashioned, you should give it a fresh look.
Take a tour around your kitchen and inspect your cabinets to see the problems they are having. If they are in good condition, just have traditional color, then you can simply upgrade them by painting or retaining. And if your cabinets have old-fashion styles, you can consider to reface the cabinet doors. It is a good idea for your kitchen to have a whole new look and design.
In case your cabinets are on the verge of falling apart, replacing a new one may be the best choice. It may cost you some investment, however, do you want your clients to walk away just because of the look of your kitchen cabinets?
#2. Smart-tech Appliances
Almost all home buyers are looking for sleek appliances with smart-tech and eco-friendly features because they are not only good for the environment, but also for energy bills. Therefore, having smart-tech and eco-friendly appliances can be a plus point for your kitchen.
If you do not have smart-tech appliances in your kitchen, you can consider buying some. Of course, it can cost you some money, however, the price of the house can be higher as well.
#3. Lighting and Plumbing Fixtures
Lighting and plumbing fixtures can be small details in your kitchen, however, it can have a huge impact on your kitchen's overall appearance, especially the lighting fixtures.
If your existing lighting fixtures are outdated or under bad condition, it should be replaced with new ones which can be pendant lights or a statement piece or even just simple lighting underneath cabinets.
For plumbing fixtures, it is advised to have a plumber to check to see whether the plumbing system has any errors. For exterior plumbing fixtures such as faucets or kitchen sinks, you can replace them with modern and new styles.
#4. Grabbing Countertop
Countertops are essential to pay attention to when you are upgrading your kitchen. If you have upgraded your cabinet to a new style design and the countertop color does not match it, you can consider to replace your countertops with a more desired material like granite, slate, concrete, or tile. If your budget does not allow you to do it, consider using composite countertops to give a granite appearance.
#5. Flooring
If flooring is something you need to upgrade too, considering using long-lasting materials such as natural stone tile or wood flooring or granite, and porcelain tile. Make sure you choose the tiles which are consistent with your kitchen style.
#6. New Backsplash
Backsplash can be the final touch in your kitchen upgrade process. When replacing your backsplash, you should consider using the neutral color or white color. You also can use a patterned tile to your backsplash, which helps to make your kitchen more appealing
It is always easier said than done. These 6 tips sound very simple but it can cost you some investment and effort. If you are busy or have a low budget, but still want to attract clients to visit your house, you can consider using Virtual Staging which can help to virtually renovate your kitchen in the photos. Then you can use those photos to advertise your house.But please note that, no actual change is made in your house, therefore don't forget to claim that you are using virtual staging on your photos