We have gone the day, where real estate photography heavily leans on DSLR camera. The continuous release of the ultra-wide camera phone featuring telephoto lens makes it the best alternative to DSLR cameras in produce sharp wide-angle photos.
When coming across 'How to take real estate photos with Iphone', let's make sure that you are using the latest Iphone models. They are capable enough to capture captivating images and perfectly work in low-light conditions. It is a terrific selection for rush cases or limited budget.
Well, let us walk you through!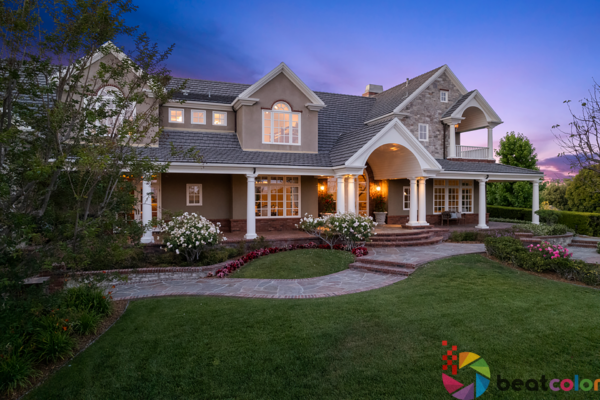 How To Take Real Estate Photos With iPhone
Iphone real estate photography has become the most common keyword on Google. It gets 24.600.000 results per search. The versatility of the phone in hand allows you to quick snap photos while it is a very friendly-budget for low-end market.
A good knowledge base about photography, Iphone, lighting, composition along with some tricks of how to take real estate photos with Iphone is all you need to get stunning photos. It can be comparative with a DSLR camera.
To know what are power tips for real estate photos with Iphone, continue reading on.
Tip 1: Using Camerapixel App To Shoot
The lack of produdcing exposure bracketing seems the most concerning once shooting with Iphone. If it is the reason for your hesitation to use Iphone for real estate photography, don't worry! Camerapixels app is a solution for you.
Camerapixels app is the state-of-the-art iOS photo, video, and bracketing app!
Being equipped with amazing features, Camerapixels App makes real estate photography post-production easier.
Allowing you to capture both Raw and ProRaw for the effective real estate photo editing. A correct post-production perfectly turn real estate images closest to the human eye seeing.
Semi-manual exposure modes
Best-in-class bracketing in auto or semi-manual modes, focus brackets with up to 100 images, and even combined brackets.
Presets is usable for similar particular situations
As for iPhone 12 real estate photography, or how to take real estate photos with iphone 11, don't forget to follow the guideline of camerapixels App.
In case of no usage of Camerapixels App, it is advisable to switch to HDR mode. You still get amazing images with a good balance of highlight and shadow.
Tip 2: Consider External Lenses
External lense attached on the outside of Iphone adds depth of field to photos. It is possible for you to include more parts such as floors, ceilings. Particularly, external lens can work well for long or larg room without distorting the image.
The 18 mm lens is the starting point to give prospective customers the good visualization and the connection between rooms or the room layout.
Tip 3: Shooting Time
Like real estate photography camera settings, shooting time is another decisive factor to determine the quality inputs. In terms of timing, the middle-bright day is the most suitable time for consistency in tonal range and light. Especially, it is not the time, where strong lights can cause harsh shadows, an irritating issue with any real estate photographers.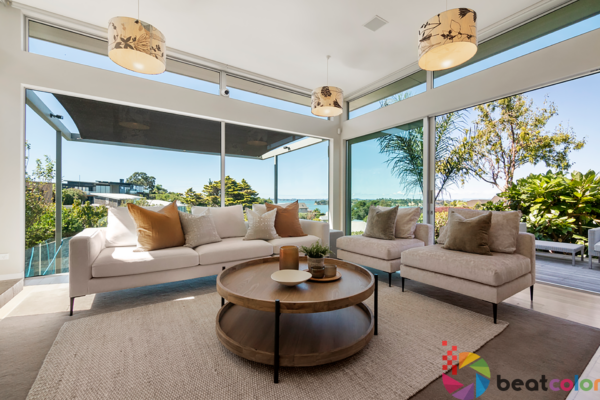 Tip 4: Composition (Corner)
Corner and landscape mode are the most popular composition for both DSLR camera and Iphone. Nevertheless, many other creative angles you can divide into for an alluring image production.
Add Foreground Interest for Increased Depth
This simple yet crucial principle in real estate photography composition is to including interesting piece of furniture nearby your camera, which leads viewers to the background. The intention of this composition is to create good flow in the room. Particularly, it evokes the sense of walking right into the photo and living in it.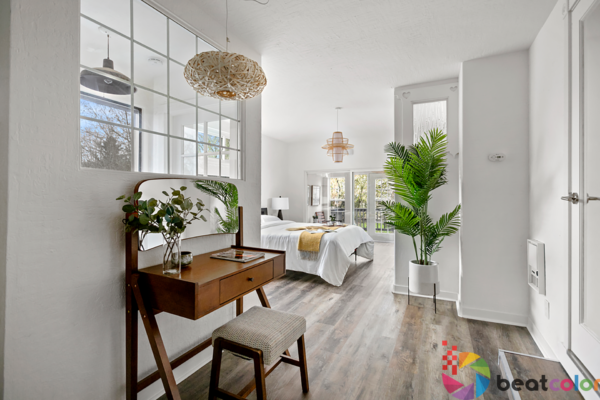 Photograph Two Walls Whenever Possible
Despite being a small tip, it brings a significant impact on the partial room you are going to capture. While photographing one-wall photo makes it look small and cramped even flat, positioning to the line separating two wall turn the room into more inviting space.
Trying to capture three-wall composition could add the depth of field however it could make the viewers feel that the room is narrow.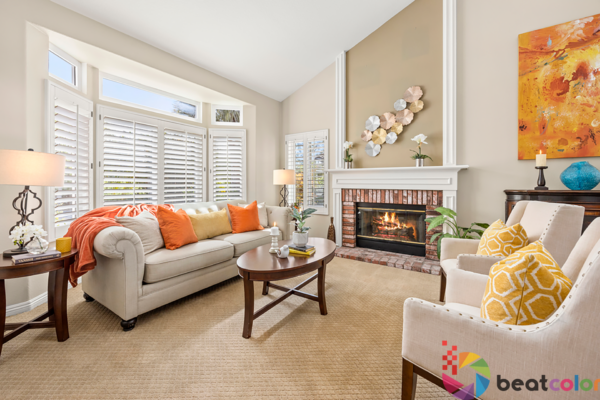 Show Off The Best Part of The Room
Setting the focal point along with a rule of thirds grid lines, or the rule of thirds intersection is perfect to draw the viewers' attention. Particulary, this combination creates well-composed images.
Bonus Tips For How To Take Real Estate Photos With Iphone
Using Tripod With Wireless Remote
Investing an expensive tripod is unnecessary as the normal ones are sturdy enough for the sharp images. However, it is certainly the utmost important real estate gear you should have.
The versability of utilizing tripod is to avoid blurry or perfect work with low-light conditions. It is particularly handy in case of long-working hour without the worry of arm hurt.
Shoot Horizontally
Apparently, horizontal shooting is common with both exterior and interior
real estate photography. This shooting method captures many details into one frame. As a result, prospective customers can feel how their life goes on in it. Once you reach to the level of leveraging emotional connection with viewers, your photography steps to the professionalism.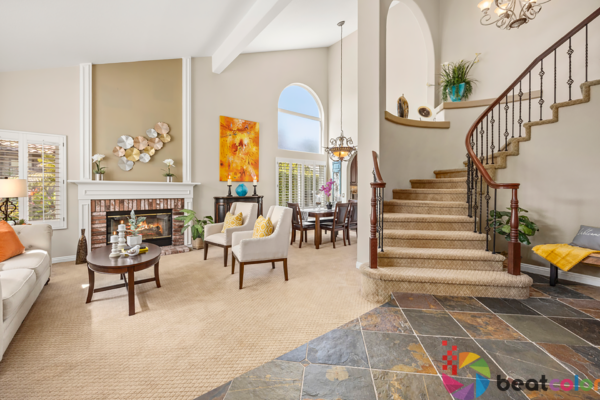 Using Apps To Editing
Using real estate photo editing apps increases convenience once being paired with Iphone real estate photography. Manipulating images on apps by horizontal and vertical straightening, adjust white balance, highlight, shadows, you could get a tack-sharp image at fast pace.
Wrapping Up
Through the consice post of how to take real estate photos with Iphone, we believe that you also feel that real estate photography is very lucrative. Inevitably, power tips as aforementioned along with creativity and a good understanding of real estate photography never makes how to take real estate photos challenging.