Whether real estate HDR photo editing services are worth hiring is still a concern to many photographers though the technique is widespread now. There are continuing controversial opinions in the industry on the decision to outsource image editing companies. Thus, to help you make your own decision, this post shall provide you with a handful of the reasons to outsource, covering both time and quality.
1. Real Estate HDR Photo Editing Services Ensure Consistent Quality
It is undeniable to say that real estate photo editing services including HDR blending require a strict quality assurance system. After the photo is edited, it passes through two quality assurance checks to ensure the highest quality and consistency before delivery. Thus, by outsourcing services, you can rest assured that the final outputs can achieve enhancement as follow:
First, a fine output shall give the listing a more detailed and crisper view. Taking property images can be challenging to display small details that vary due to the extent of illumination and the environment. With good HDR image editing, the blending process of multiple exposures helps to capture and accentuate much more detail and clarity for the photos.
Another point to look at is the final result offers a wider dynamic range. Because properties often contain both dark and bright aspects, the problem of lightening or darkening single objects sometimes faces photographers. A good outlook should enable potential buyers to see both bright highlights and dark shadows in the house.
Providing more vibrant colors should be the other factor in a professional HDR real estate photo. As a wider range of colors from different exposures shall be captured, the final image appears to be the most eye-catching and impressive to potential buyers.
2. Outsourcing Real Estate Photo Editing Services For HDR Blending Is Time-Saving.
Real Estate HDR Photo Editing Services Save Time For Beginners
For beginner photographers in the industry, there are a lot of new things to learn. Sometimes, it might even be overwhelming. An amateur real estate photographer averagely takes 5 shoots (photos, video, and matter port) per day and it's going to take about an hour to edit each shoot. After a hard-working day, they still have to self-edit for another 5 hours before going to bed. The very next morning he has to deliver all these images to his clients at 7 am. Without outsourcing photo editing services, there is a high chance that beginner photographers are burnt-out.
What is more important, if the services are in different time zones, it will even save more time for the photographers. Due to time zone differences, the shooting job ends at night and when photographers wake up in the morning, they get the images edited and sent to mail. Photographers can schedule more shoots, make more videos and stay competitive in the real estate photography market.
Real Estate Photo Editing Services Save HDR Processing Time to Scale Business
Firstly, once photographers find real estate photo editing companies that can replicate their style perfectly and maintain consistent results, they will not have to worry about all of their tasks. It allows photographers to choose shoots that they are really interested in editing themselves a lot of times like high-end shoots.
Secondly, when the product quality gets to a certain point, investing in product quality makes zero difference, instead, it's time to put the brand name out to clients. Photographers shall spend only 10% of their time on product quality. Outsourcing real estate HDR image editing companies enables photographers to spend 90 of their time on finding clients. That business growth process also covers tasks such as bookkeeping finances and investing time.
3. Photo Editing Services Are Better At HDR Blending Than Self-Editing and Free Online Apps
First, there is a clear reason for choosing image editing companies over self-editing real estate photos. The problem with self-editing is that inexperienced real estate photographers may fall into the mistake of increasing image contrast too much. Photographers also have to watch out for over-saturated colour, which often happens because editors don't adjust saturation cautiously. Images with too saturated colour appears unnatural and not realistic as the original ones. You can find further expert instructions on fixing those issues here How to Blend Real Estate Photos in Photoshop and on Bracketing Real Estate & Advanced Technique for Photographing Interior. However, it will take much more time to practice and master all the techniques. The easiest way should be just leaving your images to real estate image editing companies who have edited HDR photos for years.
With free online editing, there is often an auto-enhancement mode or a library of HDR filters for photographers. Thus, real estate photographers don't have to learn all the complicated editing methods. However, those images processed by free online editing apps sometimes look lifeless and hardly match your expectation. Moreover, free online editing apps are incapable of generating a unique editing style, so your outputs can stand out in the market. To conclude, if you want your image to attract potential buyers, you should hire an image editing company into account.
Real Estate Photo Editing Services with BeatColor's HDR Blending Technology – A trusted name to count on
Specializing in all kinds of real estate image editing services, HDR image post-processing is one of the techniques we master. Here at BeatColor we customize each HDR photo editing style and articulate to the smallest details.
Quality: With 7 years in business, and more than 3 million photos edited for clients from over 10 countries, BeatColor guarantees our quality through experienced editors and top-notch techniques of editing HDR images. Our blending process includes: layering the exposure level, fixing harsh shadows, and correcting blurred images. You can rest assured that our dedicated team applies decent tone mapping and perfect exposure blending to deliver realistic, detailed, and flawless HDR images.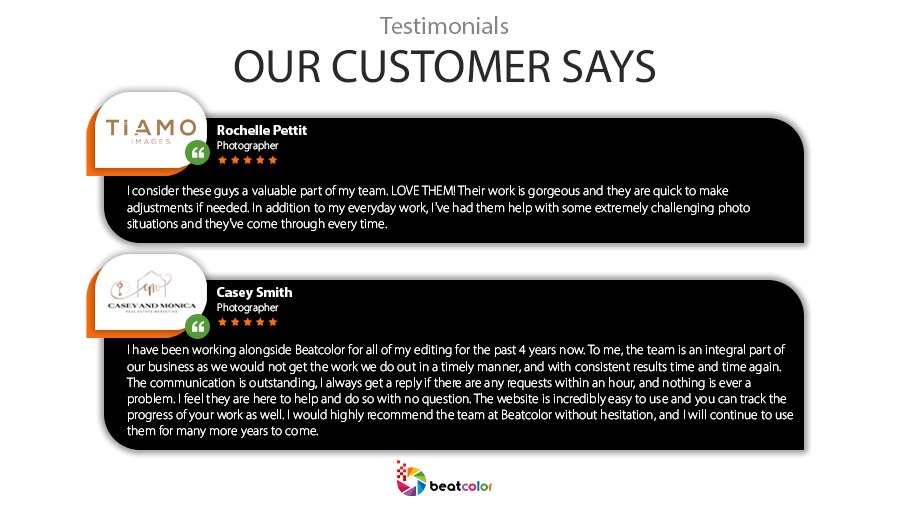 Easy-To-Track System: The company develops our own system of task management. Besides the primary function of uploading & downloading projects, clients can track the progress of their tasks in Gantt Chart tables. Thus, they will be able to know whether the tasks are being edited, quality-checked, or about to be done. Any feedback or comments can also be made easily right on each task. Last but not least, customers can use this dashboard for task management and settling payments via PayPal.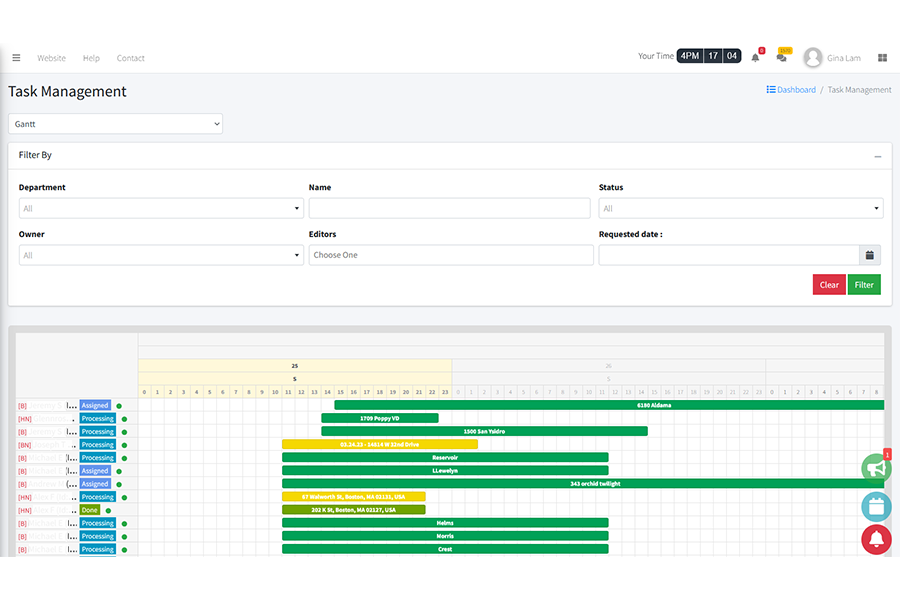 Price: Moreover, BeatColor offers a very competitive price for HDR photo blending service. We offer the plan at only from $0.7 per image, not to mention the add-on window enhancement and TV screen replacement/ adding fire to fireplaces.
Turnaround time: We offer 12 – 24 hour delivery time and less. Rush delivery is also supported with a small fee as long as it is notified in advance. With BeatColor, clients also get task revision with no limit on the time of fixing and 24/7 customer service.
Final Thoughts
In this article, we have provided you with the top 3 convincing reasons why photographers should outsource real estate HDR photo editing services covering time, quality, and their irreplaceable position. Hope that this would help you decide whether to outsource the service or not. In case your answer is yes, BeatColor team is always open to support you. Just sign up for an account on our website and email to cs@beatcolor for verification!
Related Posts:
How To Blend Real Estate Photos In Photoshop – BeatColor Experts' Sharing
Bracketing Real Estate & Advanced Technique For Photographing Interior
Real Estate Photo Editing Techniques to Improve Property Images
How real estate photo retouching shorten your home selling process?
Common Real Estate Photo Editing Techniques