With the fast-pace of e-commerce real estate market, the demand for appealing and captivating property photos is rapidly increasing. A great quality picture can surely help to reduce the market time and to get the new clients. However, in order to own the most attractive photos, photographers not only need to equip the modernest cameras but also be expert in post processing which requires time and carefulness as well as skillful. Luckily, nowadays, photographers can feel release when Retouching service is getting more and more popular. It would be a great honor for BEAT COLOR – a real estate photograph editing services provider – to support all the photographers in the post processing part and contribute partly into making the most inviting and gorgeous property photos ever.
Beatcolor – one of the leading real estate photograph editing companies in Vietnam. Being expert in all real estate photograph editing services such as retouching, virtual staging and virtual dusk… We have edited millions of pictures from more than 10 countries around the world. Besides that, with the experienced and professional editors, Beatcolor proudly delivers the world class quality photos with the shortest turnaround time and the cheapest price. You will definitely be satisfied when cooperating with us.
Key features of real estate photo retouching service
With each service, Beatcolor will provide its own adjustments. In retouching service, we separate it into 3 categories: Basic, Advance, Extreme.
Basic

– Color correction
– Adjusting brightest and contract
– White balancing to bring back original color
– Cropping and rotation
– Add fire to fire place
Advance
– Remove small spots, camera flashes, dust, glare, reflection…
– Add green grass, trees, and small objects like lamp, chair or table….
– Remove car, unwanted switchboard or wire
Extreme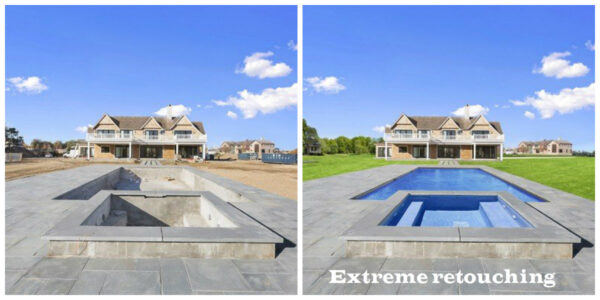 Add pools, Clip paths and mask of the photos.
– Turn Winter photos to spring photos
– Remove big things which cover ¼ the picture
– Complete details for unfinished property
There are 3 main types of our retouching. However, it depends more on customers' requirements. With each photograph we will consult which category it belongs to for customers and ask for their other requests.
Benefits of using our Retouching service
– You can save your time with the short turnaround time thank to the benefit of time zone (24 hours)
– The price for real estate photo retouching service is super cheap from 0,5$ – an affordable price for all photographers whilt the quality still remains unchanged.
– Our customer service is available to support you until you are satisfied with our outputs (24/7)
– We offer 3 photos edited for trial without any fee (editing service only)
– Your private information or data will be kept in secret
– We use the latest image editing software such as Adobe Illustrator, Adobe Photoshop CS6, CoreIDraw to give you the most attractive photos
– We can work with all types of format such as: JPEG, TIFF, CAD, DXG, PSD,… and deliver to you your expected outputs.
With many benefits listed above, why don't you contact us to use free trial and experience our professional real estate photograph editing services.
Website: https://beatcolor.com/
Email: cs@beatcolor.com
Skype: beatofcolor@gmail.com