How to define task status: Pending, Assigned, Processing, Checking and Done?
By Amy Nguyen
16/06/2018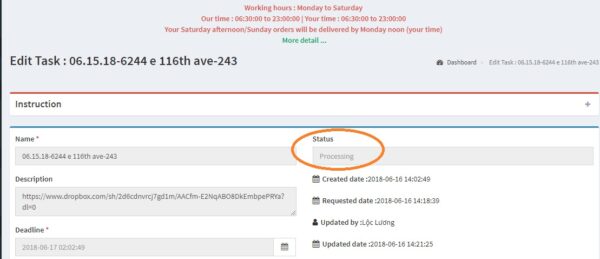 On BeatColor system, in the Status box, We update the status of the clients' task . The status include:
DRAFT: This status appears when you are on the way to create your task and you haven't requested that task. At this status, you can edit all your information related to name of the task, number of original files, deadline, and description… If you are doing it but you can't request at that time, remember to SAVE it before you leave.
PENDING: After you request the task, your status will turn into PENDING. This status means your task has not been assigned for any editors to work on it. One more thing you should keep in mind here is when you finish REQUESTING and your status is PENDING, you still are able to upload more images on our system.
ASSIGNED: When your status is ASSIGNED, it means your task will be done by one or more selected editors. However, they haven't done it yet. Once your task is on ASSIGNED STATUS, you can't upload any photos. If you want to add more images, you need to contact us.
PROCESSING: When the editors start to work on your task, your status will turn into PROCESSING.
CHECKING: This status means your task has been done and our QA teams are checking on that before sending to you.
DONE: This status shows your task has been completely finished. It is available for you to download.
CANCEL: this status happens when you cancel your task or your task has been cancel by us. You can cancel your task before the status is changed into PROCESSING.
Hope this definition will make sense to you. For more support, please contact: Contact@beatcolor.com