8 Handy Tips For Luxury Real Estate Photography That Help Boost High-end Property Selling Rate 
By Keila Ngo
12/01/2023
Luxury real estate photography is the key to showcasing every aesthetics and elegance of high-end properties and contributing to the selling rate. From choosing the right equipment to using the proper angles and lighting, whether you're shooting interiors or exteriors, the following tips and tricks will help you take clickable real estate photography that will amaze your clients.
What Is Luxury Real Estate Photography and Price?
Luxury real estate photography is defined differently across different markets, as property values, median resident income, and area development vary widely depending on the metro area. It can be considered a specialized form of photography that focuses on capturing the features and amenities of high-end real estate. Luxury real estate photographers use various techniques to highlight unique features. Photographers should shoot wide-angle shots to showcase the house's size and scale or use special lighting to create a luxurious ambiance.
Luxury real estate photography pricing might vary depending on the area, square footage, and other project details. Other factors, including the number of photos, the time it takes to shoot and edit the photos, and other add-on services, also impact the final price.
For example, according to ZipRecruiter, a real estate photographer defines his salary in San Diego as $1,700 for a Premium package of property photos, flyer design, social media collage, and deep retouching on all images up to 3000 square feet. In Miami, the price ranges from $1,000 to $2,500, depending on the square feet. Meanwhile, the price is $1,500 for 4-6 photos, bundled per shoot if you live in Detroit.
8 Luxury Real Estate Photography Tips From Professional Photographers
Luxury real estate photography requires well-trained photographers with professional skills. Their job is not simply taking a home photo but knowing how to highlight the unique selling feature of the house and visualize it.
1. Pre-shooting preparation
a. Setting goals
It's highly recommended to list all the intended goals before starting any shoot. High-end luxury displays narrative space in the most eloquent of ways, so it's essential to show off the mansion size with the number of rooms and emphasize any unique luxurious items which are selling points:
Two wide-angle shots in each bedroom, kitchen, and living room
Drone photos
At least one photo of the backyard (even if it looks pretty standard)
At least one front part angle
One photo of each utility room (e.g., garage, separate nook or open spaces)
Highlight luxurious details of the house (e.g., expensive amenity, high-end finishes, architecture and property design)
b. Spruce up spaces
Next, do not forget to set up the shooting space. Make sure there is no mess or clutter in your luxurious home that could distract viewers. You also should take care of all surfaces like islands, countertops, desks, or coffee tables. Plus, consider some eye-catching decorative items that might be custom-made to make the house look more charming.
c. Gear
Additionally, all the necessary gear should be ready before shooting. Full-frame cameras bring more light to the sensor and read more photo data to create much higher-quality photos. They typically have a better focusing system and a nice processing chip for better color and contrast for the photos.
Meanwhile, the wide-angle lens is the best option for this genre if you deal with high-end photography real estate. Plus, a wide lens is vital for interior shots as it allows you to capture as much as possible and gives a true sense of depth and detail. Most homes look much more appealing when shot in natural light. Pictures taken Without a tripod in natural light will look dark and blurry if you have yet to own professional equipment. Tripods allow you to shoot at slower shutter speeds to take advantage of natural light while keeping images sharp.
2. Show the Size of Property
Primarily, luxury real estate is typically larger. Compared luxury homes to normal houses, the grandeur and ample size make the high-end result significantly different.
According to Forbes, most real estate specialists in the United States consider a home to be a mansion at about 8,000 square feet. Historically, a mansion would be a home of an estimated 5,000 square feet or above.
While a mansion's size matters, the kinds of amenities and features remain equally important. Some magnificent homes offer incredible master suites while others focus on the upscale amenities in an expensive kitchen or plenty of luxurious finishes such as craftmanship, sculpture, liquor cabinet, etc. in the large living room.
3. Stick to the Right Height when Shooting Luxury Real Estates
You should keep your camera at about 150 cm. Though each house is slightly different, this camera position will produce the most natural and balanced shots.
If you lift the camera too high, there will be too much ceiling and can not show enough living space in the frame. Otherwise, the pictures cannot show entire rooms if you set the camera too low.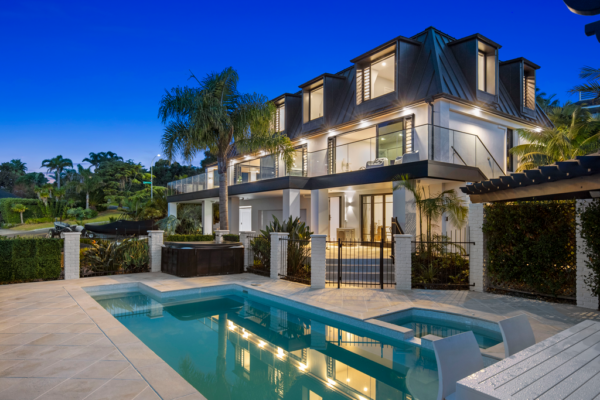 4. The Importance of Composition
To make a stunning photo of luxury real estate, composition is vital! You should use leading lines drawing the eye into the photo and toward the main subject. This can be achieved by using a path, a row of trees, or even the front edge of the property. Include negative space in your composition to give the eye a place to rest and to create a sense of balance. Use symmetry and patterns to create a sense of order and stability in your photos.
5. Think about Lighting
Lighting is one of the top priorities for high-level interior photos. The more natural lighting, the more realistic the photos are. Therefore, before shooting, open large windows if there are any in the room and let in more light. If necessary, add artificial light sources.
Professional real estate photographers advise using the same lighting method for all the rooms to ensure consistency among photos of a house. If you shoot with natural lighting, try to apply it to all rooms. You should not shoot one with natural lighting, one with flash, and one with a light fixture turned on, making your gallery look inconsistent and unpleasant.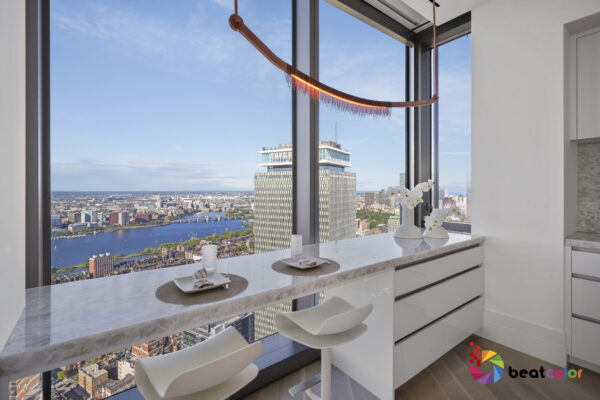 6. Take at least a Photo at Twilight
Most people, including professional real estate photographers, nominate twilight as the best time of day for photography. At night or twilight, the house looks breathtaking, with significantly increasing online rates. Luxury homes tend to get some glass house flavor through glass walls or windows to overlook as many as possible gorgeous sight outside. When we have a warm glow interior with a beautiful blue exterior and the sea of city lights underneath us, it's an awesome picture.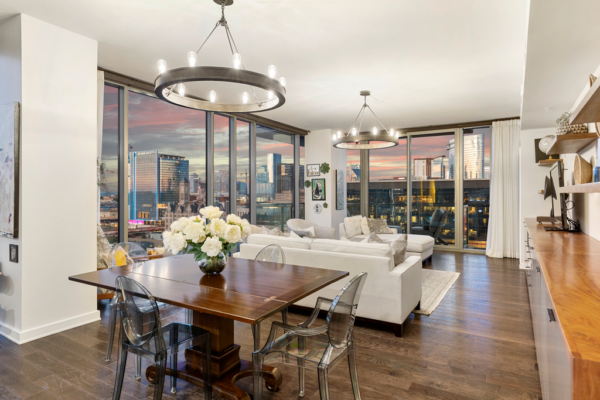 BeatColor can take the daytime images of real estate photographers and create flawless twilight real estate photos in post-production. These images capture the viewer's imagination and boost your listing's click rate!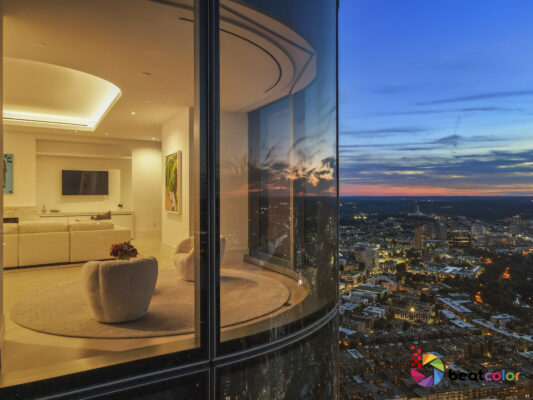 7. Include DSLR and Drones
Stunning aerial footage is appealing and helpful to potential buyers as it showcases aerial views of the entire property. It is a fact that the usage of aerial images and drone real estate videos makes properties 70% more sold, and this number continues to increase!
Drones change the game. Drones can get footage from above in rooms with tall ceilings, continuous footage from room to room, and reach angles that landscape shooters couldn't get. It also offers other views besides aerial such as 360 panoramic shots, giving the viewer a sense of the entire space. The results give viewers a great impression and make them feel like they are floating through the home.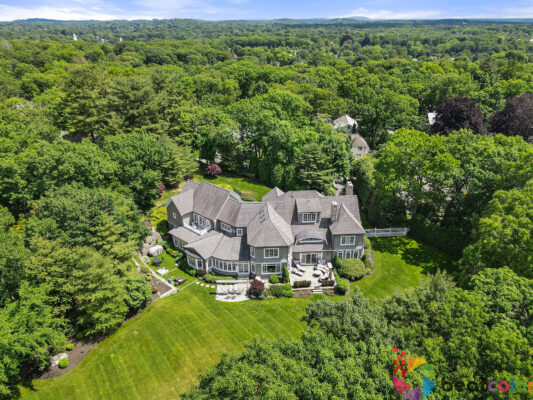 8. Post-processing and Editing
The last but not least step to make your professional real estate photos genuinely shine is post-processing. You must do color correction, white balance, contrast, and saturation, work with curves, and switch day to dusk. Other actions like unwanted item removal, sky or background replacement also will be taken care of carefully.
For instance, high-end real estate photography often features non-intersecting vertical and horizontal lines. However, the room's shape, the camera's location, the lens's curvature, and other factors can lead to their distortion.
Perspective correction helps cope with the above problem. You must align the lines with the picture frame. This technique allows you to look natural and draw people's attention to the main subject.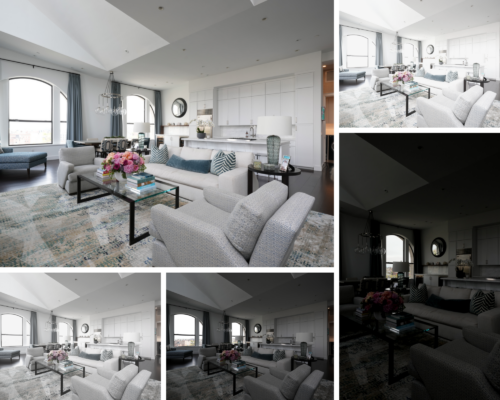 If real estate photo editing is not your forte or you have limited time to edit images, professional real estate photo editing services are highly recommended. An experienced team will handle any challenge and provide flawless photographs of any real estate types.
At BeatColor, most luxury real estates photographer will order the Premium package for their million-dollar luxury home. The Premium package gives the crispest images with extra retouching like enhancing greener grass, removing internal cables, screen replacement, etc., making your image a shining luxury market.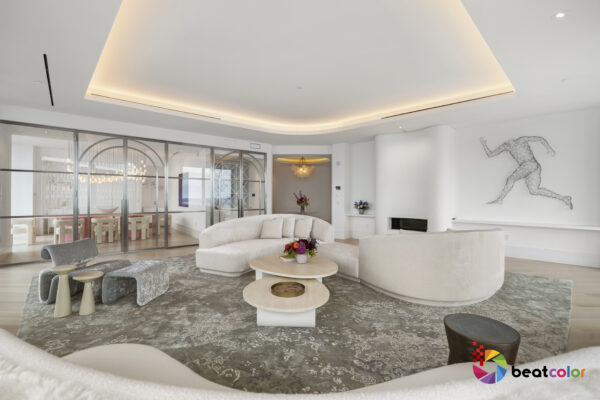 Conclusion
The Luxury real estate photography post shares the eight fundamental ideas for professional Real Estate Photography success. Mastering these skills will help a photographer upgrade his expertise and assert himself in the real estate market. On the way to success, BeatColor is always ready to be a reliable partner with the motto: "Your style, my photos, our value".