Vietnam Real Estate Photo Editing Services: Challenges and Benefits When Outsourcing
By Gina Lam
24/10/2023
Vietnam real estate photo editing is on top of the list when property photographers try to outsource their editing. Yet, for those who haven't experienced the services, there might still be concerns about the quality of property photos processed by Vietnamese editors. So, what is it about real estate photo editing in Vietnam that is worth investing in? In this article, let's find out both the challenges and advantages of outsourcing the services there!
1. Difficulties When Using Vietnam Real Estate Photo Editing Services
Lacking a Website
The real estate photo editing service market in Vietnam is large, but unfortunately, not every supplier has a website. They instead operate using a Facebook page for transferring files. Except for a few large firms, the remaining either work freelance without a website or with very simple web functions. This makes it hard for photographers to outsource photo editing services. They cannot have a fair adjustment about the editors' works, price lists, and client testimonials.
Language Barrier
There is difficulty in communication when considering the fact that Vietnam is not an English-speaking country. Though English is taught as a main subject at schools, there are many technical terms in real estate photography editing. When the communication does not work efficiently, it will affect the final output quality. The editors might misunderstand the photographers' requirements and feedback.
2. Considerable Benefits Of Vietnam Real Estate Photo Editing Services
Despite the challenges above, there is still a large demand for real estate photo editing services in Vietnam. It shows that a real estate photo editing company must bring many more advantages in return. We will look through some of the great benefits as follows:
Short Turn-Around Time
Vietnam is in GMT+7 time zones, 12 hours ahead of US regions and 6 hours earlier than European countries. Normally, photographers travel and work during the day and the shooting job ends at night. Due to time zone differences, when photographers wake up the next morning, they will receive the images edited. Photographers can schedule more shoots, make time for more marketing activities, and scale up the business.
Brings High Conversion Rate At A Reasonable Price
There is no doubt that price is the second most important factor when choosing a company to outsource photo editing services. Regarding this, real estate photography editing in Vietnam also has a great competitive edge.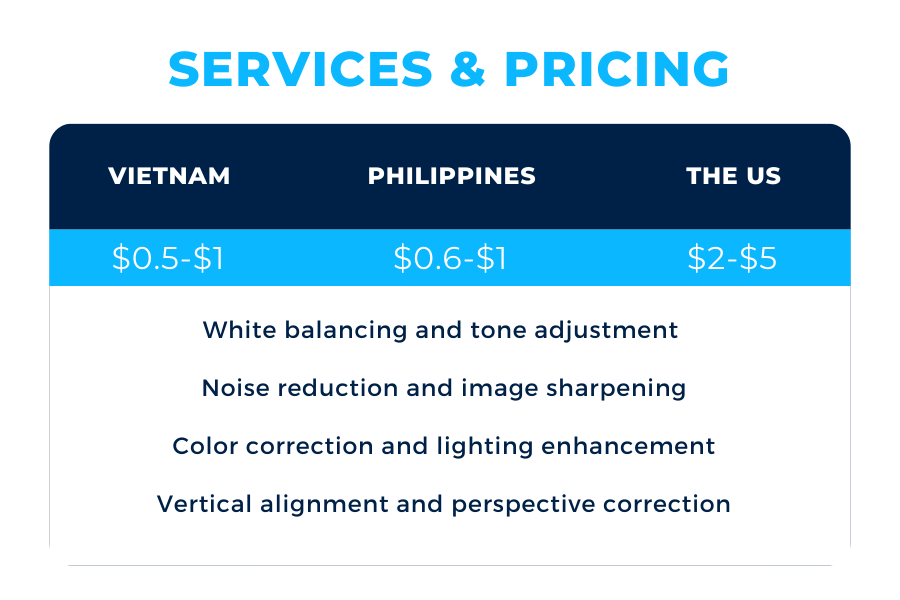 As you can see above, the prices in Vietnam are the most affordable when compared to the Philippines and the US with the same package of editing. Due to the difference in the exchange rate, photographers can get the photos edited at an even cheaper rate. However, more than just a basic package of editing, companies in Vietnam can offer customized editing to serve each client's needs best.
Vietnamese Editors Master Various Editing Styles
Most property photo editing firms in Vietnam can edit photos in a diverse range of high-quality styles. This is due to their long experience in the business, for instance, BeatColor has been dedicated to real estate photo editing for 9 years. The comprehensive understanding of Vietnamese editors in real estate photography editing can be summarized in the points below:
Single Exposure:
This shooting method includes one-shot images that can still be aesthetically edited. The editors will skillfully do color correction though with only one exposure and make them look the most natural possible. This one is often the best match for rental property photography or low-budget services
HDR photography is commonly used in real estate shooting involving multiple shots of the same perspective. The only difference is the lighting range. Professional editors should be able to utilize these shots and showcase both highlight and shadow details of the house. Most of the photographers in the market are working with this type of editing.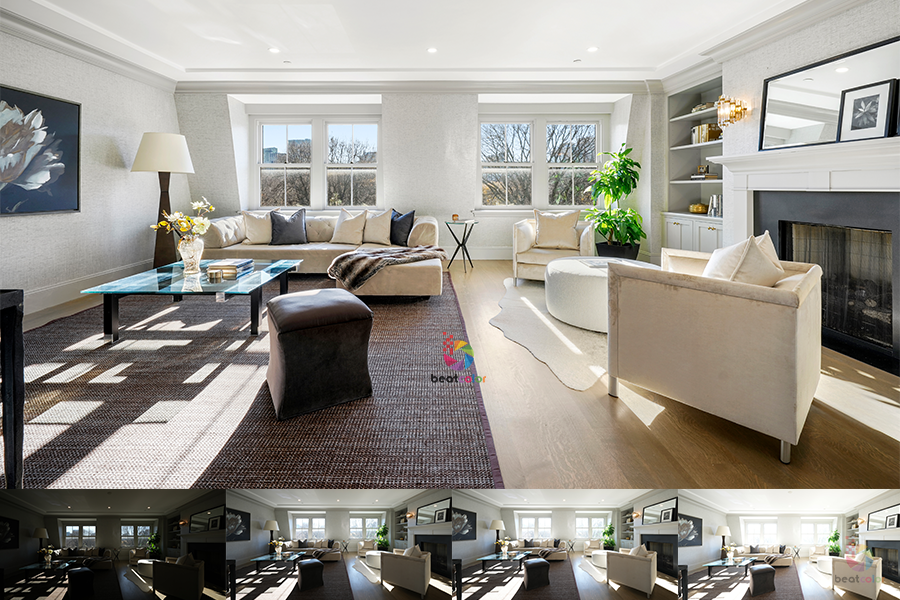 Multiple Exposure Flambient: This type of real estate shooting is often used for high-end properties since it gives high-quality images, most close to the actual view seen by eyes. However, this method requires more skill and experience from the editors. They must choose among many flash shots to mask the unwanted areas and highlight the best ones.
>>Read more:
Real Estate HDR Photo Editing Services – Top Reasons To Outsource
Bracketing Real Estate & Advanced Technique For Photographing Interior
We have reviewed the services a real estate photo editing company in Vietnam can offer, with both pros and cons. Yet, are there any ways we can at the same time overcome disadvantages and make use of the benefits? The answer is just right below!
3. BeatColor- The Leading Vietnam Real Estate Photo Editing Company
Operating With An Explicit And Trustworthy System
Previously we have mentioned most Vietnamese real estate photo editing companies don't have a website. Yet this is not true for top-tier companies such as BeatColor. If you search for real estate photo editing services in Vietnam on Google, the results will show the leading companies's websites. From BeatColor's homepage, photographers can see our works, price list, turn-around time, and client testimonials.
Catching Up With Innovation
At innovative companies such as BeatColor, we do not stop at a website to provide information, we go further with a powerful task management system – sign up here. Besides the primary function of uploading & downloading projects, clients can track the progress of their tasks right on the web. They can also give feedback by commenting on each job. Last, customers can use this dashboard for settling payments via PayPal.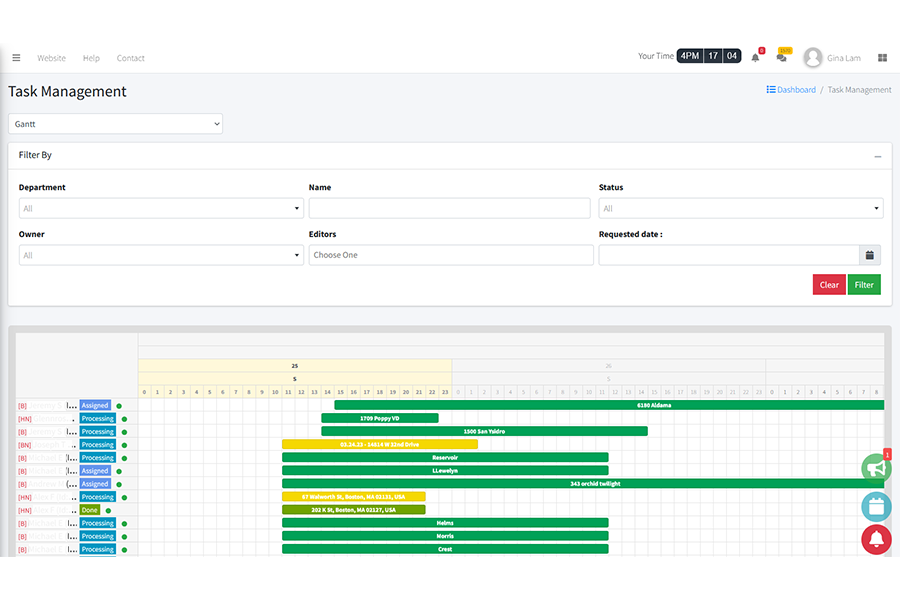 Tech-savvy Editors
Additionally, the company has a skilled workforce of tech-savvy photo editors. Along with the rise of AI features in Photoshop, we are flexibly utilizing them to fasten the post-production tasks. There is much more potential of AI technology for real estate photography and editing that we can make the best use of.
Excellent Communication And Customer Services
Our customer service department is highly professional with great English skills. We have built good partnerships with photographers from many countries around the world. After each feedback and discussion, the editors understand the style and customize it to meet certain expectations of the photographers.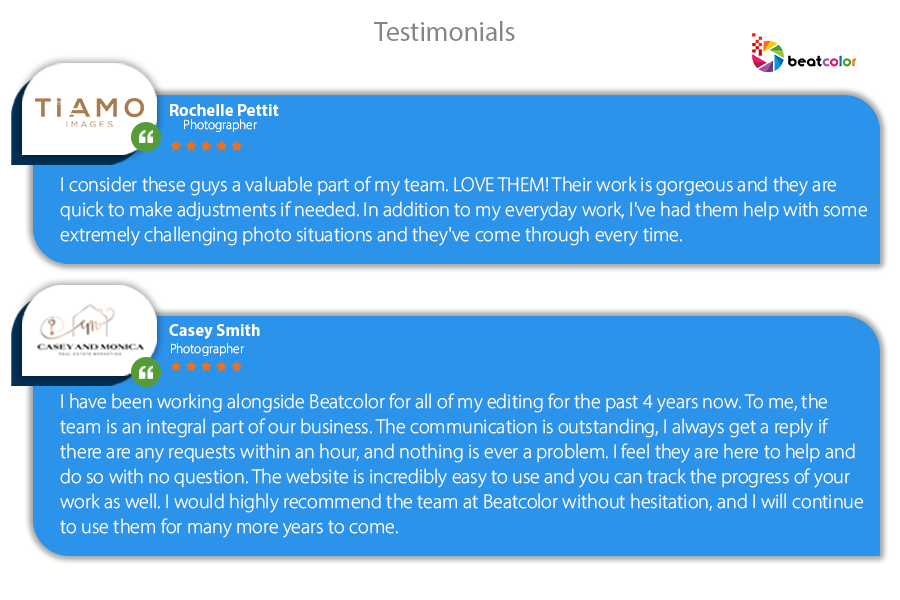 Supportive Services Without Extra Cost
We understand the importance of delivery time and always try to assist our customers with rush delivery. Some companies will charge extra costs for fast delivery in 4-5 hours, which is fair and reasonable. However, our company policy is no additional cost incurred in any rush cases. The charge will be exactly equal to what you usually pay for.
Final Thoughts
With the three outstanding reasons listed above, we hope that you can have a comprehensive understanding of Vietnam real estate photo editing's exceptional services. No matter which editing style you choose, you can still outsource photo editing services in Vietnam. If you are still in doubt about that, why not experience yourself with BeatColor – the leading real estate photo and video editing company in Vietnam today?
To get started and move forward to a free trial, please sign up for an account on our web – Link. After setting up an account & email verification successfully, please email back to cs@beatcolor.com to activate your account. Finally, you can submit the free trial for us!
Related Posts
How To Grow Real Estate Photography Business? – Latest Techniques
How To Shoot HDR Real Estate Photography In 6 Steps