Real Estate Photo Editing Prices Overview 2023- You Must Know
By Keila Ngo
09/11/2023
Table of Contents
Factors Impacting on Real Estate Photo Editing Prices in 2023?
An Overview of Real Estate Photo Editing Prices in 2023
Reasonable Real Estate Photo Editing Prices when Outsourcing to BeatColor 
Are you looking into the newest real estate photo editing prices list in 2023 and where to get the most value for your business? Great! You have come to the right place!
Whether you are a realtor or photographer, high quality and optimum price is always the two main priority. In this comprehensive article, we will delve into the world of real estate photo editing prices and other related factors, helping you make informed decisions. 
Factors Impacting on Real Estate Photo Editing Prices in 2023
Quality and Reputation:
The very first element that could influence real estate photo editing pricing would be the skill level of the photo editors. Transparently, experienced real estate photo editors will have a better eye for spotting the best shots, utilizing advanced photo editing software, and employing the right techniques to enhance the property's features and colors.
Such editors might charge higher than their counterparts who may lack the same level of experience.
Complexity of the Property:
Not all the tasks are easy to deal with. Some properties require more extensive editing due to unique features or obstacle lighting conditions, impacting the overall price.
An established real estate photo editing company that delivers high-quality work, BeatColor for example, may charge higher rates. It's an investment in ensuring your property photos look exceptional. In terms of real estate photo editing prices, it's worth noting that the cost will inevitably vary depending on which real estate photo editing service you order and the complexity of the editing itself.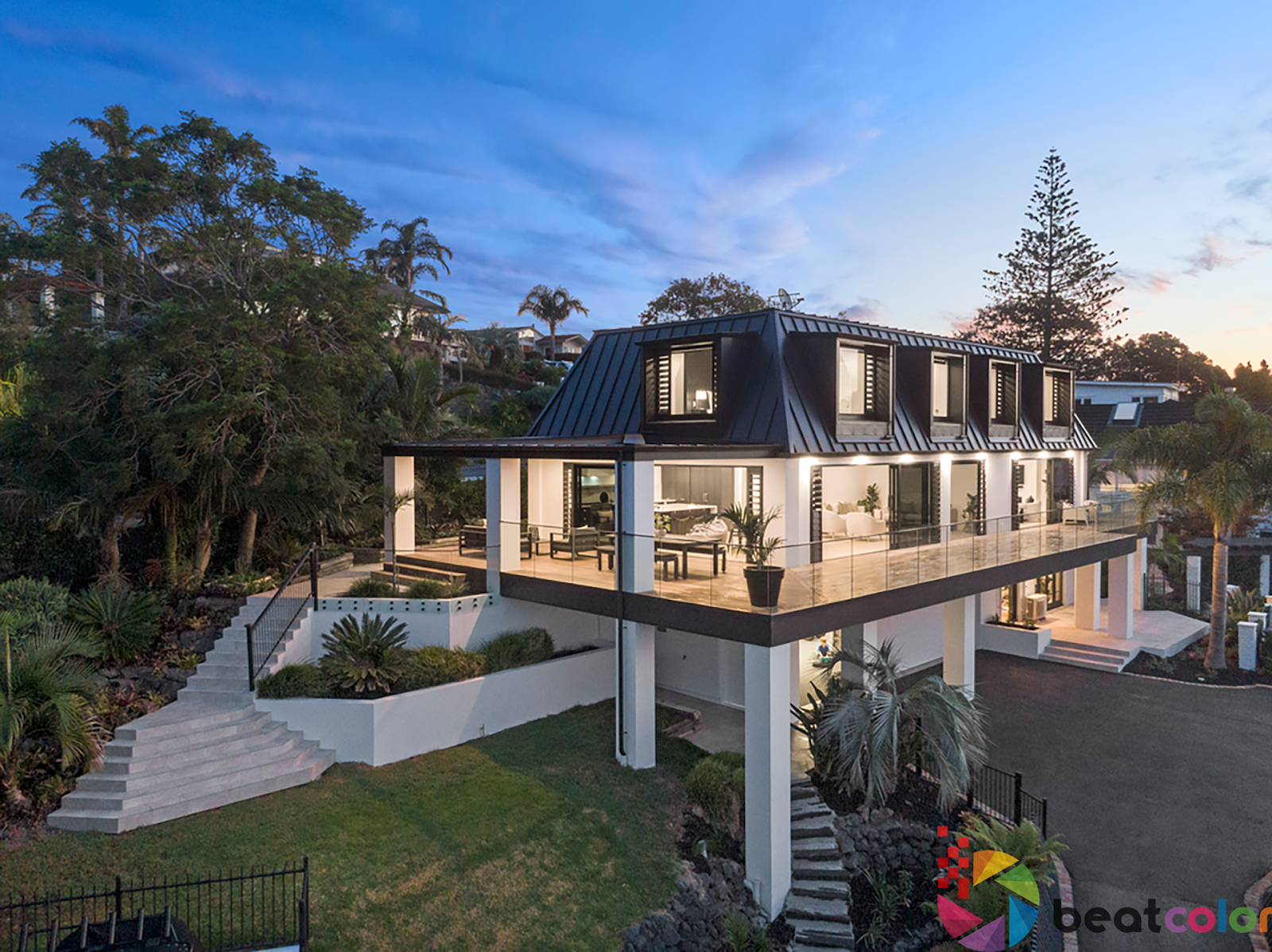 An example of a luxury property project from BeatColor.
Geography Location:
Prices for real estate photo editing services can fluctuate significantly based on the location of the service provider. It's true that the more competitive the market is, the more competitive prices. Plus, areas with a higher cost of living may have slightly higher rates.
Inflation and Economic Condition
The increasing costs of living, and inflation will also significantly impact real estate photo editing pricing in 2023. According to the US bank, the mortgage in this October is 3x higher than the same period of last year, which is preventing a lot of people from buying or selling homes. This impact prices depending on currency value fluctuations.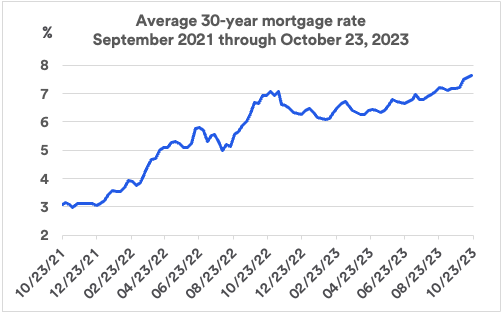 Source: Federal Home Loan Mortgage Corporation (Freddie Mac).
Moreover, expenses such as software subscriptions, utilities, and taxes also could lead to the cost of real estate photo editing going up to maintain overhead costs.
Lastly, real estate photography demand and competition could also impact real estate photo editing pricing.
It is never easy to determine how much it cost to outsource real estate photo editing in 2023. Professionals advise you to consider all the factors, compare different options, and assess the value offered by each provider before making the final decision.
An Overview of Real Estate Photo Editing Prices in 2023
In terms of real estate photo editing costs, it is vary a bit based on the quality of the editing service and specific geographical location. We will give you a sneak peek at the price range for 2023, which should give you an idea of what you can expect to pay per image.
Be noted that these prices are based on a standard HDR editing image: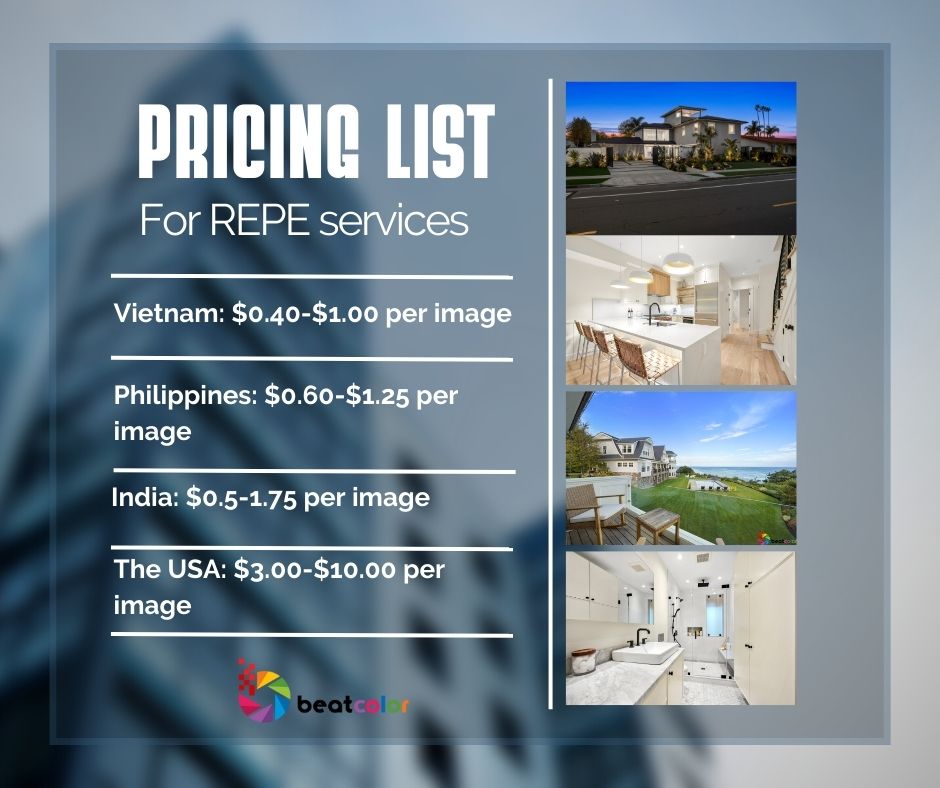 *Prices vary depending on the quality, turnaround time, and add-ons such as item removals and image enhancements.
Common Real Estate Editing Services and Their Prices
Now, let's take a look at the pricing details for some common real estate photo editing services. These are just approximate rates, and costs may vary based on different factors referenced earlier.
1. Basic Editing (Color Correction, Lighting) – Starting at $0.50 per photo
2. Item Removal/Replacement – Starting at $5 per photo
3. Image Enhancement – Starting at $1.50 per photo
4. Twilight Editing – Starting at $5 per photo
5. Virtual Staging – Starting at $25 per photo
Photo editing services often offer discounts for bulk orders. The more photos you order, the more negotiating power you might need to obtain a better price per photo.
Outsource Your Real Estate Photo Editing to BeatColor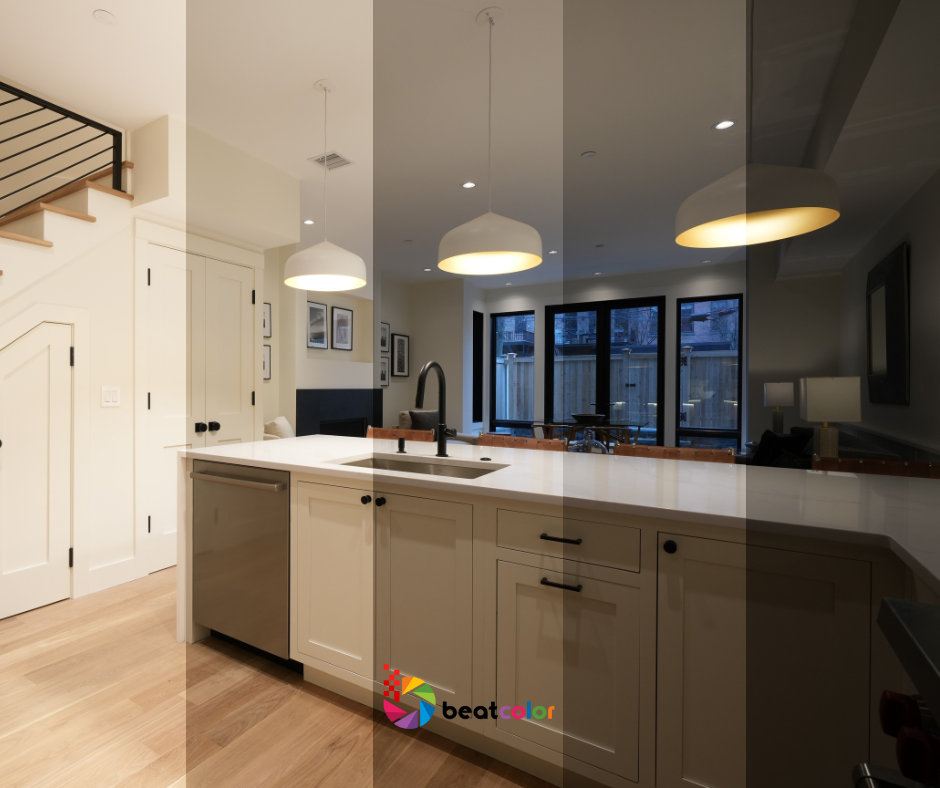 Before: Five Exposures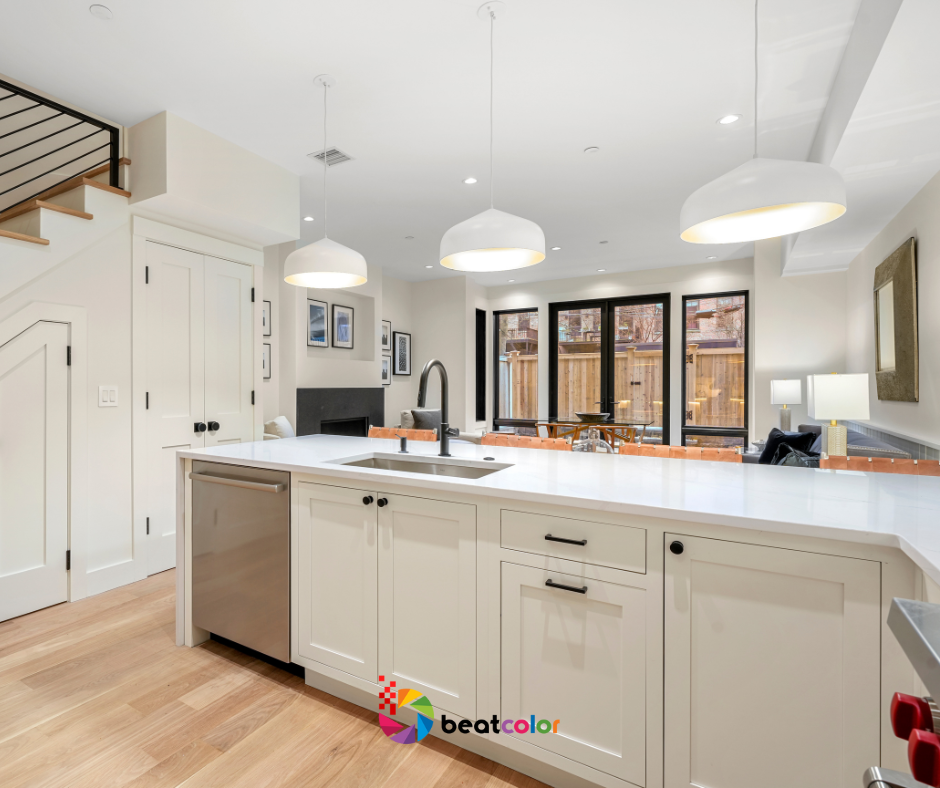 After Using Real Estate Photo Editing BeatColor
If you're a real estate photographer or agent, a tip is always to research the costs of photo editing services that are the most reasonable for your business needs.
And that's where BeatColor comes in!
Why Choose BeatColor?
1. Competitive Pricing:
With the ambition of becoming a leading real estate photo editing company in Vietnam and a top choice in the international real estate market, BeatColor offers various services with competitive pricing for each, which can surely impress on you. Depending on the complexity of the edits and your subscription, our editing services range from only $0.7 per image.
2. Word-Class Real Estate Photo Editing Quality:
Being the most amazing team with profound experience in real estate photo editing, enhancement, blending, stitching, sky change, color correction, perspective correction, and more, BeatColor has edited millions of pictures from more than 10 countries around the world. With cutting-edge techniques, as long as the smart consultation from our team, we assure to satisfy all the customers.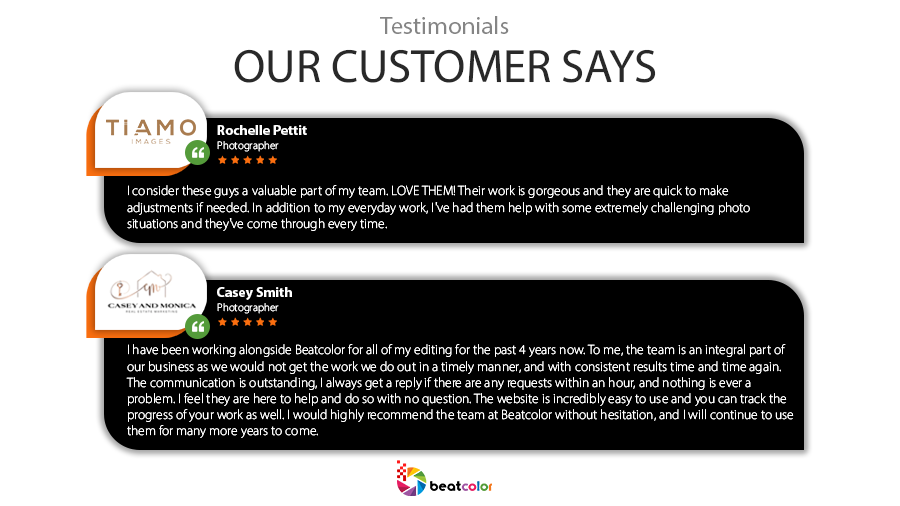 Client's Review for BeatColor- real estate photo editing service
3. Impressive Turnaround Time:
Instead of waiting for ages to get your images back, you can comfortably wait for 12 -24 hours. The photos will be assuredly delivered. Normally, expedited services with quicker turnaround times may incur extra fees.
Yet, BeatColor will rarely charge any additional price for same-day or rush delivery options if there is any possibility we can support with. As your partner, we understand how competitive the industry is and expect to support you as much as we can. 
4. Free Trial Images:
In addition, Beatcolor also offers a free trial for three done images for clients if they want to check the quality before starting to do a real project.  So just after a simple process, you will already have magnificently edited photos that can blow out all customers.
Let's get started with 5 super simple steps via our Client System, an effective manageable tool for clients to avoid mess-ups and problems.
1. Register an account
2. Create an account
3. Upload original files
4. Make requests
5. Just wait 12-24 hours to get tasks done

Final Words:
The real estate photo editing prices you pay for an outsourcing service is a worthy investment in making your property listings standout, helping you secure successful real estate transactions.
Investing in a professional real estate photo editing company can yield substantial returns by attracting more prospective buyers and ultimately increasing property sales. It's crucial to assess your specific requirements and obtain quotes from different service providers to fingure out the best fit for your requirements.
To get optimum solutions and competitive prices for your real estate photo editing business, contact us BeatColor– your trusted partner in creating visually stunning property listings.
Related Posts
Top Reasons to Outsource Real Estate HDR Photo Editing Services
How Much To Charge For Real Estate Photography
Real Estate Videography Pricing