How To Set Your Real Estate Videography Pricing?
By Keila Ngo
28/12/2021
Real estate videography is a powerful tool to grab the attention of prospective buyers and take their interest in the property. Whether you are selling a modern apartment, a cozy family house, or a rural property with gorgeous farmland, real estate videos are highly recommended thanks to their ability to cast the property vision.
Making an engaging real estate video requires a lot of effort in writing a script to house staging and skillful techniques. Therefore, how to set real estate videography pricing properly is very crucial in order to deserve the effort and still give it highly competitive pricing. Setting a too high or too low price will limit your business growth and even cause serious problems for your sales and cash flow.
This comprehensive guideline is going to show you elements affecting real estate videography rates and how to build a pricing strategy that contributes to making sure your business is profitable. Let's get started.
Factors Affecting Real Estate Videography Pricing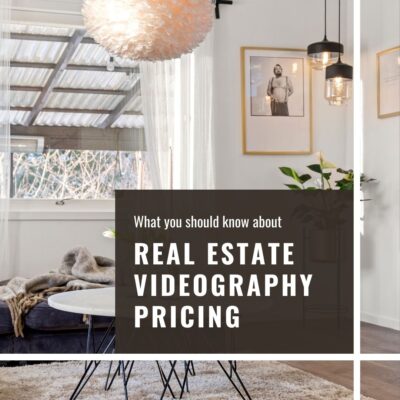 Like Real Estate Photography, real estate videography pricing depends on local rate, property size, type of video production along with other bonus video contents like aerial films, lot video, etc. In the first part of this post, we will analyze the key factors affecting real estate video costs.
Local Rate (According to Rates in Your Area)
The first primary factor highly affecting your real estate videography pricing is the local rate. The more you know about the market, the better you are. Knowing the starting price and price range available is easy for you to set the most competitive one. Besides, let's compare the level of other real estate videographers with yours. It helps define the most proper pricing.
Type of Real Estate Property
The second element is the type of real estate property. More specifically, the value and the size of property determine the shot length and cinematic shooting techniques. The bigger and more luxurious the home is, the more high-end gears are used to capture details and fully tell a story about it. That's why there is a vast variation between a basic real estate walkthrough video and the luxurious one. While a normal video production costs US$ 200 – 500 per property, shooting the extravagant house is costly up to US$ 1,500.
Type of Real Estate Video Productions
As aforementioned, the price varies hugely from videography to cinematography. The price for the standard format of a walk through property is nearly the same. However, the other videos such as agent promo video, client testimonial video, agent story video, lot video, or local information video are not fixed at one price. The script, length shot, audio, or effects in video editing accounts for pricing structure because of playing an important role in the success of real estate video in captivating the viewers.
Real Estate Video – Adds on
Requirements for the additional footage of drones, lot line, or neighborhood video are more convincing to customers are increasing. The advantage of these add-ons is to represent all aspects of the property and its surroundings. Viewers have enough information to decide whether the property is right to pick or not.
As of now, drones, lot lines, or neighborhood videos are aerial filmings, which are getting more reasonable. According to the L.A. Times, a drone now costs just $175 per day, which is much cheaper than the fee of $2,000 in 2015.
Real estate video editing fees, as well as labor fees, also should be considered when setting your real estate video price. Shootingspaces.net reveals that pricing for each type of video is:
Other Factors On Real Estate Videography Pricing
Client communication
Client communication is a possible fee worth considering when you structure your real estate video pricing. No matter if it is emailing or phoning, it takes time and effort to discuss the services they need, the footage's timing, and further detailed information. You also can take advantage of accumulated experiences to give them valuable information to pre-process the house or consult them about premium services like drone footage or neighborhood films. Under this aspect, it is totally fine to use your expertise and service as an element in real estate videography rates.
Gear and equipment
If you want to dive into the world of real estate video, gear and equipment are the first things that we should set up and invest in. Make sure you pick a good camera, light, and sound equipment to record for your business.
Below is a good mid-range starter kit for agents to produce high-definition real estate photography and videography:
DSLR or mirrorless camera for real estate video
Wide-angle lens (but not fisheye)
Gimbal or stabilizer
Extra battery
External Monitors
Real estate videography software
Furthermore, as time goes, upgrade equipment and invest in different kinds of equipment to enable the capture of different types of houses. These real estate video gear are long-term investments. So, you should have the most correct calculation to divide this cost into a certain amount of years you are going to use them. You might not notice it immediately, yet this factor would make much difference in setting real estate videography pricing.
Post-Processing
If real estate production is the bone of videography, post-production is the aesthetic feeling of creation. The post-production process is a magical transformation turning every single footage into a piece of art. It solves color grading, visual effects, soundtrack, color consistency, music, or even transitions between short clips. Moreover, post-processing could be a significant pricing element due to time consumption, the level of the editor.
Turnaround Time
Most real estate agents would expect a quick turnaround time and 48-72 hours is normally acceptable in this market. They need to get to market for their buyers or agencies as quickly as possible. That's why you are advised to deliver products consistently within a short time. In case clients request a 36-hour turnaround time, it is totally acceptable to set a higher real estate videography price for your services to compensate for the extra effort you will need to produce the videos to the client on time. Moreover, being extra flexible and accommodating will help set you apart from other competitors in your market and boost business' turnover.
Conclusion
While a picture is worth a thousand words, a video is defined as a whole story. As a result, future clients will be more likely to patronize your business when you go the extra mile and provide bells and whistles that other agencies are neglecting. We hope that our concise post will be a complete guideline on how to structure your real estate videography pricing, which helps you get an accurate estimation more easily.
Read more:
Top Convincing Reasons for Outsource Video Editing
5 Essential Tips In Real Estate Videography Creation
How To Make A Real Estate Video Go Viral
Real Estate Video Marketing – Essential Things You Should Know