"Backyard staging ideas" is a topic getting a lot of interest because home buyers nowadays desire to see as much as possible a property's potential. Not only is the house's curb appeal and interior area, but it is also crucial for any owner to pay attention to spruce up the backyard area. In the following article, let's refer to some valuable tips for staging a backyard.
In this article:
1. Pressure wash surface
2. Declutter and clean the backyard
3. Add plants
4. Arrange furniture
5. Light
5 Bullet Points for Backyard Staging Ideas
In recent years, most home buyers have been looking for outdoor areas to expand their living space. Highlighting a deck or patio can help buyers envision themselves enjoying the outdoors, from their morning coffee to dining alfresco with friends. Whether you have acres of property or only a terrace, it's essential to set the scene and showcase the possibilities for would-be buyers. Here is what we need to get started.
1. Pressure wash surfaces
Like indoor staging, the first thing when thinking of backyard staging ideas is ensuring everything is clean. Any house's outdoor area can accumulate plenty of sludge, grime, dirt, and dust. To make the exterior shine, pressure washing equipment would be a nice help for cleaning all surfaces. Give your hard surfaces some attention.
Make sure that we wash off the fence, decking, concrete areas, or even the stone pathways that have lost their lust carefully. Nevertheless, a pressure washer can be so powerful that it can remove paint. Thus, only use it for surfaces being able to withstand the power.
Give your hard surfaces some attention. Clean and stain your patio deck if you have one. Power wash brick and stone walkways. Clear gutters and wash off your deck, siding, windows, and pathways.
2. Declutter and clean the backyard landscaping
Once all the clutter and unnecessary distractions are relatively out of the way thanks to the power of pressure washers, the next step is cleaning your outdoor space thoroughly. Firstly, ensure the deck, patio, and pathways are dust-free by sweeping them all carefully. If any outdoor surfaces need deeper cleaning, give these hard surfaces more attention and pressure-wash them for a more pristine appearance.
Moreover, do not skip the gutters, windows, and shutters on the outside. Buyers will look into these parts carefully and give their judges and price accordingly, so make sure you achieve the best result and polish even outdoor furniture.
Remove any indication of children and pets. Also, if your pets do their business outside, make sure you dispose of the evidence. Things such as kids' toys, no longer usable play, sports equipment, garden tools, hoses, and other items lying around and stored out of sight in your shed, garage, or basement give prospective buyers the wrong impression. Your goal is to help buyers visualize themselves in your home, not something personalized.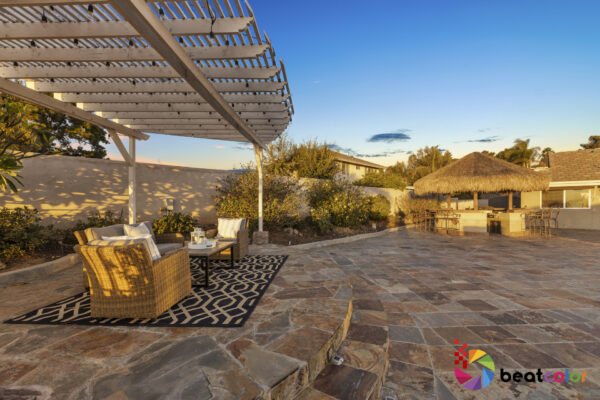 3. Add plants and flowers
Aside from decluttering and organizing your outdoor area, another backyard staging idea for a neater and more charming corner attracts potential buyers better thanks to adding some colorful plants. However, suppose you wish to go a step further, decorating with potted greenery, planting some colorful flowers or topiaries either in planting beds or in decorative pots.
You might consider adding a thick layer of fresh mulch around the beds and under the trees. Try to have at least two matching planters on either side of the area to create a cohesive look. If you own a luxury home, consider adding a water feature to attract more luxury home buyers who expect a backyard oasis when purchasing that type of home.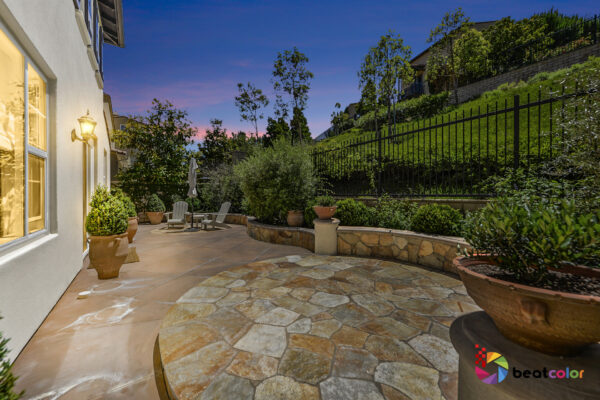 No one can deny the importance of a neat backyard, but keep in mind that there's no need to invest too much time and money into an extravagant design. In the digital decades, it is your privilege that you can make use of the magic of photo editing techniques.
No one can deny the importance of a neat backyard, but keep in mind that there's no need to invest too much time and money into an extravagant design. In the digital decades, it is your privilege that you can make use of the magic of photo editing techniques. and costs only one-tenth the amount.
Virtual Home Staging a Great Revolution of Home Staging
4. Arrange furniture
Like interior design, arranging furniture is the next important step when dressing up the yard and can make the space stand out. Furniture will work as a functional and circulatory element in the design, as well as create a more inviting atmosphere.
a. Show off the backyard's tremendous potential with different activities
One way to let prospective buyers know how potential a house is is to showcase what they can do with the backyard space by setting up the yard areas for different uses. In constant, you might consider using benches or a large backless couch to create a fantasstic backyard seating area for private conversations. Another great idea is setting up an outdoor dining table and chairs to create an eating area. Moreover, no matter how you decide to stage your outdoor area, details like beautiful vases filled with pretty flowers or some fresh yellow lemonade are always great options for enlivening the space and making it more appealing.
If the patio is cluttered with a poor traffic flow, consider taking away some of the furniture. And if it seems cluttered, do not hesitate to remove some of the pieces so there's enough room to walk around, play or entertain.
b. Take advantage of virtual staging / 3D staging
Purchasing or renting things to spruce up the yard to give it a more charming look can be costly more or less. Fortunately, however, there are several simple and inexpensive ways you could add more value and appeal to your home while making potential buyers instantly fall in love with the space. Virtual Staging is what is the thing. All you need to do is simply send your property picture to the professional virtual stagers and be ready to get a beautifully furnished room after one or two business days. Virtual Staging is more affordable, less time-consuming and more flexible than the traditional method.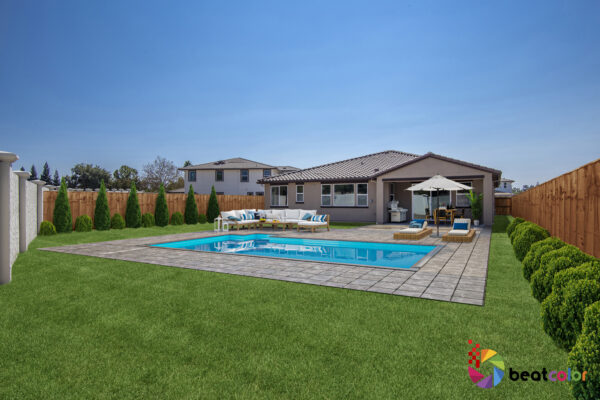 5. Light
Visually, the aesthetic dance between furniture, art, and light brings the design of a room to life.
a. Fire up
Fire pits are ideal for creating an al fresco lounge space– an extension of your home where you can relax and socialize. The U.S. Real Estate News suggests that having a solo fire feature can significantly boost a home's resale value. Not only does it lighten up the space, but a fire pit is also the ultimate focal point and creates an irresistibly ambient glow for a cozy evening outdoors. Once you build a beautiful fire pit for your backyard, make sure to take safety precautions when enjoying it.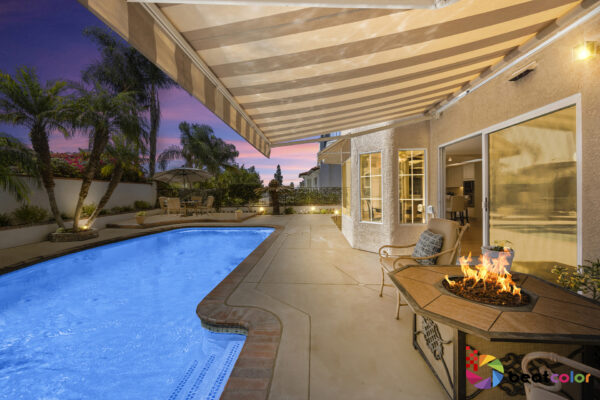 b. Lighting
It is safety and security that is the priority when we decide to add lighting features to your outdoor space. When you're home, evenings are prime time for outdoor entertainment so key pathways need to be well-lit. When you're not home, outdoor lighting can help protect it.
Furthermore, from permanent fixtures to fairy lights twinkling in the trees, outdoor lighting helps buyers picture themselves using the space to entertain at night. Whether your ideal evening includes a meal under the stars, a bonfire with friends, or a warm welcome, a well-lit exterior sets the tone for extraordinary experiences.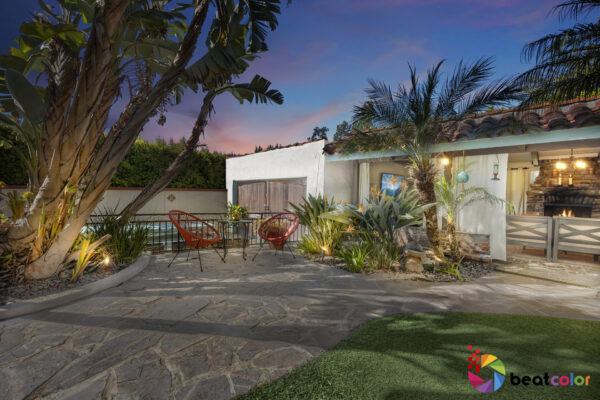 Wrap up
Despite being just a small area surrounded by walls or fences at the back of a house, the backyard contributes significantly to the property's value. Hopefully, BeatColor's suggestions for backyard staging ideas help homeowners get ready to turn this monotonous corner into an ideal ecological space. It's time to upgrade and sell your home today!
Related posts:
Important Virtual Staging Rules
Virtual Staging for Real Estate
Virtual Home Staging a Great Revolution of Home Staging
Top 8 Most Favorite Interior Designs In Real Estate Virtual Staging