5 Best Tripods For Real Estate Photography 2023 (Professionals' Choices)
By Keila Ngo
30/03/2023
Having a list of the best tripods for real estate photography is a must if you are looking to take your listing to the next level and really outstanding in the biz. However, you might get easy to feel overwhelmed by the various types and features in the market. No worries! The following terse composition will help you find the top 5 dependable tripods to stabilize and level your shots named by experts in 2023.
5 High-Rated Tripods for Real Estate Photography 2023 (Professionals' Choices)
Tripod is one of the basic elements in your kit to stabilize your camera. Keep reading to discover the factors you should consider when choosing nice tripods and a list of the best tripods for real estate photography in 2023.
Vanguard Alta Pro 2+ 263AB100 -Experts' Preference
The Vanguard Alta Pro 2+ 263AB100 offers the best combination of stability, flexibility, and height of the tripods tested at a reasonable price.
Height: Alta Pro 2+ has the tallest maximum height among the tripods, which makes it outstanding. The center column's height is almost 68.2 inches when completely extended. When you collapse the center column, the maximum height is 57 inches. This perfect height allows even taller photographers can comfortably use the tripods without stooping much. Although it's a little longer and heavier (15.4 pounds) than some other models, its added weight and height increase its stability and versatility, and it's still small and light enough to carry around for a day's work.
Stability: Alta Pro 2+ owns the Instant Swivel Stop-n-Lock (ISSL) System, making it really shine. The ISSL assists in moving the central column in a single motion and is responsible for the tripod's stability. It is also designed with non-slip, spiked rubber feet for different terrains and a hexagon-shaped central column for solidity.
Flexibility: Great for real estate photography, the Alta Pro provides unprecedented flexibility and a more comprehensive range of angle options. The Multi-Angle Central Column (MACC) System adjusts the middle column up to 180 degrees, both vertically and horizontally – making it perfect for macro and low-angle shooting. While utmost models offer only three angles, its legs can angle outward at four to bring the camera closer to the ground. Plus, its angling center column lets you position the camera in numerous ways at any of those leg angles.
Overall this tripod was a joy to use for any professional real estate photographers who are looking for the best tripod for real estate with full stacks.
Manfrotto 290 Xtra 3 – Section Aluminum Tripod
For the real estate photographers surveyed, a Manfrotto 290 Xtra Aluminum tripod amazed users with its sturdy design, great lightweight, and easy maneuvering.
The 290 Xtra is a 3-section tripod, the biggest in the 290 range, with aluminum leg tubes and unique top casting enhancing rigidity, durability, and performance. Its aluminum leg-locking levers are tension-adjustable, so they can be tightened to counteract any effects of aging and wear, keeping the tripod fully functional throughout its long lifespan. This tripod's key feature is its choice of four leg angle positions maximizing shooting creativity. Its rapid center column adds flexibility and extends the maximum height range.
A new rubber leg warmer guarantees a comfortable grip and maximum ergonomics. It is quite comfortable to use with a new distinct style that follows the 055 & 190 design guidelines. The tripod comes with a dedicated shoulder bag ensuring easy transportation and comfortable portability at all times.
Neewer 77″ Aluminum Tripod– Good Start for Beginners
Being a newer brand in this business, but it does not mean that Neewer 77″ is a lower-quality tripod.
Going up to a max height of 77 inches, you won't be limited by height when you're shooting. This tripod can hold up to 17.6 lbs and has a built-in monopod making it more versatile. Besides, Neewer 77" also offers easily adjustable lever locks and a sturdy ball head which help you accessibly set up the perfect shots.
Fast transitions between photos are aided by the quick-release plate. In addition, the unique designed ball head can rotate 360 degrees which will allow you to get the perfect shooting angle to create stunning panoramas and discover different beauty. 360-degree flexible sphere design which makes it easier for cinema shots such as pan, tilt, and pan tilt at the same time.
The 3-position angle adjustment system offers 3 alternative angles which give you the best angle and position with flexible and accurate adjustment. It allows you to shoot in narrow areas or on uneven terrain for different shooting scenarios. Plus, non-slip rubber feet help ensure that the tripod remains stable on the ground surface.
But what really sets this tripod piecemeal from the competition is its extraordinary ability to convert it into a monopod. The monopod provides a higher vantage point and is ideal for confined settings, such as interior photography.
For such above features, it can be said that despite offering some of the most affordable options on the market (around $79), Neewer 77" doesn't lapse in quality like other competitors.
ZOMEi 62″ Camera Tripod – Best Value
If you are looking for another affordable tripod for real estate photography, check out the ZOMEi 62″ Tripod. With a max height of 62″ and twist-lock legs, this is a great and cheap option if you prefer twist locks. It can hold a maximum weight of 17.3 lbs and has many unique mounting options compared to other tripods. Plus, it can be folded back design giving it an ultra-compact size. This is really ideal for portation.
The ZOMEi 62" has a high degree of rigidity, excellent shock absorption efficiency, greater heat resistance, and corrosion resistance. This professional tripod is intended to keep your camera stable regardless of where you're shooting.
This tripod features a ball head with two-axis locks for superb pan control, which is ideal for DSLRs and digital cameras, as well as for real estate photography and architectural photography. Its elevator-regulating design also has dampening effects that vary depending on the weight of your camera.
GEEKOTO 75″ -Camera Tripod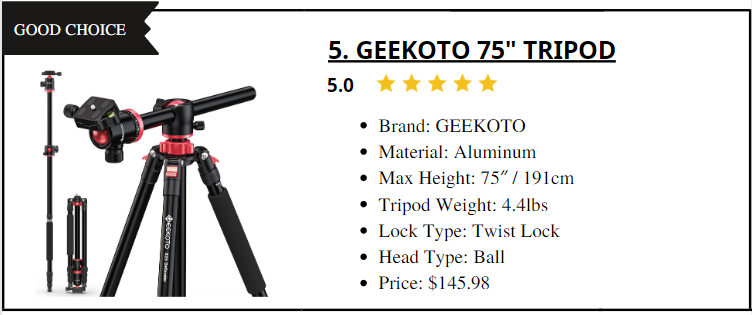 Unlike your regular tripod, the GEEKOTO 75″ Camera Tripod has a rotatable center post, meaning you can use it vertically or horizontally. Couple this with a 360-degree ball head, and there isn't a single angle you won't be able to capture with this tripod. For the money, this could be the best tripod for real estate since it's so versatile. It can extend up to 75″ with ease using the handy twist-lock legs and hold a max load of 22 lbs. This tripod gives you the best of both worlds with flawless functionality and staying compact enough to take anywhere.
This option offers flawless functionality and is compact enough to take anywhere.
What Is The Best Tripods For Real Estate Photography?
Although many of the tripods on this list are extremely useful for professional photography, the best tripod still depends on your personal needs. Consider factors such as the model, appearance of the tripod, size when folded, angles, and the ability to move the legs.
If you don't currently own a tripod and want to buy one, start with a cheaper tripod like the Neewer Tripod. This allows you to experiment with your equipment and figure out what you need without investing in an expensive model.
If you own a cheap tripod and want to move on to something better, a high-quality tripod like Vanguard Alta Pro 263AB is highly recommended. Professional photographers love these for the extra features and inclusions that you won't find on more affordable models.
Tips for choosing the best tripods for real estate photography
It's evident that having a nice tripod is a must when shooting real estate and any other themes. But finding the best tripod for real estate photography is challenging for any photographer. When choosing the best tripod for real estate shoots, there are a few things that aspiring real estate photographers should keep in mind.
Stability
The ability to hold things safe and still is non-negotiable for a good tripod. Photographers buy tripods to get sharper photographs, a shaky tripod won't deliver those results. Some models offer more stability features, making it easier to build HDR composites, even with long exposures and brackets.
Flexibility
While stability is an essential feature of a good tripod, you don't want to get one that is entirely immobile and that you can't easily adjust. Flexibility allows you to modify the camera angle to get the perfect shot.
Adaptability
For the most part, keeping the camera at natural eye level will produce the most excellent results. To help you get the right angles, a tripod with adjustable legs and an extended center column is essential.
Durability
When purchasing any type of equipment, overall durability should be taken into account. Real estate photography is relatively simple, but your tripod can still experience wear and tear with regular use. Look for tripods made of sturdy material that can withstand prolonged use and the occasional bump or scratch.
Material
Tripods are typically made of one of two materials: aluminum and carbon fiber. While both are durable, there are some significant differences between the two.
Carbon-fiber tripods are more expensive, but they are also lighter, easier to carry, and look more elegant. Because it's incredibly portable, we recommend this for photographers who are constantly on the move.
Meanwhile, aluminum tripods are much heavier but much more stable, typically costing half of what carbon-fiber tripods do. We recommend it for photographers who work in the studio, do not take photos often, and do not require extreme angles.
Weight
Photographing real estate is a job that requires a lot of movement. You must move around the house or from place to place. This process is more difficult if you add heavy equipment.
A headless tripod weighs approximately 4.4 lbs while carbon tripods are about 4 lbs, and aluminum types are the heaviest which might reach 5.5 lbs.
Price
If you're not a professional photographer who takes real estate photos regularly, the cheapest option is a three-legged tripod. However, you may still want to hold your camera for more extended periods or use your tripod regularly. In that case, we recommend springing for a more reliable (and expensive) model. After all, you get what you pay for!
F. A. Q
What is the best tripods for real estate photography for beginners?
The first things you need to keep in mind is compact and lightweight factors. However, don't neglect such attributes as durability, flexibility, and solidity. We cannot deny advanced tripods' functionalities, yet do not get too carried away with them. Most often have got a hefty bill. It's not a problem to find an affordable yet functional variant.
What is a reasonable price for the best tripods for real estate photography?
The average price for a tripod ranges from $50 to $1000, depending on numerous elements such as brand, characteristics, material, etc. The good news is manufacturers offer many attractive options with combo features. You can easily buy a suitable one that matches your budget.
We use tripods mainly to position cameras. When the camera setting is ready (including setting up required artificial lighting, staging your scene, etc.), put your camera on the tripod. Then, aim it stably and move.
This magical tool ensures your ability to control the set. Thanks to the tripod, your camera or smartphone will usually fit in an available slot.
Conclusion
When trying to find the best tripods for real estate photography, a wide variety of tripods in the market might confuse you. However, I hope that today's concise post with price ranges, types, features, and styles will help you partly define a perfect one for you.
Related Posts:
High Recommended Free Online Video Stabilizer software
Top Rated Camera For Real Estate –Experts' Choice
Best Canon Lens For Real Estate Photography