Real Estate Cover Photos – Top 10 Amazing Ideas To Follow
By Ly Bui
22/02/2022
In the era of social media, real estate cover photos have turned into one of the professional and creative branding methods favored by global realtors. This social marketing asset goes the extra mile to promote your brand name and gives the irresistible call to action by putting a little thought into the design.
This concise post provides you with the top 10 inspiring ideas for the outstanding realtor Facebook cover. Let's get started!
Real Estate Cover Photos – Top 10 Inspiring Ideas For Creation
Before diving into creative ideas for the real estate cover photos, let's keep in mind Facebook cover photo size requirements!
Real Estate Cover Photos come with the standard size of 820 pixels wide x 312 pixels tall on desktops and 640 pixels wide x 360 pixels tall on smartphones. Additionally, the real estate cover photos are recommended in PNG files to remain the highest quality. If you have a longer video, let's make it shorter. Facebook allows you to upload a 20-90 seconds & 820×462 pixels clip.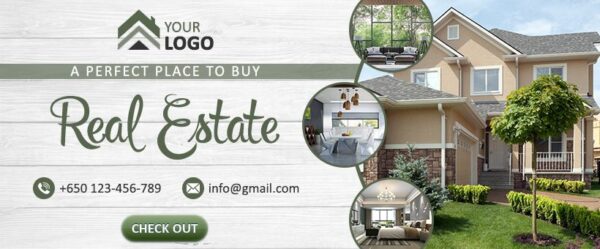 #1. Featuring Your Properties & Your Contact Information
Staying on the top page, the realtor facebook cover is the best place for you to display contact information and featured properties. The prospective customers can quickly find out your information. Additionally, they can follow you on other relevant social media platforms.
More conveniently, highlighting the featured properties is ideal for introducing page visitors to your particular niche: high-rise condos and townhomes. The page visitor can immediately guess the types of houses you specialize in from the real estate cover photos.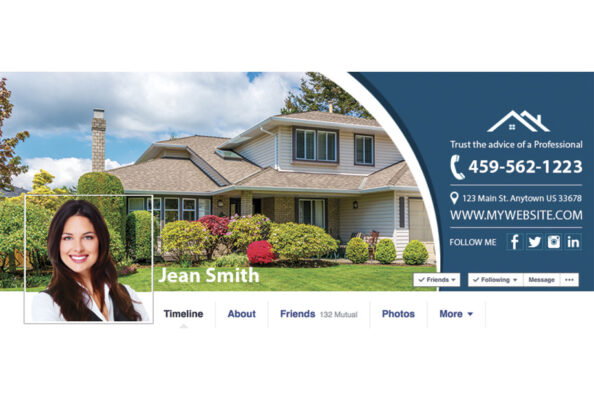 #2. Leverage Social Proofs
As a realtor, building professionalism and personal branding are essential to capturing customers' attention. While social media exposure enhances your branding quickly, leveraging social proof would effectively show how successful and professional you are.
Through testimonial quotes or short clips, customers share enjoyable experiences in working with you. The prospective customers are more confident to repose trust in you.
#3. Showcase The Newest Listing
If posting a photo for a Facebook cover has become too popular, let's make it fresh by uploading an eye-catching and inspirational walking-through video. Let's use this great way to introduce and inspire your audience to the newest listing. Instead of scrolling to the bottom of the page to find the latest news about properties, realtor facebook cover or real estate cover photos already can update the business with the page visitors.
Many things you can take advantage of to showcase on the Facebook cover. High-quality cover photos highlight essential features of the newest properties: for example, materials, architecture, views, entertainment spaces, local amenities, or a nice aerial view are great to impress viewers.

#4. Show Your Team
"Humans feel first and think second" is an actual sentence to describe the suitable drives purchasing behaviors and decision making. A team photo is a clever way to build an emotional connection with customers. Smiling faces and short sentences to share your brand vision or exclusive experiences you will offer prospective customers is a better choice to show off the distinctive quality.
#5. Awards
Like leveraging social proof, real estate cover photos are incredible spots to show off the prestigious awards and accolades. Throughout the realtor facebook cover, clients fully feel your professionalism and are ready to leave you a message.

Like any Facebook Business page, adding a festive season touch to the Realtor Facebook cover is entirely possible. You can do the same with many other important dates like brokerage's anniversary, corporate anniversaries are. It keeps the Facebook page fresh, relevant, and timely and spreads holiday cheer.
Similarly, switching-up real estate facebook covers to nicely-designed covers to promote upcoming events is a wise choice to boost engagement with your events ahead of time.

#7. Local amenities
Like highlighting the newest listings or featured properties on the real estate cover photos, representing local amenities through a nice picture increases the engagement of prospective buyers. It drives their motivations to choose your area for residence living,

#8. Your Real Estate Logo
If your real estate logo size matches Facebook cover photo size requirements, why not use the logo to expand brand recognition. Although this method is not new, it still has particular effectiveness for brand recall.
#9. Create Cover Slideshow
Like Video, an impressive slideshow is a fantastic introduction to page visitors about your brand & properties. Such amazing slideshows make a great impression on viewers while enhancing professionalism under their eyes.
#10. Showing off A Great Deal Of Experience
Last not least, in order to broaden your business awareness, your real estate Facebook cover photo is ideal to highlight your broad specialties like rentals, residential, commercial, corporates, etc. Customers easily understand what you can help them with.

This video shows you How To Use Canva To Create Real Estate Facebook Cover
Conclusion
We hope the above 10 inspiring ideas spice up real estate cover photos while bringing effectiveness to your brand awareness. Such nice 10 ideas are not new yet however by using them creatively, real estate cover photos would be ideal gateways leading you to go further in the high-competitive market like real estate.
Relating Post: