6 Recommended Virtual Staging Software 2023 Updates
By Keila Ngo
20/05/2023
Virtual staging software is a great effective and economical solution for those who would like to use neither traditional nor virtual real estate staging services. The big plus of these tools is that everyone can use them, from homeowners to realtors. Virtual staging apps allow you to add furniture and other elements until they match your desires. You can also change color, materials, sizes, and more. With modern staging design software, your possibilities are almost limitless.
But what are the recommended programs virtual stagers prefer to use? Read on for the best virtual staging software 2023 you should know about.
Top 6 Virtual Staging Software for Real Estate- 2023 Updates
1. Autodesk 3Ds Max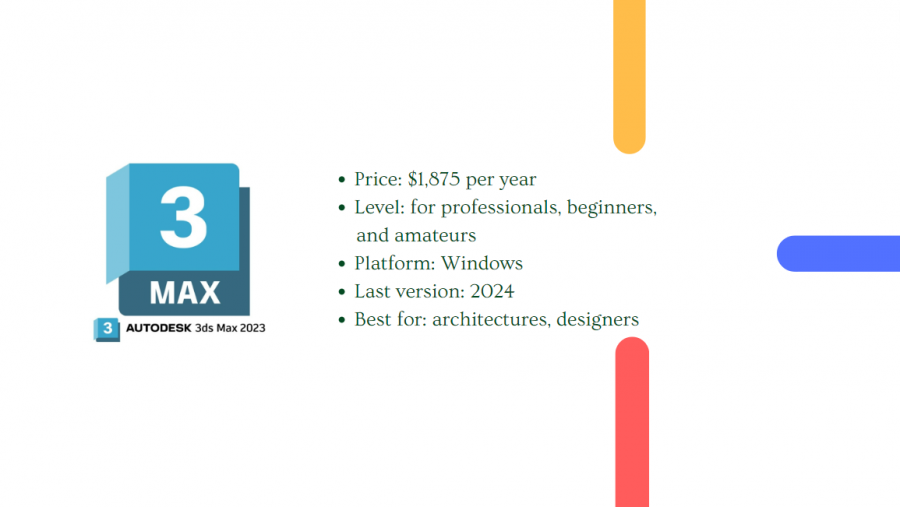 3Ds Max is one of the earliest and the most popular virtualization programs being developed by Autodesk. With simple features and ease to use, this is always the first choice for anyone working in the interior design industry, from beginners to professionals. The software is capable of adding realistic features to living spaces, enhancing their look, and making them more attractive. The program has a lot of features for designing all kinds of 3D models while preserving certain metric dimensions. Incorporating numerous features, this tool has an original set of built-in shapes for generating the bases for model development.
3D Max requires a certain amount of knowledge and technical skills. Yet the good news is, there are plenty of 3ds max learning materials and video tutorials available on the internet that help ease your self-study. However, it might be quite challenging when getting started on your own and no one can master this software in a day or two. That's why the virtual staging editors at BeatColor, who are experts in using such typical staging software, are here to create the most high-quality products.
One thing you should consider is 3Ds Max price. Its price is higher than other available virtual staging software, around $1875 per year, but you can have the free education license version if you want to take try out and master this program.
2. Real Tour Vision
At Real Tour Vision (RTV), you can either demand professional virtual home staging services ($35 per image) or utilize the Do-It-Yourself application ($15 per image). The DIY package of RTV allows you to plan your rooms yourself using a digital library of textures and furniture. You can take a picture of any room needed staging, upload it directly to the RTV system, and start your digital staging the property on your own with only $15 per photo: modifying the colors and textures of the photos, adding or removing furniture, and so on.

Real Tour Vision is free to download. And even if you don't use the full-service virtual staging option, you still can get RTV's professional assistance with a lot of available guides, webinars, and video tutorials. You don't have to start with an empty room because that virtual staging solution also has tools for taking apart furniture.
3. iStaging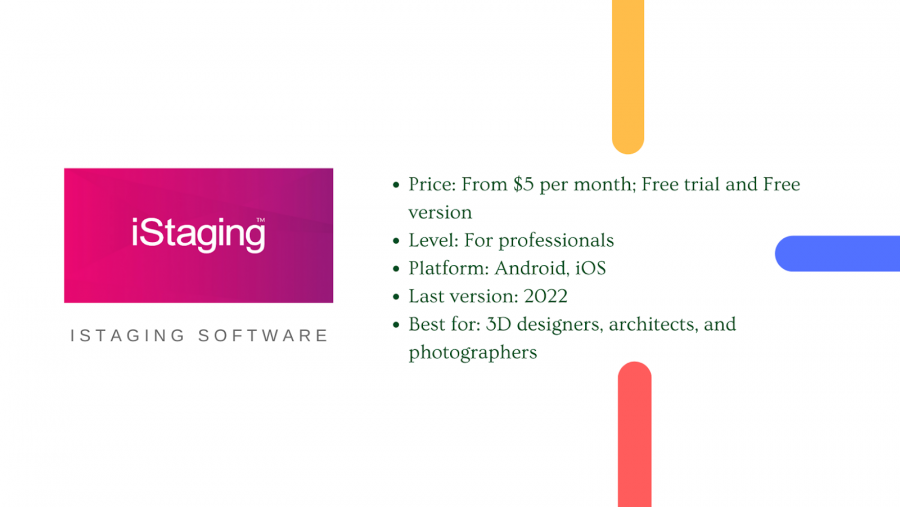 iStaging is a virtual staging app that offers almost unlimited possibilities. iStaging makes it easy and affordable to transform objects and spaces into immersive augmented and virtual reality experiences. The staging app allows you to create LiveTour, 3D panoramas, virtual showroom, and virtual exhibition, as well as communicate in real-time using 1 on 1 video calls or live chat. You can host a live stream on YouTube or a conference for more than 1000 people.

iStaging provides over 10,000 real-world furnishings for virtual stages, including wall and ceiling decorations. What's more, the application works in real time and simulates the real size of objects according to the size of the rooms. 3D designers and architects can view what other users have created. You can share the finished virtual tour among your clients via social networks, e-mail, portals, CRM, or using a QR code. iStaging app is available for download on both the App Store and Google Play. You can try a free trial or choose one of the packages of this home staging app. Prices from $5 per month also allow making virtual staging for free, taking advantage of the trial.
4. IKEA Planning Tools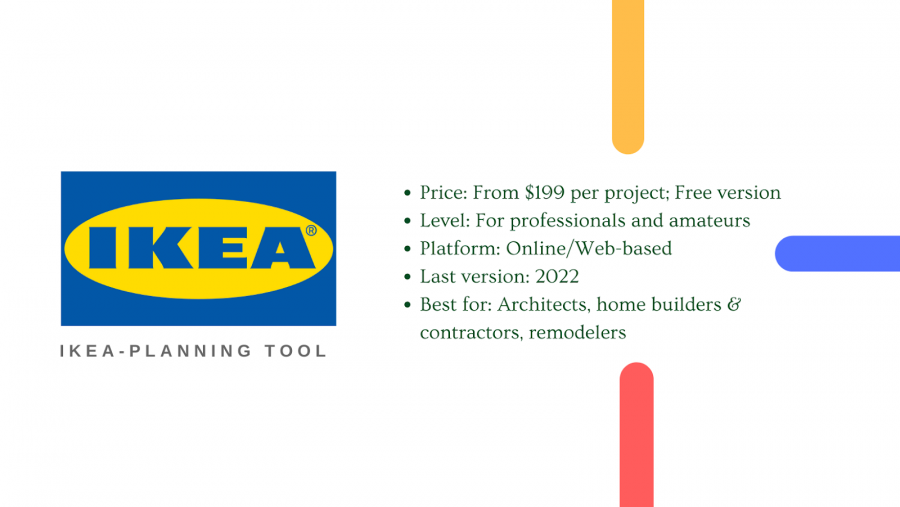 IKEA Planning Tools is the next program in the free virtual staging software list. A well-known furniture and home goods brand has created its own special application to help users and potential buyers furnish their homes and understand how they will look with IKEA products. An extensive catalog of furniture is presented in the form of icons that are easy to drag, duplicate, rotate, and so on.
With this virtual staging app, you can design all spaces in both 3D and 2D. Several templates are available in the program if you don't want to create the whole design yourself. Once the design is complete, you can easily add it to your shopping cart and order online.
You can also use another application of the company – IKEA Place. It will be an excellent addition to your design: the device's camera is aimed at the desired area, and an interior item is selected. So you can see how this place looks when using augmented reality. This helps you choose the right combination of the room itself and interior items. Perhaps, it is the best virtual staging software when regarding purchase.
5. Room Planner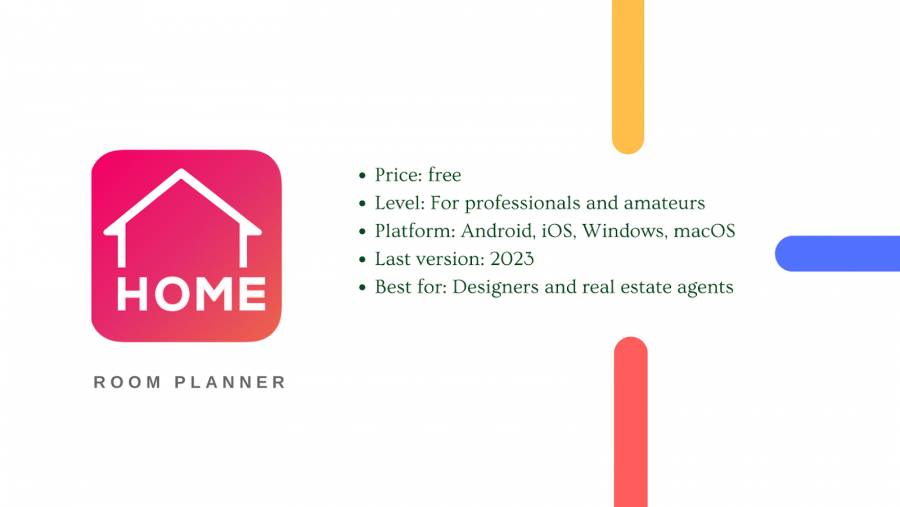 Room Planner is another free virtual staging software available for download on Android, iOS, Mac, and Windows. The application allows you to not only create 2D / 3D floor plans and measure space but also furnish the interior with furniture from world-famous brands such as IKEA. There are more than 5,000 pieces of furniture in the staging software, and they can also be edited and personalized. You can build, design, and decorate all the rooms you want. The utility allows you to independently choose the shape of the room.
Various layout options are available in the catalog for your desire. The room staging app allows you to set the size of the room and add arches, doors, windows, a fireplace, switches, sockets, stairs, structures, ceilings, and skirting boards. There is a choice of colors and materials for finishing the room. You can also take advantage of pre-designed layouts for your bedroom, bathroom, living room, and more.

That digital staging app is pretty easy to learn. The main page has tutorials for each room design option you want to try. With a weekly, monthly, or yearly auto-renewable subscription, you can enjoy many additional features, such as ready-made projects, complete furniture catalogs, unlimited houses to build, and realistic HD renders.
6. Housecraft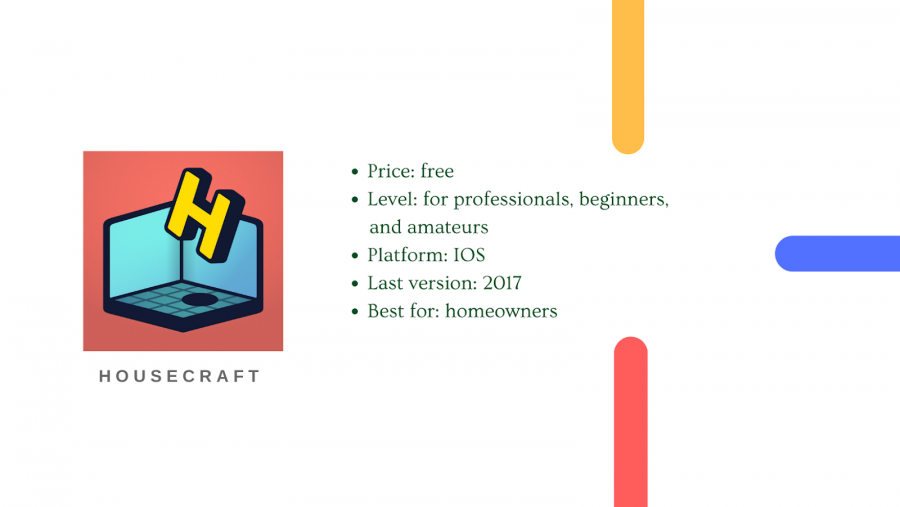 The next app on the list, Housecraft, allows you to improve empty spaces on the go for viewings. Housecraft is a free virtual staging app for real estate on iOS or Apple devices. Housecraft uses AR to place fully-rendered 3D furniture pieces in open areas. It allows you to stage virtually anywhere you desire in real-time.
It's an app primarily for individual customers, but real estate agents may use it for quick illustration during on-site tours and visits. Since people are more likely to purchase something they know would suit their lifestyle and expectations.
It is also the best free virtual staging app on our list. Housecraft is an interactive augmented reality application that works in real time. It is ideal for anyone who wants to complement or change the house's interior. The virtual home staging app allows you to place any piece of furniture or decor using your iOS or iPad and find out how it will fit into the environment. A good solution is if you are afraid to make a mistake with a potential choice of decor or furniture or you can not decide on a color palette.

Housecraft software is ideal for finding an apartment and reorganizing a room and allows you to easily save room configurations. You can also learn and resize furniture, view them from any angle, and more. Built-in video recording makes sharing your work with a partner, roommates, or friends easy. Place, enlarge, and modify any object you need with one phone.
DIY Staging Apps or Professional Virtual Staging Software?
The virtual staging software mentioned has numerous and obvious advantages. Nevertheless, it might prompt a query: With magic tools available, is it still worthwhile to use virtual home staging services? It actually depends on the type, complexity, and number of projects that need to be done. Let's consider this in more detail.
Virtual staging software is convenient and affordable
Programs for virtual home staging are helpful once you have certain design skills and want to stage yourself. With DIY virtual staging software, you can proactively organize the tasks and manage your time, from taking photos to designing yourself. You can also use special functions to remove unwanted features from an image. When compared. digital home staging yourself is a much more affordable solution. However, getting familiar with these hi-tech editing programs will be time-consuming and challenging for beginners.
Fast and professional staging service from a real estate photo editing company

Experienced real estate editing companies do all steps of a virtual staging project for you. All you need is just to take photos and upload them to the platform of the company. Then tell the staging professionals what result you want to get and they will return your staged photos, usually within 24-48 hours. The 3D stagers can provide various furniture models for you to select from, place them in photographs, remove outdated items, and much more.
In addition, these services often offer many more editing options or modifying photos. If you have complicated project, professional 3D stagers or companies are usually the best. So, you don't have to do anything: just send, require, and wait. It is the main pros of this service. Although this option is usually more expensive, the results will almost always look more realistic, professional and beyond your expectation.

If you are looking for professional and reliable services for virtual home staging services, BeatColor is the perfect choice with hi-end solution for you.
Final Thoughts on using Virtual Staging Software
To sum up, whether you are a realtor, designer or homeowner, the right software can help transform a less appealing living space into a dream home for potential buyers. And in the digital decade, all are available on your phone or computer. I hope these introduced virtual staging programs will be helpful to you in growing your real estate business in 2023.
If you need any consultation from a Virtual Staging specialist to renovate your house, contact BeatColor via cs@beatcolor.com.
Related Postes:
Important Virtual Staging Rules
Real Estate Photo Editing Software
Real Estate Photo Editing Apps
Virtual Renovation – How It Helps To Sell Your House