Reflecting a sense of joyfulness, the entertainment room is the symbol of unwinding, revitalization, and reunion. Despite diverse designs, the core entertainment room ideas are the places for all members to watch their favorite sports matches play games, or enjoy thrilling films.
This dedicated post provides you with key entertainment room furniture ideas to set up a well-functioned cozy room. Let's get started!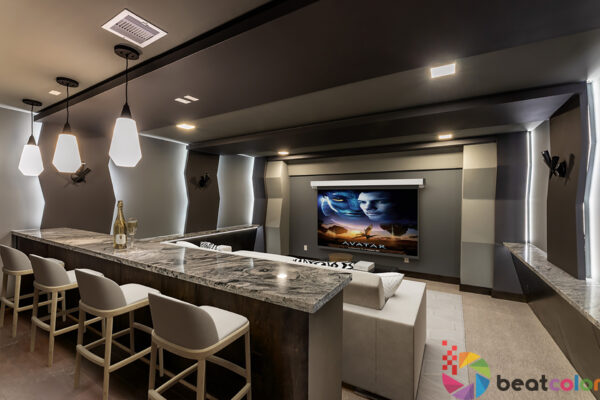 Top 7 Entertainment Room Ideas To Create A Functional Room
TV Console 
In the old days, the living room with a TV was a central point of a house, where everyone gathered to play games or watch films together. The modern trend has taken the TV away from the living room. The living room turns into is formal and primarily used for welcoming guests.
Nowadays, the new fun zone for family activities is entertainment rooms, where all members spend quality time together. They will have an amazing time such as watching a favorite sports match or playing games or enjoying thrilling films.
With that purpose, the TV console stays on top of the furniture list for home entertainment ideas. Beyond the natural function of holding a TV, tv room decor like the full-wall TV cabinets provides a chic aesthetic value while giving us extra space for accessories. Furthermore, piles of DVDs and tangled cords can be perfectly hidden under built-in cabinets.
End Table
In the chilling out zone, end tables not only complete your entertainment room decor but also provides ample table top to hold drinks and appetizers. Besides, an accent table with drawers provides extra storage space to hold controllers and remote controls conveniently.
Coffee Table
A coffee table offers houseguests a place to prop up their feet and keep their favorite drink nearby. More spacious than an end table, you can serve trays of food and still have plenty of space for game controllers and beverages. For a coordinated look, opt for a living room table set with pieces to place at the front and sides of your sofa or sectional
Seating
The TV console, end table, coffee table, and seating are cohesive to create the right atmosphere for your entertainment rooms. Among this furniture, seating arrangements are the decisive factor that reflects the ambiance of your space.
Before diving into many types of seating arrangements, keep in mind your desired function for this entertainment room.
If your entertainment room ideas lean toward the theater room, it is crucial for you to take into consideration room dimensions, the distance between the screen to chairs, standard seating measurements, and angles from the chairs to the screen. Besides, let's think about how many seaters you need.
The size and configuration of the room along with the placement site of the screen, speakers, game tables, and a wet bar allow you to determine how many rows of theater seating are correct.
A wide range of theater seating you can choose from such as the single/ recliner, loveseat, and theater seating with accessories like tray tables and wine caddies. This type of seating supplies ample space while offering you more convenience.
After figuring out the above points, you make a further step in selecting seat materials upon your budget allowance and desired comfort.
The entertainment room can also be turned into a multifunctional room with some set-up for gaming. In this case, it is important to optimize game-playing experiences such as front seats, lumbar support, and headrest position adjustments.
Lastly, the entertainment room and the family room can be interchangeable. The design leans toward your needs. It usually comes with a big TV screen or projector, a ping pong table, or a pool table.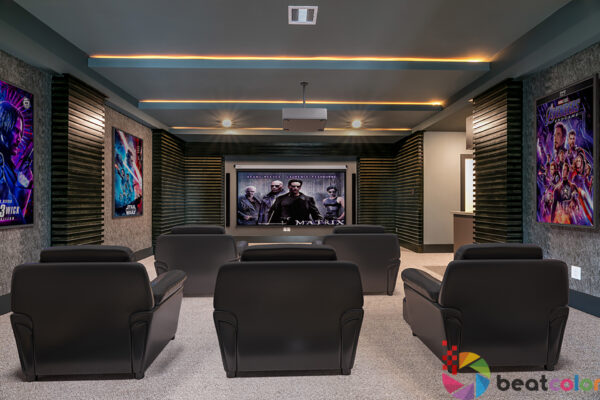 Wall Color 
Undoubtedly, the wall color greatly impacts the entertainment room ambiance. It enhances your movie-viewing experience by reducing the light from the screen bouncing around.
If your ideas for entertainment room are a place for binge-watching Netflix. Dark colors such as brown, burgundy, cream, or even red are the best to make a feel like a cinema. These dark shades of color allow you to enjoy movie color palettes and lighting effects.
More detailedly, let's use dark colors for the wall behind the TV and slightly different shades for the other walls to create contrast and dimension to the room. This type of color mixture makes the TV screen outstanding in comparison to other furniture.
On the other hand, neutral color is the best for a space, which is devoted to relaxing and unwinding yourself or with friends
Lighting
Lighting is always a great factor, which spices up the entire space. However, the illumination in the entertainment room is a bit far different from other rooms. Sometimes, you just need enough lighting to watch the screen to avoid distractions.
Like theater room, wall lamps are handy for balanced illumination These lamps optimize the viewing experience and add finishing touches to the entertainment room,
Otherwise, we will spotlight feature items like a luxurious mahogany bar or your new pool table. Be sure to choose the proper kinds of lighting to give those items their time in the spotlight.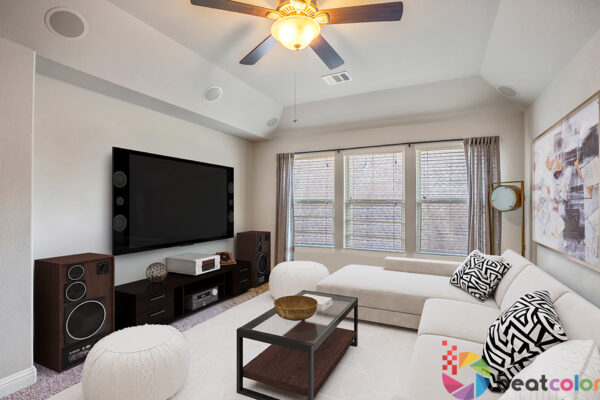 Other Decorations
Last not but least, other decorations you can utilize to add more touches to this room are rugs, vases, wall art, and pillows.
Conclusion
Through this article on entertainment room ideas and in reality, we know that a diverse concept is created to stage entertainment according to the usage purpose. It can serve multiple purposes of recreation.
It can look like a theater or game room, and even a family room. Anyways, your purpose in using this recreation room is the crucial factor in creating its feel. 
Read More:
Inspiring Kitchen Remodeling Ideas For 2021