Music For Real Estate Videos: Tips To Create The Best Soundtrack
By Gina Lam
16/09/2023
Music for real estate videos surely plays a significant role in creating an emotional connection with potential buyers. However, different types of customers will seek certain properties. That is why choosing and utilizing the appropriate music is important, it can help to establish the character of the property. Let us walk you through all the necessary tips to find out the best one!
1. Music For Real Estate Videos: The Sound Embracing The Mood
Using music in real estate videos can definitely raise the mood and radiate feelings from viewers. Selecting music that reflects the unique features of the property will give prospective house buyers a deeper impression. Combining music with our Top 9 Inspirational Real Estate Video Ideas in 2023 will surely bring a perfect outcome to attract your viewers. Below are some of our suggested soundtracks for certain property types.
The Professional Feel Of Music For Real Estate Videos
Background music with a calm tone and some slight motivational notes help to create a professional vibe, yet not take too much attention from the visual parts. This kind of music is often used in agent profile videos and marketing videos.
Music For Real Estat Videos Targeting Real Estate Family Buyers
For family house type of video listings, warm background music with an inviting tone is a perfect choice. If the property is located in the woods or mountainous areas, the soundtrack can be even more mellow to match the peaceful vibe. 
Classy Music For High-End Properties
If you are trying to show a high-end apartment and reach high-profile buyers, classical or elegant music should be considered. Jazz, for instance, is a great match for a sophisticated, upscale vibe. 
Upbeat Music For Modern City Feel
The pace of living and lifestyle in metropolitan cities are full of excitement. A modern upbeat soundtrack will convey the exact mood to prospective buyers. For that energetic and modern atmosphere, electronic or pop music should be reasonable to use.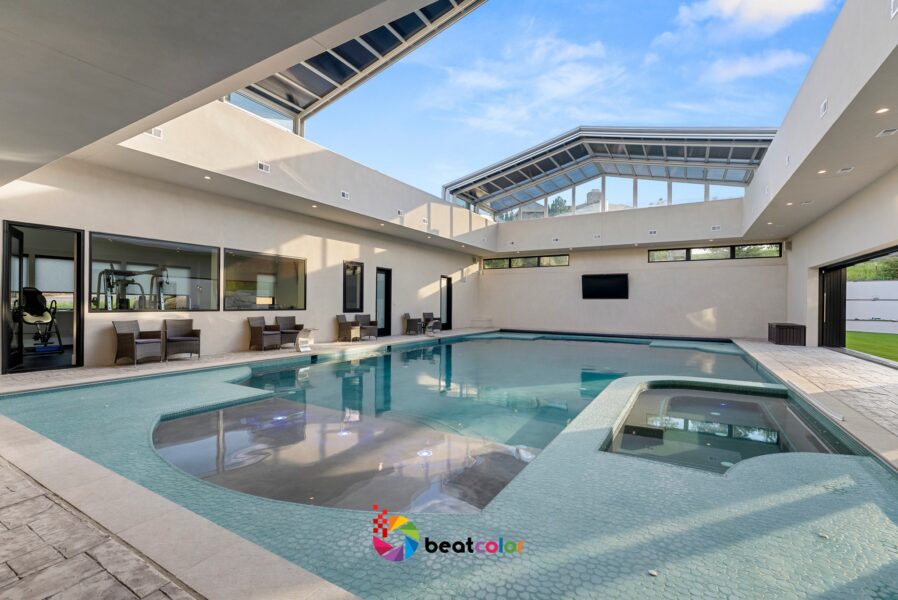 Classy music to embrace the high-end property features
2. Utilize A Crescendo To Accent Music For Real Estate Videos
You might think that choosing a suitable soundtrack should be the only task, but this is still not enough. For the best outcome, some techniques should also be used, like crescendo. It means the volume and intensity of the sound gradually increase. The application of it can help raise excitement and draw the attention of the viewers.
To better illustrate, photographers use tilt shots in video shooting to highlight the impressive features of a property, which can be found in our previous article Elevate Real Estate Video Production with These 5 Tips. The same tip is used for sound settings. You can apply a soundtrack that builds to a crescendo at the part showing a luxurious master bedroom or stunning balcony view.
The technique is also useful in creating a sound script for the entire real estate video. For instance, a track that kicks off quietly and then slowly increases in intensity will enhance the dramatic feeling of the video. This helps generate a sense of excitement and intrigues the viewers to keep watching.
3. Music For Real Estate Videos Should Not Too Distracting
It is true that music should only play a supporting role in the real estate video, not compete the attention or completely take center stage. The main purpose of the video is to showcase the property, its beauty, and maybe also the surrounding view. 
That is to say, you should avoid picking soundtracks that are too vibrant or too distracting. For instance, you will not want your viewers to hum the music tune at the end of the video as they are so into the catchy melody. They are completely distracted from the transition through different rooms in the house. On the other hand, viewers will fully embrace the stunning visuals if the soundtrack is subtle and delicate. 
All in all, the music you create for the real estate videos should complement the on-screen actions. The ultimate purpose of such videos is for potential buyers to hit replay to take a second look at the properties.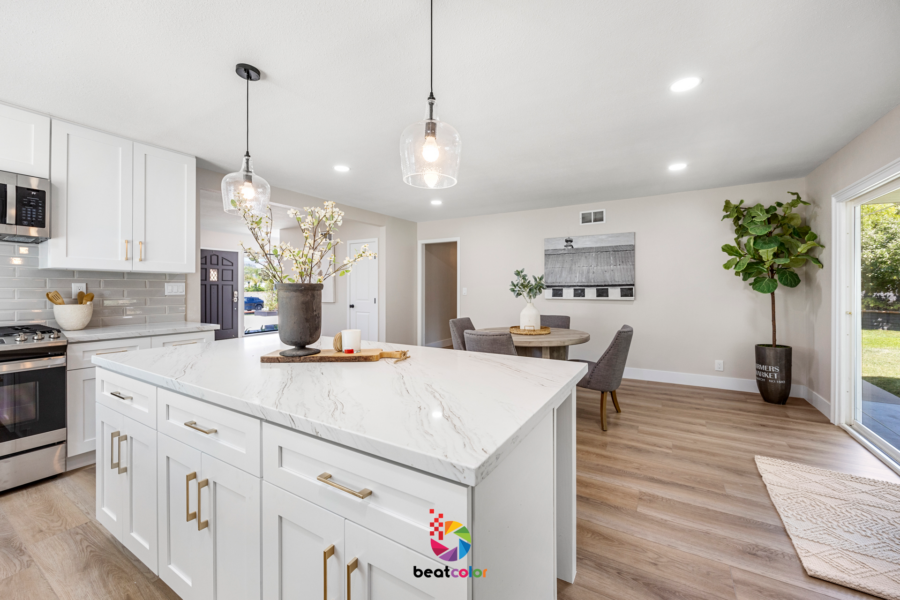 Music is there to enhance the beauty of the house's features
4. Make A Music Playlist For Real Estate Videos
As mentioned in the very first part of this article, you should customize music for each video genre, and not apply one soundtrack over and over again to different real estate videos. However, professional video makers should have a playlist to select from. If you have a collection of great soundtracks, it's reasonable to classify them to use in certain video genres. When you start a new project, you will not have to create new background music from scratch.
5. Get Royalty Free Music For Real Estate Videos
According to the rules of the Digital Millennium Copyright Act of 1998, videos posted on the internet must use music with permission from the owner. On social media platforms like YouTube, it will pull down your videos if its automated system catches your videos cheating the copyright rules.
So how do you know if you're using a song legally? It's simple: You need permission from the songwriter. There are many online sources offering royalty-free music for you to pick. However, if you still find it hard to select an appropriate soundtrack without violating music copyright, just leave everything to BeatColor Real Estate Video Editing Services. We guarantee that professional videos with great background music are added to the final output.
Music For Real Estate Videos: 6 Types of Videos
We have just discovered all the tips to have great background music for the real estate video. Below are some suggested types of real estate videos that will benefit from music. Consider including a song in the following types of videos:
-Listing Video
-Present the Realtor
-Client Testimonials
-Tours around Neighborhood
-Real Estate Questions and Answers
-Market Trends in the local
Conclusion
The background music for real estate videos is one of the decisive factors that make your viewers want to re-watch the property. With a careful selection, your videos will reach out successfully to the most potential buyers and maximize both marketing and sales results. 
Related Posts:
Elevate Real Estate Video Production with These 5 Tips
How To Become A Real Estate Videographer In 2023
Top 9 Inspirational Real Estate Video Ideas in 2023
Top 6 Fundamental Rules For Real Estate Drone Video
BeatColor Real Estate Video Editing Services